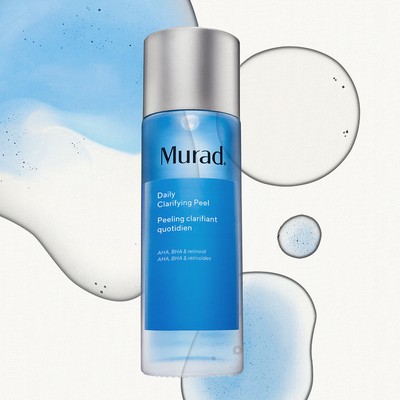 Clarifying Peels: How They Work & The Latest To Try

Anyone who suffers with blemishes, pigmentation and scarring will know about the power of a clarifying peel. By gently lifting away dead skin cells, they gradually reveal smoother, more radiant skin – and while there might be many on the market these days, one in particular has caught our eye. Murad's latest Daily Clarifying Peel is designed to boost cell turnover, clear pores and promote a more even-looking complexion. Here's why you need a bottle…

CREATED IN PARTNERSHIP WITH MURAD
What It Is & Does:
All of us want fresher, brighter, decongested skin – but it's unlikely to happen if you're not using the right products. Murad's new Daily Clarifying Peel has been put through its paces to create an exfoliant that not only works, but is gentle, too. Containing a blend of retinoid, AHAs (glycolic) and BHAs (salicylic) – three ingredients which aren't always used together – the lightweight liquid offers a thorough exfoliation by removing excess dirt, dead skin and oils, all of which contribute to blemishes and uneven tone. Dr Howard Murad himself said the formula was designed to use efficacious levels of salicylic and a gentler retinoid – named retinyl propionate – to maintain the health and integrity of your skin. Despite treating oiliness and declogging pores, it also hydrates thanks to a range of soothing glycerine and plant extracts. 
How You Use It:
To start off, use it slowly – particularly if you have dry skin. While it's on the gentler side it's worth building up usage gradually. Start with just two to three days a week to see how your skin gets on, then, after two weeks, start using it more depending on the results. Because it's a bi-phase formula, you'll need to shake it up first to blend the resurfacing retinoid, AHAs and BHAs together – that way, when you do apply it, you'll benefit from all three. Apply a few drops – at night-time only – directly to your skin or onto a cotton pad, then sweep over the face, leaving it on to absorb. Post-use, follow up with your moisturiser and in the day time, an SPF, too.
Containing a blend of retinoid, AHAs and BHAs, the lightweight liquid exfoliates by removing excess dirt, dead skin and oils.

Who It's Best Suited To:
This new peel is recommended for people with oily, combination, dry or balanced skin. As it balances some potent ingredients with core hydrators, most skin types can use it, but it is a case of building it into your regime gradually. Always do a patch test beforehand to ensure it suits your skin. 
The Rave Reviews: 
Like all Murad products, the results are impressive. Up to 82% of testers agreed their skin texture improved, while 86% said skin felt softer and smoother. Finally, 93% claimed their skin felt balanced and not too oily, but equally not dry or tight. After trialling the product, Briana F said: "My hormonal breakouts are significantly less red... and the pores on my cheeks look much less noticeable and tighter." Another loved the effect it had on her breakouts: "With the first use, my skin was left feeling so soft to the touch. My skin didn't feel oily after it (the product) dried and after a few days, I didn't see any breakouts."
AFTER FOUR WEEKS
Up to 82% of testers agreed their skin texture improved, while 86% said skin felt softer and smoother.*

The Key Benefits Recapped:
Encourages better cell turnover 
Uses three potent ingredients: glycolic and salicylic acid, as well as retinoid
Hydrates with plant extracts 
Avocado helps balance skin and reduce shine
Works with most skin types 
Provides better glow 
Results are impressive with 82% of testers claiming skin texture was improved post-use
Gentler than some peels, thanks to the certain type of retinoid used
Final Notes…
As with any peel or liquid exfoliant, make sure to limit your use of other astringent formulas – using too many at once can cause irritation. Likewise, as peels work to buff away at dead, dull skin cells, always wear sun protection afterwards. As Dr. Murad himself says, more is not always better, so be sure to build up slowly and allow your skin some time to adjust. 
Want To Know If It's Right For You? Here, Dr. Murad Answers Your Questions…
 
It's said that retinoids and salicylic acid shouldn't be used together. Is this true?
"Salicylic acid and retinoid can be used together. But there's a caveat: they're better together when part of a formula that's been rigorously tested for efficacy and stability. That's exactly what Murad's chemists and formulators have done with Daily Clarifying Peel. Rather than playing mixologist or layering (which could lead to irritation), we did the work for you by combining efficacious levels of salicylic acid and a gentle retinoid into a high-performance solution."
What makes the Daily Clarifying Peel blue?
"The natural blue colour comes from a blend of plant extracts including Melia Azadirachta, seaweed, eggplant, turmeric and basil."
What are the two phases in Daily Clarifying Peel?
"BHA (salicylic acid) exfoliates, resurfacing retinoid helps smooth skin's texture, and avocado extract helps reduce shine. (AHA) glycolic acid removes dull surface cells to smooth and clarify, BHA (salicylic acid) exfoliates, and glycerin helps nourish for a healthier-looking complexion."
Can you use Daily Clarifying Peel morning and night?
"We recommend using Daily Clarifying Peel once a day as part of your evening regimen. If your skin tolerates the product well after two weeks, then you could potentially advance to using twice daily, morning and evening. However, if you notice any sensitisation from using it twice a day, scale back to evening use only. Remember, more is not always better, as over-treating can lead to a compromised skin barrier that could exacerbate skin issues, including breakouts."
Have you got more questions? Join @MuradSkincareUK and the brand's International Education Director, Tracey Wilmot, for their 'Clear Skin' Instagram Live to find out more, pick up tips and get any burning questions answered. Live on Thursday 9th September at 5pm. 
DISCLAIMER: We endeavour to always credit the correct original source of every image we use. If you think a credit may be incorrect, please contact us at info@sheerluxe.com.