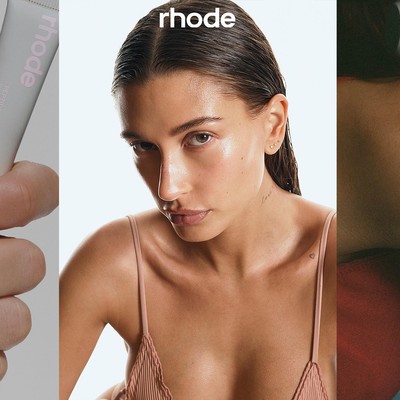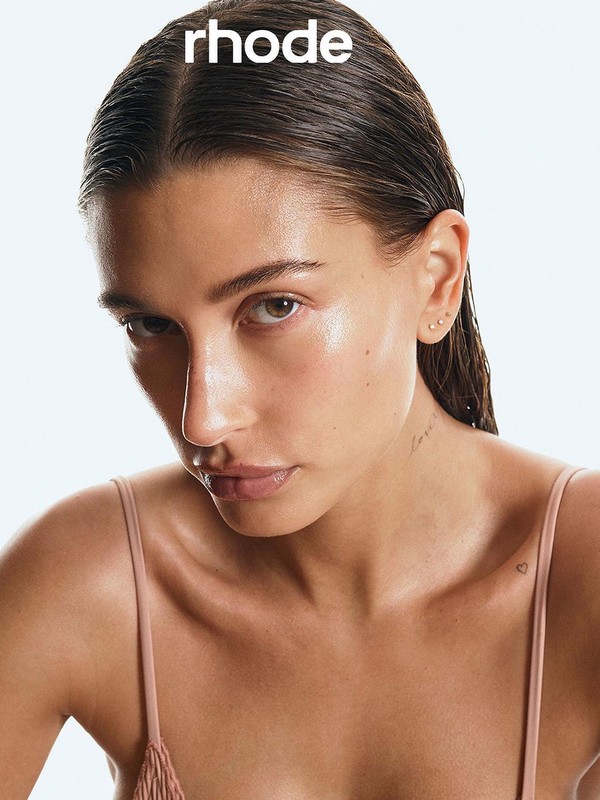 16 Beauty Lessons With Hailey Bieber

Hailey Bieber isn't just a fashion and beauty muse, she's also the brains behind Rhode, the new brand everyone's talking about. Concise, well-curated and designed to deliver on its promise, the products are a reflection of her own honest and realistic approach to all things beauty. Here, she sat down with SheerLuxe to chat beauty advice, wellness rituals and her latest launch…

By Rebecca Hull
All products on this page have been selected by our editorial team, however we may make commission on some products.
The best beauty advice I've been given is 'less is more'. I've been given heaps of advice over the years, but this is what's stuck with me, and what I would pass onto others – especially when it comes to skincare. Whenever my complexion feels inflamed, angry or upset, I've always gone back to basics with a good face wash and moisturiser. Within days, things calm down. Simplicity is key.
My most-used product is the Peptide Lip Tint. I love them so much and am excited we've now expanded with new shades. It still has the same nourishing formula as our peptide lip treatment, but with fresh, healthy-looking colours for a nice wash of colour. It's technically a new category for us at Rhode. We've always wanted to explore colour and this is a great way to show our customers how we plan to enter that space. I'm loving the shade 'Espresso' for the autumn.
Facials are my biggest beauty indulgence. If I was going to shell out on anything, it would be a really great facial. That and the masks by Biologique Recherche – they are insanely good, but they are a treat. It's worth it for the results, though. They coat my skin in hydration and help it to feel softer and smoother. 
Joanna Czech is the skin expert I'd travel miles to see. Her facials and treatments are the best. If I have a big event or I'm due to hit the red carpet, she's the one I turn to beforehand. She knows how to get my skin glowing within minutes.
My own skincare routine isn't fussy. In the morning I splash my face with warm water, and because my skin is sensitive, I don't like to slather on too many products. As long as I get the EltaMD SPF on my face, I'm happy. The evenings are a bit different – that's when I like to double cleanse and get everything off my skin. A couple of nights a week I'll also exfoliate and use a retinol as I know the latter is key for boosting skin cell turnover and keeping my skin feeling fresh and smooth.
I have never slept in my make-up. Every night before bed I will always do a thorough, double cleanse. I've honestly never gone to bed with a scrap on – I pride myself on this. I could be super drunk and it's still all coming off. It's important to let your skin breathe. 
Day-to-day, slicked back hair is my go-to style. Most of the time it's because I have about four different oils or masks in there and I like to let it sit. I'll apply loads – castor oil and coconut oil. I like to load my hair with hydrating products, put it up in a bun for two days and let everything absorb. 
My main piece of beauty advice is to take a gentler approach – especially when you're younger. We're prone to acne in our teens – when I was younger, I struggled with it myself – so I'd urge everyone to keep it simple. Putting harsh acids and exfoliants on your skin may help in the short-term, but long-term, you're really hurting the protective skin barrier. 
The BEST BEAUTY ADVICE I've been given is 'LESS IS MORE'. I've been given heaps of advice over the years, but this is what's stuck with me, and what I would pass onto others – ESPECIALLY WHEN IT COMES TO SKINCARE.

The weirdest treatment I've tried – but loved – is PRP (Platelet-Rich Plasma Therapy). It involves taking blood from your arm, spinning it into a machine to create your own plasma, then microneedling it into your face. In terms of extreme treatments, that's probably the furthest I've gone but it works so well at boosting glow and it's all coming from your own body. Microneedling in general is a great way to keep collagen levels high and your skin's texture nice and smooth. I find it keeps any inflammation at bay too.
Ex Nihilo makes my favourite fragrances. They're really sexy and have lots of depth to them. Typically, though, I love anything that has a kind of pistachio, vanilla scent – warm and cosy is my vibe.
A relaxing bath is how I switch off. My perfect night is soaking in the tub, ordering food, watching a silly movie and going to bed early. I love using CBD bath bombs from a spa in LA called Pellequr. I love Epsom salts, too, and nourishing oils – I chuck a good glug of things in to really load up my tub. You can't beat Goop's Bath Soaks either – if someone got me a bunch of those for Christmas I would be thrilled. 
France is my favourite place to stock up on beauty products. There's nothing better than going to one of the pharmacies in Paris and coming back with a selection of goodies. That said, I love Tokyo's beauty industry, too. If you ever go, you have to stock up on the face masks out there. They all have such fun, amazing packaging. I got a lot of inspiration for my Glazing Milk in Japan – they really nail that dewy skin aesthetic. 
I'll never travel without my Aquaphor balm. It's good for keeping skin hydrated, but I also love applying a little inside my nostrils as it gets so dry when I fly. I used to watch my mum do this when I was a kid with her Kiehl's balm. It prevents cracked skin and I swear it catches germs too and prevents them entering your nose.
Cold plunges are my thing. I love sticking my face into a bowl of ice – it prompts the blood vessels in your skin to contract, so you get firmer, healthier and more radiant looking skin at speed. I often do a whole-body cold plunge, too, and dunk my head right under. If I could, I would do this every morning. It has had such a positive impact on my mood and wellbeing. I often store my gua sha in the freezer too before rolling it around my skin to take down puffiness. 
There's only one person I'd let touch my brows. That's Anastasia of Anastasia Beverly Hills – my slight humble brag. I am really lucky in that she lives in my neighbourhood, so I can bike over to her house and get them done. She shapes them, waxes them, brushes them up a little and ensures they frame my face. She knows I like them to be full and she just understands the brief every time. Anastasia is the best of the best – I hope I always have her on speed dial. 
I would only need two products on a desert island – my Glazing Milk and Peptide Lip Treatment. there are both so nourishing, so I could easily survive with just those two for at least a month straight. Especially if I had the Lip Treatment with a slight tint to it to give me a healthy flush.
INSPIRATION CREDITS: BareMinerals
DISCLAIMER: We endeavour to always credit the correct original source of every image we use. If you think a credit may be incorrect, please contact us at info@sheerluxe.com.