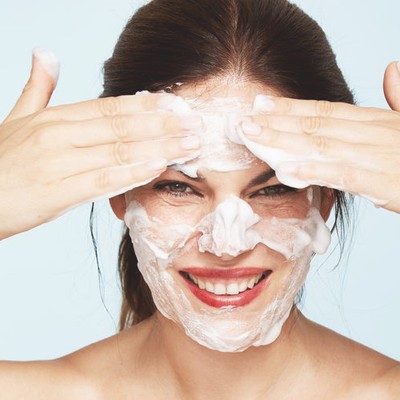 8 Signs You Need A New Skincare Routine

Whether you've found a brand you like or tend to stick with products you know, it could be taking its toll on your skin. So are you stuck in a skincare rut? Here are eight signs you should switch up your daily routine…

1. Your Products Are Out Of Date
Beauty products have use-by dates too. While the adverse effects aren't quite the same as you'll experience from those gone off eggs in the fridge, your products do lose effectiveness when they are past their best. If in doubt, throw it out.

2. Your Make-Up Isn't Lasting As Well
If you can't make it to your mid-morning snack without feeling like your foundation is beginning to slide, then it's likely that your skincare isn't doing its job properly. If you have particularly oily skin, you need to find a balancing moisturiser and mattifying primer to get you through the day. But, if your skin is very dry, try investing in a rich moisturiser to keep your skin hydrated to prevent any pesky dry patches.

3. You're Getting Breakouts
If your cleansing routine isn't effective enough, bacteria and sebum build up on your face, causing spots to appear. Hormonal flare-ups are (sadly) completely normal, but having red and angry spots all of the time is a major warning sign that something isn't right. People with oily skin often turn to ultra-purifying products, but these can actually strip the skin of necessary oils, causing the accelerated production of oil, and even more spots.

4. Your Skin Feels Irritated
Tight, stinging and sensitive skin is never good. This is a huge sign your beauty routine isn't agreeing with your skin. Act upon these warnings and stop using the product/products immediately. If you're not sure which one has caused the issue, it's a good idea to start from square one and re-introduce each product one at a time to discover the culprit.

5. Your Skin Is Too Dry
If your skin doesn't get the hydration it needs, the surface will be dry and flaky. This can be because your cleanser or toner is too astringent, removing essential moisture, or that your moisturiser isn't powerful enough. Experiment with different product combinations too – using an oil with your nightly moisturiser come autumn, for example.

6. The Weather's Changed But Your Products Haven't
Just like your wardrobe, your skincare routine needs switching up according to the season. In the winter, skin needs more TLC because of the harsh weather conditions (especially in gloomy Britain), but don't forget about your skin in summer too – you need to up your SPF and ensure your skin is perfectly balanced to survive the warmer weather.

7. You Envy Other People's Skin
There's no denying the likes of Meghan Markle and Margot Robbie have flawless skin. But if you find yourself looking at everyone and thinking "I've never had that glow" and "Why doesn't my skin look like hers?", it's time to change up your products. With the right skincare routine, you too could have an envy-inducing complexion.

8. You've Recently Entered A New Decade
As time goes on, our skin changes and it's not always easy to notice these subtle differences. Perhaps an overnight moisturiser isn't enough to replenish your skin now and you need a serum or oil too. Or, maybe you haven't started with an anti-ageing routine yet, and want to reap the rewards in the long-run.

Time for a change? Here's SL's edit of the hottest new skincare launches…
DISCLAIMER: We endeavour to always credit the correct original source of every image we use. If you think a credit may be incorrect, please contact us at info@sheerluxe.com.