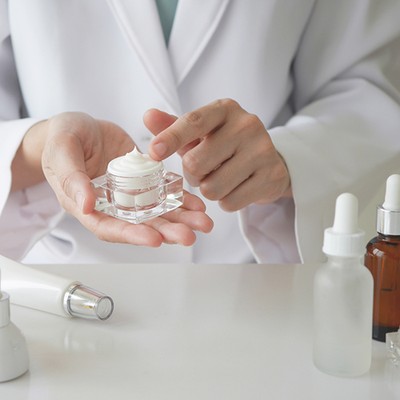 The Definitive Guide To Looking After Your Skin

We know that as we age we need to take better care of our skin, but do you know exactly how to cater to your complexion's ever-changing needs? A scrupulous routine is only half the battle – the products you use and how you're using them must be tailored to you. So we spoke to four top dermatologists to find out how you should care for your skin at every age.

In Your 20s
"Our skin is still transitioning into adulthood, but it's still largely the same as it was during your teens," says cosmetic dermatologist Dr Sam Bunting. "During this time you'll likely see a greater spectrum of skin issues – blemishes, blocked pores, uneven skin tone - as your skin is dramatically changing."
 
Although acne can affect people in later life, it's most prevalent in our 20s. Lifestyle changes add a whole new dimension, you're likely to be starting a full-time job, but are still maintaining an active social life – cue plenty of late nights and stress. "Starting work adds a whole set of new pressures into our daily lives, the main thing being stress, which increases cortisol, throws your hormones off balance and usually results in breakouts," Dr Bunting explains.
What You Should Be Doing
To combat breakouts and the first signs of stress, you'll need to adopt a routine you can stick to. A big fan of face wipes? Bin them – it's time to start cleaning your face properly, which means double cleansing, exfoliating and weekly treatments. Invest in a good eye cream, too - you'll thank yourself in ten years' time.
 
What You Should Be Using
Alongside the above, Dr Bunting advocates solving problems with blemish-prone skin with two simple changes: "Firstly, you need to choose non-comedogenic skincare products which won't block your pores. Secondly, you should include products which contain retinol (vitamin A), to unclog pores and reduce scars and breakouts. Including SPF protection in your routine is essential when using products containing retinol as it decelerates down the ageing process, so the sooner you start using one daily, the better."
 
What You Should Avoid
Just because you've read about the cool skincare ingredient of the moment, doesn't mean you should instantly start using it. Dr Bunting explains: "People in their 20s need to avoid adopting skincare that is 'fashionable'. You really need to consider all ingredients within these products and, if in doubt, check with your dermatologist to see whether they are suitable for your skin type. People in their 20s that follow beauty trends spend a fortune on products that are unsuitable for their skin type."
 
In Your 30s
Once you enter your 30s you'll start to notice that your face feels less plump and appears more lined. "Deeper lines will show up on your forehead and around the eyes, and your skin will begin to sag," explains Consultant Dermatologist & British Skin Foundation spokesperson Dr Anjali Mahto. "This is due to the gradual decline in collagen and elastin production from your 30s onwards, causing wrinkles and a loss of firmness."
 
Collagen is our skin's support structure: as it begins to break down, your skin will show the telltale signs of ageing. "It makes sense to start seriously thinking about anti-ageing and investing in some good quality skincare," advises Dr Mahto. "Most of us can afford to invest in the right products at this stage in our life."
 
What You Should Be Doing
If you're not already wearing a daily SPF, now is the time to start. "Protecting your skin from the sun will not only reduce your long-term risk of developing skin cancers, but it will also prevent premature ageing," says Dr Mahto. "Ultraviolet radiation from the sun is responsible for the majority of concerns that we associate with ageing: wrinkles, blotchy, pigmented skin. Using SPF slows this process down. If your skin is sensitive, opt for mineral-based sunscreens which contain titanium or zinc."
 
What You Should Be Using
Your skin needs protection from free radicals, pollution, oxidative stress and UV damage – all available from topical antioxidants. "Consider adding an antioxidant serum into your regular routine, electing products with vitamin C or E, ferulic acid or resveratrol. These agents will limit the damage caused by free radicals generated by the sun and pollution," Dr Mahto says.
 
What You Should Avoid
It might seem obvious, but according to Dr Mahto, the worst thing you can be doing to your skin is going to sleep with your make-up on. "This is something many women are guilty of after a busy day or a few too many glasses of wine."
 
But she stresses that it is imperative that we remove it before going to sleep: "Make-up forms an occlusive barrier, resulting in break-outs. By not removing your makeup, you're not allowing your skin a proper chance to recover from the free radical damage it is exposed to throughout the day." In other words, it's not a step to be missed.
 
In Your 40s
Our 40s could be considered somewhat of a skin milestone. While the effects of ageing will be evident, you still won't be experiencing some of the more extreme signs, like jowls, deep wrinkles and excessive skin sagging. "This is often the time we're looking for more intensive corrections in our skincare. The most obvious changes tend to be pigmentation from sun damage and age spots, something you'll notice more of if you're not using an SPF," says Corinne Morley, Trilogy's in-house Skincare Expert.
 
What You Should Be Doing
Making sure you're really caring for your complexion and catering to all of its newfound needs should be a priority. Corrine explains: "As elasticity and collagen declines, your skin becomes less resilient and loses moisture more easily. Recovery time is also slower, so your skin may appear more uneven and dull. Late nights will really start to show."
 
What You Should Be Using 
Alongside a rich moisturizer, you should be using a hyaluronic acid serum. With the ability to hold 100 times their own weight in water, they are the most effective ingredient to boost your skin's moisture levels. When targeting dark spots and dullness, arm yourself with vitamin C, but be sure that you're using a potent formula with the right percentage of actives. "Brightening treatments will help you to maintain a radiant complexion, but to combat dryness, deep hydration really is essential – especially at night when your skin is in its natural 'regeneration mode'," explains Corrine.
 
What You Should Avoid
"For women in their late twenties to early forties, oily skin and breakouts can still be a major issue – this is definitely the case for me," says Consultant Dermatologist Dr Justine Klukk. "I advise lighter-weight products."
 
In Your 50s And Up
Cell turnover slows down dramatically, which causes deeper wrinkles, visible pores and the skin appears thinner and rougher. You'll notice that expression lines are visible regardless of whether they are in use. "The most common skin concerns for women in their 50s visiting my clinic are coarser skin texture with loss of radiance, dark spots, enlarged pores, wrinkles and sagging skin, making them look sad or tired," notes Dr Klukk.
Menopause can also have a huge effect on your skin, as hormone changes are known to cause blemishes, redness, sensitivity and dryness. As such, each woman should be tailoring her routine to her own needs.
Another skin issue older women should be aware of is Glycation: "A naturally-occurring process in which carbohydrates and sugars attach to the collagen and elastin molecules in the skin, causing fibres to harden and lose their suppleness," explains Corrine. "Wrinkling, loss of elasticity, sensitivity, stiffness, accelerated ageing and compromised skin barrier function are all a result of this."
What You Should Be Doing
Dermatologists wax lyrical about preventing skin from ageing rather than curing it, so how stringent you've been with your skincare routine up to this point really determines what you'll be doing with it now.
 
"In an ideal world, all women from their late twenties onwards would use three key tools in their skincare routines to prevent premature skin ageing: an antioxidant serum and sunscreen in the morning, and a retinol or retinoid cream at night," says Dr Klukk. "My approach is to combine targeted skincare advice that women can follow at home with clinic-based rejuvenation procedures such as peels, cosmetic injectables and medical needling, to produce a smoother, brighter and more rested appearance."
 
Sun damage is cumulative, so even if you've forgone your factor 50 thus far, it's never too late to start. "Wrinkles, pigmentation and enlarged pores are all examples of sun damage," says Dr Klukk. "Use a broad spectrum SPF30+ sun protection moisturiser every morning before applying makeup and make sure to top up every few hours throughout the day between April and September when UV levels are at their highest."
Rather than abandoning your routine and adopting an entirely new one, Dr Klukk suggests sticking to what you know, but opting for richer formulas. "The basics don't really change, however as we mature, our skin becomes drier and more reactive. Using slightly richer, more nourishing serums and moisturisers can help increase hydration and improve tolerance of potentially irritating active skincare ingredients."
 
What You Should Be Using 
AHAs (alpha hydroxy acids) are most likely already in your routine – if not, now's the time to add them. A comprehensive multitasker, they dissolve the bonds between dead skin cells, allowing them to be easily removed. Despite not penetrating deep into the skin, they can reduce scars, dark spots, fine lines. "Cleansers containing alpha hydroxy acids such as glycolic acid prevents a build-up of dead skin cells, exfoliating the skin to reveal a smoother, more even-toned complexion. They also prepare the skin for subsequent steps in your routine by allowing better penetration of ingredients, therefore increasing the efficacy of your products," explains Dr Klukk.
 
Serums are imperative, as well as an intensive, nourishing moisturiser. "Antioxidant serums are to be applied immediately after cleansing to neutralise free radicals from pollution and ultraviolet rays – both contribute to collagen degradation and ultimately result in skin laxity and wrinkle formation," she advises. "A potent formula which contains a high percentage of retinol or alternative vitamin A cream should be used at night to help slow collagen breakdown and boost collagen production – this will give you a less lined, firmer, tauter appearance."
What You Should Avoid
Dr Klukk feels pretty strongly about the adage 'less is more': "Overloading the skin with too many different products can do more harm than good. The key is to create a consistent, simple skincare routine that's evidence-based."
 
DISCLAIMER: We endeavour to always credit the correct original source of every image we use. If you think a credit may be incorrect, please contact us at info@sheerluxe.com.