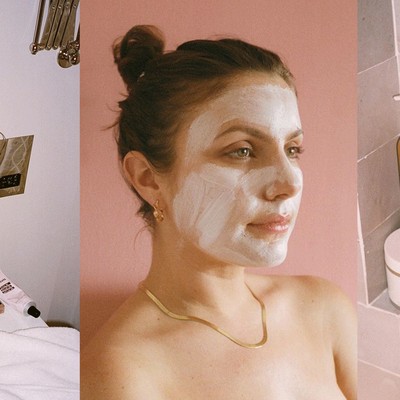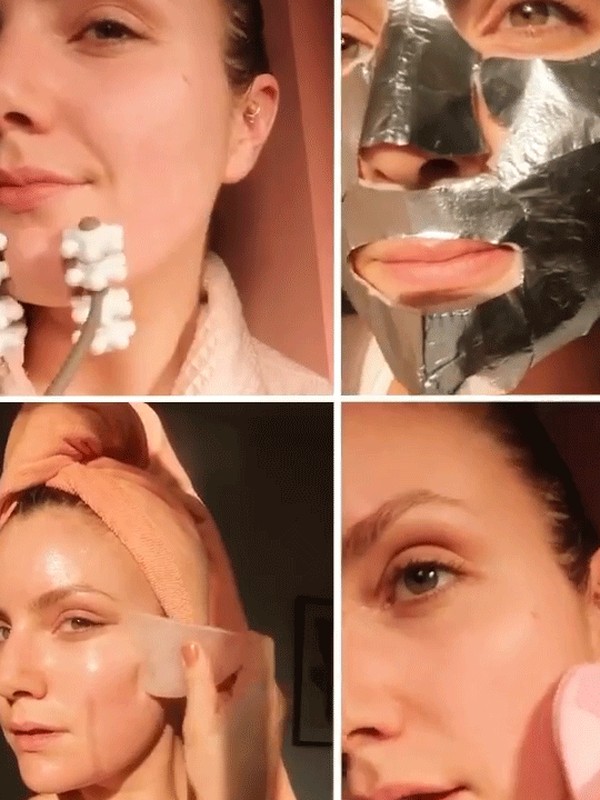 My Skincare Routine: Emma Hoareau

A self-confessed skincare geek, Emma Hoareau's sound product advice and encyclopaedic knowledge of ingredients has earned her a serious following on Instagram. So who better to share her own routine? From her go-to tools to the benefits of layering – plus, the products she wouldn't be without – here, she tells us how to get the glow.

By Rebecca Hull
All products on this page have been selected by our editorial team, however we may make commission on some products.
I start the day with Fluidform Pilates. I do a 10-15-minute session at home before making a smoothie with The Nue Co Plant Protein and Vida Glow Collagen. It's so easy to forget your skin is an organ, and we have to look after it as much from the inside as we do from the outside.
A good mask is my first step. I love using the Angela Caglia Rose Quartz Eye Mask first thing to help wake me up and freshen up my face. It's great for reducing puffiness. Massage is also a given in the morning. Sometimes I'll do a dedicated one, but other times I just ensure I've cleansed properly and apply the rest of my products using massage motions to really get the benefit.
I love to stretch my skin. It might sound odd, but I end up looking down for so much of the day, I make sure I lift my head up in the morning and do kissing motions into the air to stretch my front neck muscles. It sounds weird, but if you try it, you'll see a difference.
In the morning, it's all about a gentle cleanse. Once I've finished, I like to apply a soothing essence to calm my sensitive skin, then a good antioxidant to protect it during the day. My favourites contain vitamin C and/or niacinamide. I'll then apply a hyaluronic acid to hydrate – I get especially dehydrated on my cheeks – then follow up with a lightweight moisturiser and of course, an SPF50.
Layers are essential. For my combination and breakout prone skin, I love to use lots of light layers. My advice is to apply your products from the thinnest to thickest texture. That way they can properly absorb into the layers of skin they are meant for – so things like watery essences will go just before a cream with a thicker consistency. That way all the ingredients can get to work and you'll see the best results.
There are a handful of brands I use on rotation. The ones I trust implicitly and have been using for years include SkinCeuticals, Estée Lauder, Dermalogica and Pai. My routine always involves using at least one of these brands. My favourite products from each are Silymarin CF and Metacell B from Skinceuticals – they do the best antioxidants. Advanced Night Repair from Estée Lauder is a no brainer, and Dermalogica's Microfoliant is what I've used on my sensitive skin for years. It gives me a mega glow – I love its new hyaluronic serum, too. Pai's Rosehip oil is my favourite moisturising product – it would probably be my desert island pick because it's so soothing.
Consistency is important. I've been using this combination of ingredients for seven years now. It's a great mix of actives and soothers that keep my skin happy and in check all day long.
I body brush before I shower. I've been doing it for years and it's such a great way to get the blood flowing after a long day. Even if I just do it for 30 seconds, I always feel fresher and more awake. I also believe it's why I have hardly any cellulite.
A double cleanse at night is key. I'll use an oil first, which I remove with a cloth (the secret to actually removing make-up) then cleanse with either Estée Lauder's balm or Whind's Cleansing Jelly.  
It's better to exfoliate at night. I love to use one that contains salicylic acid to tackle breakouts. Then, I'll go in with hyaluronic acid and see what else my skin needs. Everyone's skin changes daily, so I like to see what mine is after. Does it feel tight? If so, I'll add some extra moisture, perhaps in the form of a mask. Does it feel sensitive? If so, it's a case of upping the ante with more calming ingredients. Your skin knows what it wants, so listen to it.
A ten or 20 minute LED mask session is the ideal way to finish. I love to do this in the evenings as I've found it helps my skin feel so much healthier. It helps with collagen production too, as well as healing any breakouts and reducing any pigmentation from past acne breakouts. 
DISCLAIMER: We endeavour to always credit the correct original source of every image we use. If you think a credit may be incorrect, please contact us at info@sheerluxe.com.