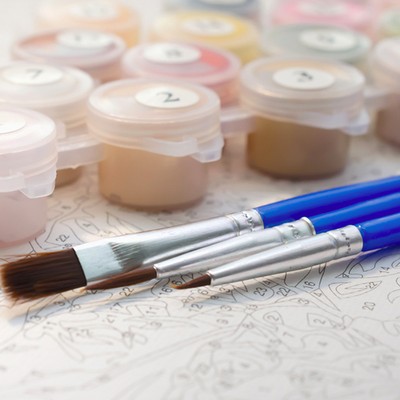 10 Creative Activities For Non-Creative People

If still life drawing isn't your forte, that doesn't mean you can't express your creativity in other ways. And if lockdown has taught us anything, it's that there's a range of activities beyond eating out and going to the cinema. If you fancy trying a new at-home hobby, here are some easy, fool-proof ideas…

PAINT BY NUMBERS
Create real keepsake art for your home with an easy paint-by-numbers kit. These days, sets come in all shapes and sizes, with larger or smaller formats depending how detailed you want to be. Complete with acrylic paints, canvases and brushes, there's minimum prep involved, while a striking result is guaranteed. Simply follow the code: the picture will be divided into shapes and marked with a number which corresponds to a specific paint colour. Follow the pattern and watch your painting emerge.
Try One Of These: Van Gogh Starry Sky Diy Paint By Numbers Kits UK, DIYASY Paint By Numbers Kits or MONICA DIY Oil Painting Kit
Pro tip: For extra ease, try picking up a kit mimicking a famous artwork so you know what you're aiming for from the outset.
 
NEEDLE FELTING
Whether its handmade interior items or small toys for children and grandchildren, felting is as satisfying as it is therapeutic – and requires zero artistic experience. Great for beginners, kits usually come complete with all the necessary merino wool felt, needles, instructions and any other accessories needed to complete your chosen ornament. We love the idea of creating something unique for a child's bedroom or nursery.
Try One Of These: Heart Bunting Needle Felting Kit, Mabel Bunny Needle Felting Kit or 3 Octopus Needle Felting Kit
Pro tip: Remember that felting needles are somewhat delicate and can break easily. Keep spare needles from prior kits as a backup when you are working on a new project, just in case.
DIAMOND PAINTING
Take a similar approach to paint by numbers with this sparkly, jewelled version. Whether it's kid-friendly Disney fun you're after or landscapes like the aurora borealis, there are now numerous easy-to-follow kits which let you create your own 5D original work. The canvas is composed of tiny boxes that are coloured and labelled with numbers, with each number corresponding to a diamond colour. The numbers are also written on a chart, with the corresponding bag and diamond colour written below or next to it.
Try One Of These: Diamond Dotz Crystal Skull, Diamond Dotz Still Life with Lemons or Beautiful Famous Celebrity Special Dream 5D Diamond Embroidery
Pro tip: The smaller the canvas, the less clarity of the finished product – particularly if the size is less than 30x30cm. Start with smaller canvases for practice, before moving onto something larger and more intricate.
MARBLING
With complete dummy-proof kits including all equipment and instructions, it's never been easier to create your own marble masterpiece at home. By floating fabric paints on the surface of a thick cellulose solution known as a 'size' (usually a mix of oil and water) the paints are then swirled into patterns. Capture your design by laying a treated piece of fabric or paper down on top of the paint to transfer the swirls.
Try One Of These: Marbling 4 Fun Kit​​​​, Aitoh Origami Marbling Kit or Fábrica de Texturas Marbling Kit
Pro Tip: If you find your paints are sinking to the bottom of the tray, it might be that the size solution is too thin or even old. Add a teaspoon of Methocel (Methocelulose) powder per gallon of solution, or start a new recipe. If you find your marbling colours are too thick, add some water to thin the colours out, before re-testing.
TYE DIE
Tie dye is back in a big way for summer 2020. And in light of lockdown, it seems many of us have taken to social media to demonstrate our efforts to create our own DIY versions – whether it be t-shirts, hoodies or joggers. Just be sure your items are either 100% cotton or made from natural fibres such as silk for best results. A word of warning – while kits are likely to include paints and bands, you might need other equipment for this one, such as buckets, wooden stirrers and gloves. For more info, click here.
Try One Of These: Anna Joyce Ice Dye Kit, TBC The Best Crafts Tie-Dye Art Kit or Jacquard Tie Dye Kit Large
Pro Tip: It's usually recommended that you wash your fabric and leave it damp before tie-dyeing, as you'll find the dye has an easier time saturating it. But depending on the look you want, it's also possible to apply dye to dry fabric.
CARD MAKING
Right now, one easy way to bring a smile to someone's face is sending them a personal note in the post. Why not go one step further and make your own card from scratch? With plenty of ready-to-assemble kits available, it's much easier than you might think. If you find the ready assembled kits too basic, purchase supplies individually to really express your creative side – most can be found from online arts and crafts shops.
Try One Of These: You Are Awesome Card Kit, Baby Girl Card Kit or Let's Celebrate Card Kit
Pro Tip: Take your cards one step further by adding elements with dimension. Foam tape and dots give just enough space between the items on the face of your card to make them pop.
GLASS PAINTING
Whether it's creating your own stained-glass window, plant pot or vase, glass painting is one of the easiest ways to express your – maybe limited – artistic side. You'll find beginner kits usually use silver self-adhesive outlines and glass paints to create one or two decorative objects, although once you feel you've honed your skills, you can use the same materials on any glass piece. Just be sure to thoroughly clean it first and rub it down with white spirit to ensure the paint adheres properly. 
Try One Of These: House of Crafts Glass Painting Kit, House Of Crafts Creative Glass Painting Kit or House of Crafts Stained Glass Craft Kit
Pro Tip: There are two different types of glass paint – water-based and non-water-based. Both have a good range of colours and are intermixable within their ranges, so don't feel too limited by what your kit might contain. 
DÉCOUPAGE
Put simply, découpage involves cutting out pictures, gluing them to an object and then coating the pictures and the object with layers of varnish. Easy. Now, with plenty of stylish kits on the market, this traditional technique is enjoying a new lease of life among young hobby artists. Once you've got a hold of the basics, the technique can then be applied to larger objects – perfect if you're considering upcycling or personalising a piece of furniture in the future.
Try One Of These: Decopatch Mini Kit Rabbit, Decoupage Starter Kit or Decopatch Large Unicorn Decoupage Kit
Pro Tip: If you are new to découpage, choose pictures with a clear outline which will be easier to cut out than those with blurred edges. If you're worried about using original pictures, copy or scan them instead.
CROCHET
If you're not sure you've got the skill set for knitting, crocheting is a far easier alternative. Using just one hook instead of two needles, advanced dexterity is not a requirement here. Patterns are much quicker to achieve too, while the technique itself is much more flexible and free. These days, complete kits allow you to crochet plenty of visually impactful creations – we love the sweet children's toys which seem to be all the rage.
Try One Of These: Mabel Bunny Crochet Kit, Eliza The Flamingo Crochet Kit or Roy Elephant Crochet Kit
Pro Tip: Novice crocheters tend to work either too tightly or too loosely. Try choosing a larger crochet hook if you find that's the case and bear in mind that the hook size indicated on the yarn label is no more than a suggested starting point.​
BRACELET MAKING
From rainbow designed to personalised friendship bracelets, this is the accessory of the summer. Have a go at making your own – there are plenty of kits available for kids and adults. We love the more sophisticated kits containing dainty ready-to-make pieces adorned with delicate pearls and gold details. Alternatively, go for on-trend beads for a seasonal look.
Try One Of These: Jewellery Making Kit For Adults, DIY Rainbow Beaded Name Bracelet or DIY Pearl and Rainbow Seed Bead Bracelet Making Kit
Pro Tip: To ensure your bracelets don't break once made, stretch your cord before stringing any beads. This way, your bracelet will stay the right size and won't stretch out leaving gaps between the beads, either. 
Looking to express your artistic side in other ways? Read this and this.
DISCLAIMER: We endeavour to always credit the correct original source of every image we use. If you think a credit may be incorrect, please contact us at info@sheerluxe.com.