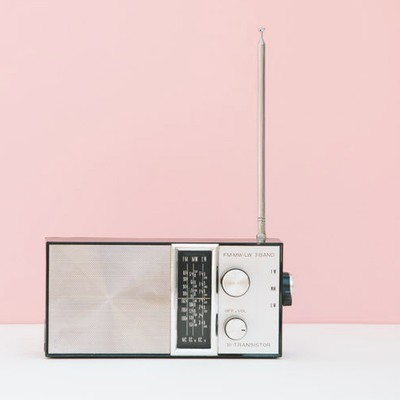 11 Best Radio Shows For The Old-School Listener

Video may have killed the radio star – but many believe that podcasts have put the final nail in the coffin. For those who are in mourning, you'll be pleased to know there's still plenty of great radio shows on the airwaves, for every kind of listener. Here are our favourite ones to listen to…

The Greg James Breakfast Show
Greg James has been at Radio One for 11 years, and last year he finally grabbed his dream and took over the Breakfast Show. His show is a distinctive change of pace from his predecessor Nick Grimshaw – with James, it's all about getting the listeners involved. Whether it's giving him their unpopular opinion or helping to transport a Cornish pasty across the entirety of the UK for a Scottish lass to try it live on air for the first time, his show is all about you.
BBC Radio 1, Monday-Thursday, 6.30am
Visit BBC.co.uk
 

Desert Island Discs
It's a simple premise, but one that has kept the show afloat for nearly 70 years: presenter Kirsty Young invites people in to talk about what music they would have with them if they were stranded on a desert island – they are allowed to pick eight recordings (usually, but not always, music), a book and a luxury item. The show has featured such guests as Ed Sheeran, Tom Kerridge, Tom Hanks and Charlie Brooker. Lauren Laverne has temporarily taken the baton as host while Kirsty takes some time off due to fibromyalgia, and has received positive reviews.
BBC Radio 4, Fridays, 9am
Visit BBC.co.uk
 

Iggie Pop, Iggy Confidential
If you're into punk music and offbeat hosts, then this is the show for you. Iggie Pop – AKA, 'The Godfather of Punk' – fills a gap in the market for playing the most wide-ranging music genres. And, of course, he has the most amazing radio voice: rich, deep and weathered. The perfect listen if you're wanting to find some new and exotic music to add to your Spotify playlist.
BBC Radio 6, Fridays, 7pm
Visit BBC.co.uk

Saturday Night At The Movies
Movie scores are one of the best untapped sources of music. From Hans Zimmer to John Williams, host Andrew Collins walks us through some of the greatest cinematic scores of all time – a truly great addition to the Classic FM repertoire.
Classic FM, Saturdays, 5pm
Visit ClassicFM.com
 

The Zane Lowe Show
Since leaving Radio 1, Zane Lowe has moved to LA where he has his own show on Beats 1, a radio station that's part of Apple Music. Here, he's had all kinds of music behemoths in the studio with him – James Blake, Anderson Paak, DJ Khaled, Zayn Malik, to name but a few. His classic enthusiastic, motormouth interview style remains, but he seems freer to spin the tracks he loves.
Beats 1, Monday-Thursday, 5pm
Visit BBC.co.uk
 

Woman's Hour
Created way back in 1946, women's hour is as much an institution now as it was then. It consists of 45 minutes of reports, interviews and debates on issues important to women and mothers, such as health, education, culture and politics. Mel B, Chimamanda Ngozi Adichie and Annie Mac have all been recent guests. The last 15 minutes feature mini drama serials which periodically change.
BBC Radio 4, Monday-Friday, 10am
Visit BBC.co.uk
The Zoe Ball Breakfast Show
She may have only started her Breakfast Show last week, but Zoe Ball is already receiving rave reviews as the first full-time front woman of Radio 2's early morning show. From her obvious confidence in the role to the fact that the show was packed with female voices (Tina Daheley is the morning newsreader, the first two songs she played were by Aretha Franklin and Rita Ora, and the first phone-in guest was a woman), the show has been a massive hit thus far.
BBC Radio 2, Monday-Thursday, 6.30am
Visit BBC.co.uk

Elis James & John Robins
For a little light comedy with your music, tune in to comedians Elis James and John Robins on Radio X. Described by John himself as "a commercial indie radio show that has got wildly out of hand", the show contains a number of brilliantly silly features such as 'Humblebrag of the Week' (reading aloud brags found on social media that are disguised as moans), 'Email of the Species' (Elis and John read out and respond to listener's correspondence via the increasingly popular medium of email) and 'John's Shame Well' (John reads emails from listeners confessing actions in the past that have caused anxiety and regret ever since).
Radio X, Saturdays, 1pm
Visit RadioX.co.uk

Friday Night Is Music Night
The world's longest-running live orchestral music programme on radio, featuring the BBC Concert Orchestra and broadcast from locations throughout the UK. Whether its Mark Kermode's favourite soundtrack classics, Shirley Ballas's music for dancing, or an episode that celebrates Judy Garland and Frank Sinatra, each week the programme aims to prove, as they say, that "Friday night is music night".
BBC Radio 2, Fridays, 8pm
Visit BBC.co.uk
 

In Our Time
Turns out the UK's best chance at a good education is on Radio 4. In Our Time host Melvyn Bragg speaks with a team of experts to discuss one topic each week, which vary wildly in subject, from Africa to ageing and radiation to the Renaissance. If you've got a long morning commute or are just up for learning about something new, it's definitely worth a listen.
BBC Radio 4, Thursdays, 9am
Visit BBC.co.uk

Kermode And Mayo's Film Review
Mark Kermode and Simon Mayo make quite the team – both experts in film and have the ability to turn a normal conversation into a natural, flowing interview, it is these qualities that make this series so great. This is the place where film nerds unite, and exciting, enthusiastic debates begin. And we will, of course, never forget their cinema Code of Conduct: No slurping, no talking, and never, ever eat anything harder than a soft roll.
BBC Radio 5 Live, Fridays, 2pm
Visit BBC.co.uk
DISCLAIMER: We endeavour to always credit the correct original source of every image we use. If you think a credit may be incorrect, please contact us at info@sheerluxe.com.