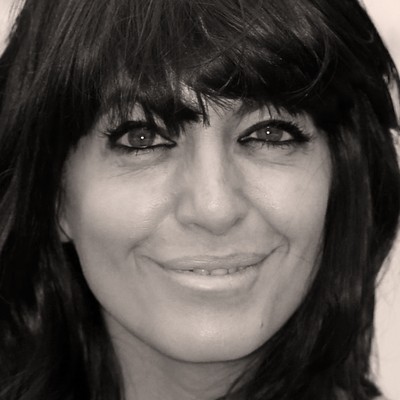 A Coffee With… Claudia Winkleman

Who doesn't want to be best friends with Claudia Winkleman? TV presenter, author and self-proclaimed fashion and beauty fanatic – she's the woman who gets it all right. She sat down with SL to chat fashion, food, books and more – plus, why she won't go one night without CBD…

How are you, Claudia? Can we get you a coffee?
I'm good thanks – I'm bouncy today, full of energy. I've done the school run and I'm meeting one of my best friends for lunch. We're having two big bowls of pasta which we're pretty excited about. I'm sorry to say I don't actually drink caffeine. I think I had some in about 1998 and was awake for three days. I don't like feeling frenzied or like I'm on a rollercoaster, so if I do have coffee, I only drink decaf. Failing that, it's usually Ribena Light. 
We're so excited to see you back on our screens – are you watching anything good on TV yourself?
Like everyone, I was obsessed with The Queen's Gambit. More recently, I loved the 9/11 documentary Inside The President's War Room. I like things which really hook you in. I'll probably watch that new documentary about the Tony Blair and Gordon Brown years soon, but I have to say I'm having a real reading moment right now.
Ah, so what are you reading?
I've told anyone who will listen about Katie Wix's Delicacy. It's very hard to describe. The tagline is 'A memoir about cake and death' – it's quite Nora Ephron and everyone should read it. Also, Sorrow And Bliss by Meg Mason. I love her as a writer. John Boyne is another favourite – The Heart's Invisible Furies is a must read. Also, there's a new book called The Therapist – I inhaled it. Both my mother and my father were big readers, so it's in my blood. But it's also about habit – get into bed and pick up a book, not your phone. So long as it's on charge in another room, I'm not interested in my phone.
Let's talk fashion – have you bought anything good this season?
I'm obsessed with fashion. At this time of year, it's all about three things for me: oversized sweaters, boots and coats. I can't abide summer clothes. The swimsuit I wore on holiday I've probably had for about 25 years. The accompanying kaftan I bought when I was about 17. Generally, summer clothes are a disgrace – all tiny straps and bright colours. No – I love autumn/winter. I like black, grey, charcoal. I can't wait for it to get dark at 4pm, to go to a pub to eat steaming food, to see the fairy lights on Regent's Street, to hear Christmas carols. So far, I've only bought this ACNE Kalia sweater. Saint Laurent is another of my favourite brands, though – hats off to Anthony Vaccarello. I love Isabel Marant and that whole Parisian boho vibe, and also how the Olsen twins dress – there's never any flesh on show and it's not sexy in an overt way. It's all about big black coats that set you back £4,000. I can't wait to see what Phoebe Philo does next, too – I hear her own brand is coming.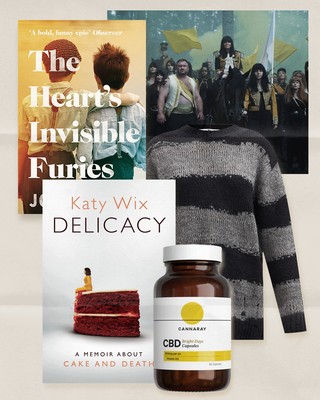 I love autumn/winter. I like black, grey, charcoal. I can't wait for it to get dark at 4pm, to go to a pub to eat steaming food, to see the fairy lights on Regent's Street, to hear Christmas carols.

Do you work out?
No, I don't exercise – at all. I don't sweat; I don't even own trainers. I went to a spin class about four years ago. It was fun, but I've never been back. I am slightly obsessed with the tube, though. I wake up and take my youngest child on the Central line to school (the older ones just aren't interested in me anymore which is pretty heart-breaking). Then I come back before going to pick him up later. So I guess that counts as some kind of movement… 
We've heard you're into CBD, though?
I'm one of those people who operates either at 10/10 or 1/10. On a normal day, pre-pandemic, I'd be up and about, on the tube and then coming home to decompress. Sometimes I'd even get back into bed – even if I had to go to work, I'd make sure I had a quick nap. In lockdown, though, no one was going anywhere – I was home-schooling and making absolutely inedible food. Things like a can of sardines and a butternut squash – I told the kids: "Don't worry, it's going to be delicious!" Anyway, my cousin who works in the music industry said she would send me these capsules because they were life changing. I'm no scientist, but she sent me the Cannaray capsules – and they quickly became non-negotiable. Now, I go to bed at 9pm (something I've done since I was 20) and take two capsules. Suffice to say, I feel on a completely even keel. I don't understand the magic, but they really work.
Why did you decide to get properly involved with the brand?
I think I posted something on my Instagram stories and the brand got in touch. I'd started to bore my friends rigid about how good it was, so a meeting was inevitable. I said "Well, thanks for having me," and they said, "No, no, stay, come and sit on this horse." I'm not a natural with animals – I've never ridden a horse before, but it's always good to try new things. This will all make a lot more sense if you've seen the ad...
Has your work with Cannaray made you rethink other aspects of your lifestyle? 
I don't have a huge amount of interest in self-care, but I'm a big believer in napping and switching off – no phones, no noise. I love getting under the duvet (I've even been known to just get under a towel or an old coat) and checking out. My husband calls it 'shutting down the kiosk' – I'm like those people who pull down the sliding iron door. It's a necessity when you're a mother – especially when one of the kids turns round to tell you they need to go to school tomorrow dressed as a planet. Er, pardon? I simply tell them the kiosk is closed. 
Are you interested in food?
I love food – I love a cookery book and I love a cookery show. If you look at who I follow on Instagram it's just fashion and different accounts showing you how to make a really good ragu. Nigella's the queen, Mary Berry is probably the love of my life, and Jamie's tomato curry is a favourite. I love Tom Kerridge, too. Banning or restricting anything is bad in my book. I mean, yesterday, I had a bag of Mini Cheddars and a Ribena Light. I'm having a pasta feast today and last night I played bridge over a shepherd's pie, then ate 13 Celebrations… Okay, probably more than that. Probably all of them except the Bounties. But I'm never going to get excited about fennel, or a radish or, god forbid, a juice. I don't want a smoothie with spirulina and whey. Ever. I suspect lots of people do, though, and that's absolutely fine.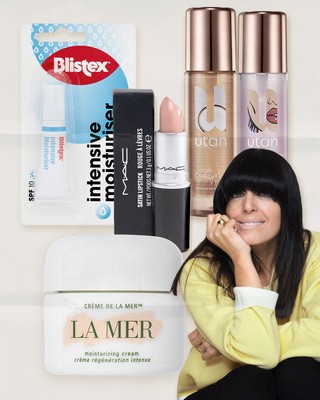 My lipstick of choice is MAC's Fleshpot – there's one on probably every surface of my house. It gives me that Tippex mouth look, which is probably my signature.

Do you drink alcohol?
I'm not much of a drinker. If I was going out with the girls, I'd probably have a margherita. I think tequila's quite buzzy – wine makes me quite sleepy, though. Overall, I'm much more interested in food than booze. 
Time for a bit of beauty chat – what's your ethos?
My mother never believed in having mirrors in the house when we were growing up – she wanted us to learn that the way we looked was probably the least interesting thing about us, and to learn that lesson young. It's probably why I show up to events now and people think, "God, did she get ready in a skip?" It's because I still don't have a proper mirror at home. My girlfriends hate it when they come round and can't check their own make-up. 
Any favourite products?
I don't use anything on my hair other than Head & Shoulders – I work with them, but genuinely I don't use any other shampoo. I love Blistex – you've got to have a good lip salve around. I've had a pot of La Mer face cream for about six years. My friend [and beauty journalist] Sali Hughes would be completely appalled. She can't believe I never throw anything away. I only use a tiny bit each time, but it makes me so happy. Anything by Dr Dennis Gross is great – he's a skincare genius – and Charlotte Tilbury is the queen of make-up. Also, the Utan facial mists are my go-to. They're brilliant. My lipstick of choice is MAC's Fleshpot – there's one on probably every surface of my house. It gives me that Tippex mouth look, which is probably my signature. 
Final few questions, Claudia – what's the last thing that made you laugh?
My kids are so funny. Especially the older ones. Ignore what you read about the teenage years, they're really funny. They keep me going. 
And the last thing that made you cry?
Delicacy by Katie Wix. I'm a broken record, but trust me, it's so good.
Do you have a life motto?
When in doubt get back into bed. Honestly, sometimes it's the only thing there is to do. And, like ET said, 'Be good.' Kindness counts for an awful lot these days.   
  
Claudia Winkleman is brand ambassador for Cannaray CBD. Follow @ClaudiaWinkle on Instagram.
DISCLAIMER: We endeavour to always credit the correct original source of every image we use. If you think a credit may be incorrect, please contact us at info@sheerluxe.com.