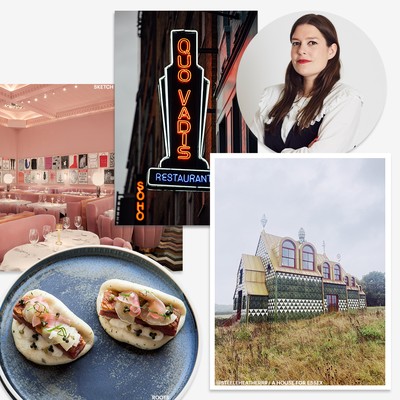 Heather Steele's Little Black Book

When it comes to drinking and dining out, it's fair to say SL's Lifestyle Editor Heather Steele knows her way around the London restaurant and bar scene – and beyond. From old-school haunts you might not have tried to fun bars, great places to catch up with friends and cheap eats, here are some of Heather's favourite spots – as well as her cultural, travel and shopping must-visits.

I've always loved Soho. It's smartened up over the years, but still has everything from music venues and dive bars to Michelin-starred restaurants and LGBTQ+ clubs. When it comes to food, I have a soft spot for the coffee and delicate lemon tarts at Maison Bertaux, fun Japanese fusion food (such as prawn katsu sandos) at Shack-Fuyu, Sri Lankan curries at Kolamba and clay pot-baked glass noodles and crab at Thai BBQ hotspot Kiln. I enjoyed such a memorable tasting menu at Aulis – L'Enclume head chef Simon Rogan's test kitchen – a few years back and have been desperate to go back ever since. I also love crossing Oxford Street up into Fitzrovia. It's the kind of place where you can show up and always find somewhere brilliant to eat. I recommend Scottish restaurant Mac & Wild for a 'Venimoo' – the best burger in London – Lima for ceviche and punchy pisco sours, and Bao Fitzrovia, the smallest – and my favourite – of the Taiwanese restaurant collection.
It's so difficult to pick a favourite restaurant, even though it's a question I have to ask chefs and foodies all the time. I love Quo Vadis, a members' club on Dean Street. It's housed in a fun, beautiful three-storey townhouse and the small, stained-glass lit restaurant is open to non-members. The kitchen is headed up by Jeremy Lee – one of the capital's most charismatic chefs – and serves a rotating selection of seasonal British dishes such as bream with crab broth alongside a pie of the day and Jeremy's famous smoked eel sandwich. Then there's Jackson Boxer's Brunswick House in Vauxhall. The restaurant is inside a striking Georgian mansion where all the furniture and lighting is for sale. I used to work around the corner, and we'd often head in for excellent set lunches or post-work cocktails. I've had a couple of unforgettable meals at Honey & Co in Fitzrovia, which serves the most amazing Middle Eastern food. And finally, have I mentioned Bao already? Every site serves a different menu (its Borough Market restaurant serves my favourite dish, a fried curry and cheese bao) and each has that stripped-back Japanese design I love – especially Cafe Bao, the group's newest spot in King's Cross.
I love a good pub – especially when one crops up on a long weekend walk (The Horseguards Inn outside Petworth in West Sussex deserves an honourable mention). In London, my favourite has to be The French House in Soho or The Lord Clyde in Borough, which are both old-school boozers filled with original details such as outdoor tiling and wood panelling. In Brighton, where I live, The Hand in Hand is my favourite place to drink. It has a cast of engaging regulars, they make their own beer in the cellar, and throw Sunday jazz nights.
When it comes to bars, bijou Bar Termini on Old Compton Street makes some of the very best cocktails in the capital. My favourite is the 'Terroir', which is made from flint, clay and lichen distillates. Sounds weird, tastes incredible. I also rate Waeska, the curiosities-laden bar in the Mandrake hotel, where the bartenders serve an inventive list of cocktails that focus on herbs and plants. If you're after something a little more classic, Donovan Bar at Brown's Hotel is excellent. It's covered in 60s fashion photographs by Terence Donovan, the drinks list is designed by cocktail 'maestro' Salvatore Calabrese, and the team know how to make an excellent martini. 
 
Every Bao serves a different menu, but its Borough Market restaurant serves my favourite dish – a fried curry and cheese bao.

I love strong black coffee – a trait I've picked up from my dad. When I'm out and about in London I rate Store Street Espresso (which is excellently placed for a pre-British Museum caffeine hit). In Brighton I love Pelicano in the Laines and Twin Pines in Kemptown. In Edinburgh, where I have family, I like to head to Fortitude Coffee and Lowdown for an americano.
I'm also a big fan of a Sunday roast. It's something I really enjoy making at home, but sometimes you can't beat piling into a pub with friends on a Sunday afternoon for a plate of roast potatoes. In Brighton, my favourite is served at the Sussex Yeoman, which is right by the train station and serves the best selection of vegetables I've encountered. In London, it has to be a medium-rare rib of beef at Hawksmoor, alongside a cherry negroni, or – for something a little theatrical – Simpson's in the Strand, where you're served slices of roasted meat straight from its antique carving trollies.
Confession time: I don't really like going out for brunch. Perhaps it's because I know I can make really good scrambled eggs at home (thanks, Nana) or have lingering memories of long queues for overrated bottomless brunch spots. However, I do think going out for a simple, speedy breakfast is a wonderful thing. 45 Jermyn St round the corner from Fortnum & Mason does amazing Marmite and duck egg crumpets; Japanese restaurant Koya has a wonderful bacon and egg breakfast udon bowl; and Marmalade – a great café round the corner from me that's owned by a co-founder of Bill's – serves perfectly cooked eggs.
 
45 Jermyn St, @SteeleHeatherrr
If I'm getting a takeaway, it has to be pizza. Having selflessly sampled many pizzerias in Brighton and Hove over lockdown, I can confirm the best spots for delivery are Pizzaface for interesting toppings, Nanninella for true Neapolitan pizzas and Original Toby's for a full-on US-style pizza complete with parmesan crusts and excellent dips. In London, I love Homeslice, especially the one topped with four cheeses from Neal's Yard Dairy, jalapeño salsa and rye crumbs. Over lockdown, I was impressed with Ambassador General Store, the delivery arm of JKS Restaurants, who own Gymkhana, Trishna and Brigadiers. The pork cheek vindaloo and achari tikka paneer were up there with some of the best Indian dishes I've ever tried.
When it comes to casual dinners, I like to head to Flat Iron. You can't get steak and chips for £12 anymore, but I still think it's great value and I've always had a great experience there. Like everyone, I'm also a fan of Dishoom – especially its black dahl in the evenings and egg and bacon filled naan breads for breakfast – and I also love the new-wave kebabs served at Covent Garden's Maison Bab. The eight-seater chef's table they've got in the basement there – Kebab Queen – serves a six-course tasting menu and it's really special.
 
When it comes to nights out, I'd much rather head to a restaurant than a club. For my 30th birthday a few years ago, I went to Sketch with a group of friends. It's not cheap, but it was a lot of fun and the bright pink interiors and David Shrigley artwork create an instant atmosphere. I interviewed owner Mourad Mazouz a few years back, and think he's fascinating. I also love Brasserie Zédel for its gorgeous Parisian-inspired dining room, live jazz and excellent bar, Bar Américain. The £10.95 two-course set menu – which features shredded carrot and dijon salad, followed by chopped steak, french fries and peppercorn sauce – is the best value meal to be found in London. If you're organised and fancy a late night, Ronnie Scott's is always a lot of fun. I don't know anyone who wouldn't get swept up in the atmosphere – I've been there on a date, a work Christmas party and a hen do. These days, Big Mamma Group is dominating Instagram feeds. I've been to both Gloria and Circolo Populare, and love the flamboyance of the staff, décor and the food – especially the giant carbonara and six-inch lemon meringue pie. The group's newest spot, Ave Mario, opened in Covent Garden last month and I've got a table booked in a few weeks. I can't wait.
My favourite cuisine is a toss-up between Asian and Italian. For the first, I love Koya for authentic noodles; Bone Daddies for a fun atmosphere; BaoziInn for colourful dim sum and a huge bowl of incomparable dan dan noodles; Opium for late-night cocktails; and Nanban in Brixton for Japanese-inspired carbonara and local beers. For great pasta, I love the original Lina Stores in Soho; Theo Randall at the InterContinental for a high-end experience; and Manteca for modern interpretations, such as spaghetti verde with wild garlic oil and egg yolk. I've never quite managed to make my way into The River Cafe, but as a big fan of Ruth Rogers – and having cooked loads from River Cafe Two Easy over the years – it's absolutely top of my list next time there's something to celebrate.
For a culture hit, I'll take a trip to a museum or gallery. My favourites in London are the Barbican, Natural History Museum, Tate Modern, Victoria Miro – where I recently saw an excellent Yayoi Kusama retrospective – and the Hunterian Museum in Holborn, which stores various body parts in jars and is utterly fascinating. I also love live music – it's been the biggest thing I've missed over the last 18 months (besides seeing friends and family). Luckily, I've got quite a few rescheduled shows lined up, such as Nick Cave at Brighton Dome and Pet Shop Boys at The O2. When it comes to cinemas, I think every Londoner should watch a film at the Rio in Dalston, ICA on The Mall and Screen on the Green in Islington.
 
The one shop I pop into all the time is Our Daily Edit in Brighton. Through them, I've discovered loads of brands such as Meadows, A Bronze Age and Wood Wood. They're also responsible for my Ganni habit and sell lots of lovely homewares, jewellery and candles, which make great presents. I'm also a sucker for a bookshop, and love heading into Foyles on the South Bank whenever I'm in the area. The staff are so friendly, and I can never leave empty-handed, even though I get sent loads of books to review each week.
I love Brasserie Zédel for its gorgeous Parisian-inspired dining room, live jazz and excellent bar, Bar Américain.

When it comes to restaurants outside London, my favourite spot has to be The Black Swan at Oldstead. The Michelin-starred restaurant with rooms is run by Great British Menu champ Tommy Banks and his family. Most of the produce is sourced from his parents' farm and guests can roam through the kitchen gardens before their meal, which is one of the best I can remember. I also really love Roots in York, the family's more casual sharing-plate restaurant that's every bit as good. The weekend I visited, I went to Roots on the Friday, ate another of its insane lamb bao at a Roots stall at a food festival the next day, headed to Oldstead on the Sunday night, then headed back home on the Monday laden with Oldstead preserves and bottled cocktails for Christmas presents after a final visit (and bao) at the market on Monday.
One of my favourite hotels is the Kimpton Fitzroy. From the carefully restored terracotta exterior, which occupies a full block of Russell Square, to the stained glass and marble entranceway and staircase, the newly refurbished hotel has an old-school elegance. Its bar, Fitz's, is particularly good. The hotel is around the corner from brutalist hotspot the Brunswick Centre and Lamb's Conduit Street, one of my favourite streets in the city, which is home to brilliant restaurants like Noble Rot, La Fromagerie and Ciao Bella, and some of my favourite clothing brands, such as Folk. I'll always make sure to have a pitstop pint at The Lamb. Outside London, I had an amazing stay at Lympstone Manor in Devon when it first opened. A wonderfully restored country mansion, it's run by Michelin-starred chef Michael Caines, who serves an immaculate fine-dining menu (featuring the likes of Lyme Bay lemon sole with asparagus, button onions and white wine foam) from a restaurant that looks out over the River Exe.
I've always enjoyed staycations. My dad's family are from the Isle of Skye, so I spent many summer holidays in the Highlands and I really recommend it if you're after a scenic trip that combines a spot of hiking, lots of great seafood and plenty of weather. You can't visit the island without booking at table at The Three Chimneys, a locally led, fine-dining restaurant in a former croft house on the edge of Colbost. More recently, I've spent Christmases in Deal. The Rose hotel is a no-brainer, but Smugglers Records – which turns into a bar at night – and the restaurant at the end of the pier are well worth a visit too. I also had a great weekend in Essex last autumn. Maldon is brilliant if you love food – especially oysters – Dedham Vale is excellent for walking and Grayson Perry's 'A House For Essex' is worth a trek to. And if you ever need a restaurant recommendation for Brighton & Hove, read this.
I love city breaks – in fact, I probably prefer them to longer holidays. Some of the best I've visited over the years include Bergen in Norway, Copenhagen, Oslo and Moscow – I love a chilly weekend of walking and nipping into coffee shops, homeware stores and galleries (although I did enjoy a sunny few days in Marseille two summers back). Last year, I spent five days eating my way around Edinburgh. We stayed in Robert Louis Stevenson's old family home, which is now an eclectic B&B, walked up Arthur's Seat and had fish and chips in Leith. We also ate incredible Japanese fusion food at Noto, sampled local seafood and fizz at White Horse Oyster Bar on the Royal Mile, and had late-night drinks at Panda & Sons before getting the sleeper train home.
I was saving up for a return trip to Japan before the pandemic hit. I was lucky enough to go on a press trip to Setouchi – a group of 350 islands in Japan's inland sea – two years ago. Japan had always been my dream destination and visiting once has not sated my appetite. If you're planning a trip, definitely catch a bullet train down to the islands – they are crammed with incredible art galleries and museums (I loved the Ando Museum) and Benesse House in Naoshima even has its own hotel within the gallery. Iceland is another country I've been to a couple of times, and I love everything about it. Glaciers, volcanos, waterfalls: it's like an amazing geography fieldtrip, without the teachers. Elsewhere on my travel wish-list is Georgia for its amazing food and hiking; Athens because I've never been to Greece and find its history fascinating; and Helsinki, as Finland is the only Scandinavian country I'm yet to visit. Maybe I'll tick one of them off next year. 
 
For more food and restaurant recommendations, follow Heather @SteeleHeatherrr
DISCLAIMER: We endeavour to always credit the correct original source of every image we use. If you think a credit may be incorrect, please contact us at info@sheerluxe.com.