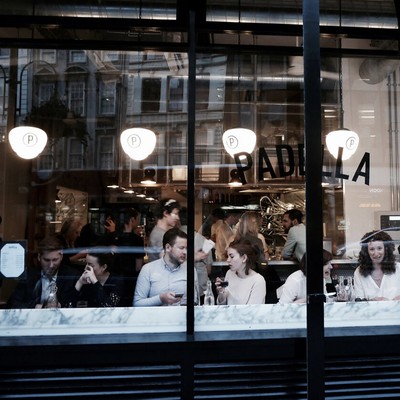 London's Best Budget-Friendly Restaurants

Eating out in London doesn't have to cost the earth – in fact, there are plenty of restaurants across the capital that can satisfy your appetite without leaving a gaping hole in your wallet. From Padella's purse-friendly pasta to Bao's steamed buns, here are London's best cheap eats…

Bao, Various Locations
With locations in Soho, Fitzrovia, Borough Market, Shoreditch and King's Cross, Taiwanese steamed bun experts Bao make the best in the capital. There's often a queue outside, so be prepared to wait, but once you're in, expect signature buns stuffed with the likes of tender pork belly with peanut powder and pickled lettuce; soy milk marinated fried chicken with kimchi and Sichuan mayo; and lamb shoulder with coriander sauce, garlic mayo and soy pickled chili. Save room for something sweet – there's a fried Horlicks ice cream bao on the menu that's definitely worth trying.
Price: Dishes from £4.
Locations in Soho, Fitzrovia, King's Cross, Shoreditch & Borough
Visit BaoLondon.com
Berber & Q Shawarma Bar, Clerkenwell 
Berber & Q Shawarma Bar opened in Exmouth Market in 2016, specialising in rotisserie Middle Eastern meats slow cooked over charcoal and wood. Taking influence and inspiration from the streets and cafe culture of Tel Aviv, this restaurant from the team behind Haggerston's Berber & Q features the same bold flavours and must-try meat dishes. We like to order cauliflower shawarma with zhug, pomegranate and tehina in pita followed by the Turkish coffee ice cream, chocolate sauce, tahini crumb.
Price: Mezze from £5.50. 
46 Exmouth Market, Clerkenwell, EC1R 4QE 
Visit  ShawarmaBar.co.uk
Maison Bab, Covent Garden 
Maison Bab is a new style of kebab house, complete with a picture-perfect setting, a bar that pours out CBD cocktails and a hidden ten-seater fine-dining restaurant called Kebab Queen. Three kebab flatbreads (all priced under £12) sit alongside a selection of starters, such as meat butter naan (a must-order) and superlative babaganoush. There's also a focus on vegan dishes – think house-smoked aubergine with yoghurt, chilli peanuts, shallots, chilli and cress. Further Le Bab sites can be found in Dalston, Old Street and Soho.
Price: Mains from £9. 
4 Mercer Street, Covent Garden, WC2H 9FA 
Visit EatLeBab.com
Padella, Borough & Shoreditch
There's no better place to indulge your pasta fix than at Padella, one of London's most popular Italian eateries. Feast on flavoursome classics including the likes of tagliatelle with nduja, mascarpone and parsley; pappardelle with eight-hour Dexter beef shin ragu; and ravioli of Neal's Yard goats curd with marjoram butter. There are no reservations, so you will have to wait (these days, the team will give you a QR code outside the restaurant so you can queue virtually), but it's well worth it. Last year, the group opened a second, larger site in Shoreditch, meaning even fewer queues at the original.
Price: Pasta from £8.
6 Southwark Street, Borough, SE1 1TQ & 1 Phipp Street, Shoreditch, EC2A 4PS
Visit Padella.co
Poppies Fish & Chips, Soho, Camden & Spitalfields
Poppies is renowned for its authentic fish and chips – and it's little wonder, with born and bred East End proprietor, Pat 'Pop' Newland, at the helm. Pop's career in the fish and chip business started in 1952 when, aged 11, he got a job on Roman Road cutting up copies of the Daily Mirror to wrap fish and chips in. Today, Poppies is also defined by its in-house fishmonger, Salih, who prepares all the fish on site and continues to command the fleet in the engine room below its Soho shop. Kids can get in on the action via the £6.50 children's menu, which includes cod bites, sausage or fishcake, all served with chips, while adults should opt for the traditional haddock and chips with mushy peas and tartare sauce.
Price: Mains from £8.90
6-8 Hanbury Street, Spitalfields, E1 6QR, 55-59 Old Compton Street, Soho, W1D 6HW and 30 Hawley Crescent, Camden, NW1 8NP
Visit PoppiesFishAndChips.co.uk
Poké House, Various Locations
Formerly known as Ahi Poké, this collection of laid-back poké hangouts specialise in build-your-own poké bowls. You choose a base of quinoa, sushi rice or kale, with a mix of proteins or veg including salmon, ahi tuna or shrimp, topped with your choice of sauce and salad toppings. There are signature bowls on the menu too, if you fancy a healthy, decision-free dinner.
Price: Signature bowls from £8.95.
Locations in Fulham, Victoria, Fitzrovia, Bank, Spitalfields & Canary Wharf
Visit Poke-House.com
Bun House, Chinatown
Inspired by 1960s Hong Kong, Bun House recalls the era's tea house street stalls. Steamed bao buns are the stars of the menu, with pig, lamb, chicken, fish and veggie options, as well as an interesting collection of pickles – think daikon, jicama, blue garlic and seasonal choy – and small dishes including chilli tripe, lotus root crisp and wood ear salad. For something a little fancier, but just as good, look to the team's other site, Wun's Tea Room & Bar.
Price: Bao buns start at £2.80.
26-27 Lisle Street, Chinatown, WC2H 7BA
Visit Bun.House
Flat Iron, Various Locations
If you're after somewhere cheap and cheerful for steak night, Flat Iron is your best bet. While the menu is small and prices pleasing, you'll be guaranteed good-quality cuts of meat, cooked to perfection. The sides are great too: think dripping-cooked chips, creamed spinach and blue cheese salad.
Price: Steak with salad costs £12.
Locations in Soho, Shoreditch, Tottenham Court Road, Covent Garden, Marylebone, Spitalfields, Borough, King's Cross & London Bridge
Visit FlatIronSteak.co.uk
The Cheese Bar, Camden 
Having made 150,000 grilled cheese sandwiches and melted over 20 tonnes of British cheese with The Cheese Truck, Mathew Carver opened his first permanent restaurant in Grade I-listed Camden Stables Market in 2017. The Cheese Bar's menu is crammed with dishes that champion urban cheesemakers in Greater London. From La Latteria in Acton to Peckham's Gringa Dairy, cheese lovers can choose from over 30 types of British fromage – we love 'Fondue Thursdays', where for £23pp you can get stuck into four different fondues. For a real outing, look to the team's Cheese Barge in Paddington.
Price: Cheeseboards start at £4. 
94 Camden Stables, Camden, NW1 8AP 
Visit TheCheeseBar.com
Zia Lucia, Various Locations 
Leading the charge in London's pizza renaissance, Zia Lucia has become renowned for its 48-hour slow-fermented doughs: choose between traditional, wholemeal, gluten free and black vegetable charcoal. Its third location at Boxpark Wembley features the 'Burrata Bar', a space that showcases creamy burrata sourced from Puglia. Diners are able to top their burrata with ingredients such as smoked salmon and avocado, spicy spianata salami, or roasted peppers. Keep an eye out for the team's forthcoming Stoke Newington location.
Price: Pizza from £6.90. 
Islington, Hammersmith, Aldgate East, Balham, Wandsworth & Wembley
Visit ZiaLucia.com
Chick 'n' Sours, Covent Garden & Spitalfields
With its loud, party atmosphere, you could quite easily forget you're in a grungy fried chicken shop. That is, until a towering buttermilk fried chicken burger is placed in front of you, stacked with crunchy slaw, sweet pickles and tangy gochujang mayo. Chick 'n' Sours' dishes come with a spicy Korean twist, as well as a large selection of cocktails. Dangerously good, and it won't cost you much more than a tenner for one of the most delicious chicken burgers you've ever tasted.
Price: Small plates from £5.50.
1A Earlham Street, Covent Garden, WC2H 9LL & 390 Kingsland Road, Dalston, E8 4AA
Visit ChickNSours.co.uk
Roti King, Euston 
Roti King specialises in serving up authentic Malaysian dishes. Hidden away in a basement around the corner from Euston station, the restaurant is small and simple, and features an open kitchen where guests can watch roti (Malaysian flatbread) being made on the spot. Given its name and reputation, the roti is a must order – we like the chicken murtabak with minced chicken and egg filling, which comes with dahl.
Price: Roti from £4. 
40 Doric Way, Euston, NW1 1LH 
Visit RotiKing.info
Okan, Brixton & Waterloo
Once a relatively unknown, tiny restaurant in the middle of Brixton Village, Japanese eatery Osaka now has two sites in Brixton and one on the South Bank. These days, the Japanese canteens get very busy, but you can usually beat the queues if you swing by around lunchtime or mid-afternoon. The team specialises in Osaka street food such as yaki soba, yaki udon and okonomiyaki pancakes. Be sure to try the okonomiyaki, served with prawns, squid kimchi and sweetcorn – it's authentic and delicious.
Price: All dishes from £2-£9.
Brixton Village, Brixton, SW9 8PR, 338 Coldharbour Lane, Brixton, SW9 8QH and Belvedere Road, South Bank, SE1 7PB
Visit OkanLondon.com
BaoziInn, Various Locations
Baozilnn's five restaurants serve authentic, well-priced northern Chinese street food. Baozilnn, which means 'people's canteen', has grown a loyal following for its all-day Cantonese dim sum with Hunan and Sichuan influences. Star dishes include prawn and pork wontons; chengdu jiaozi dumplings (steamed ground pork dumplings) drenched in XO sauce; and classic xiao long bao with minced pork and scallop. Away from the dumplings, make sure to leave room for the group's handmade dan dan noodles in homemade soy sauce, sesame sauce, peanut sauce and minced pork. It's one of the capital's very best dishes.
Price: Dumplings from £4.90.
Locations in London Bridge, Soho, Victoria, Oxford Street & Chinatown
Visit BaoziInn.com
Brasserie Zédel, Soho 
A longstanding French restaurant from the team behind The Wolseley and The Delaunay, Brasserie Zédel offers traditional Gallic dishes in beautiful art-deco surroundings (it's been described by Pierre Koffman as "the only real brasserie in London"). We like to opt for the surprisingly affordable set menu, which allows diners to tuck into a carrot salad, followed by steak haché with French fries and pepper sauce for just £12.25. Away from cassoulet and escargot, there are cracking cocktails to be had in Bar Americain, and live music in cabaret bar Crazy Coqs. 
Price: Prix fixe menu from £12.25 for two courses. 
20 Sherwood Street, Soho, W1F 7ED 
Visit BrasserieZedel.com
The Good Egg, Stoke Newington & Soho
Spanning Tel Aviv street food to fare from the grand old cafés of New York and Montreal, The Good Egg emphasises high-quality ingredients and sustainable produce. An ideal spot for weekend brunch, we love the sound of the babka French toast with caramelised halva, labneh and poached pear; and Montreal smoked meat hash with pastrami, smoked short-rib, fried potatoes, zhoug, pickles and two fried eggs.
Price: Brunch dishes start from £8
93 Church Street, Stoke Newington, N16 0AS and Kingly Street, Soho, W1B 5PW
Visit TheGoodEgg.Co
Kanada-Ya, Various Locations 
Specialising in authentic Tonkotsu ramen, Kanada-Ya was founded by Kanada Kazuhiro in Yukuhashi, Japan, back in 2009. The restaurant's signature ramen consists of noodles, tonkotsu broth, secret sauce (imported from the original restaurant, and handmade by Kanada himself), wood ear fungus mushroom, finely sliced spring onion, chashu pork belly and a sheet of nori. Even better, all noodles are made on site and customers can request how firm they like them. The best ramen in London? We think so.
Price: Ramen from £7. 
Locations in Piccadilly, Covent Garden, Soho & Islington 
Visit Kanada-Ya.com
Bánh Bánh, Brixton & Peckham
Bánh Bánh serves a range of Vietnamese favourites, from BBQ beef in betel leaves to sticky chicken wings and bánh khot pancakes (mini turmeric and coconut pancakes with tiger prawns and shrimp), all inspired by the owners' grandmother's recipe book from when she worked as a chef in Saigon in the 1940s. Its menu has a strong Viet/French influence and a wide selection of vegan dishes. Standout plates include the eggs bò né, a classic Vietnamese version of steak and eggs with beef steak, pâté, grilled tomato and a fried egg, served with a warm baguette. We love the sound of the seven-dish £24pp tasting menu at Bánh Bánh Café in Peckham.
Price: Small dishes from £6.
326 Coldharbour Lane, Brixton, SW9 8QH and 46 Peckham Rye, Peckham, SE15 4JR
Visit BanhBanh.com
Pizza Pilgrims, Various Locations
If you're looking for something quick and satisfying, you'll be hard pushed to find anywhere better than Pizza Pilgrims. Serving up a heavy hit of Napoli-inspired street food and cocktails, here the pizzas are soft and chewy, with thick bases and on-trend toppings – think 'nduja, salsiccia and smoked chilli jam mascarpone. The calzone with Napoli salami, ricotta and mushroom, topped with tomato, fior di latte and parmesan is a must-order. With 17 sites in London – including Selfridge's – there's bound to be a restaurant wherever you're planning to eat.
Price: Pizzas from £8.50.
Locations in 17 sites across London
Visit PizzaPilgrims.co.uk
Dumplings' Legend, Chinatown
Every good night ends with a trip to the local takeaway. But in Chinatown, forget kebabs: it's all about midnight dumplings. True to its name, Dumplings' Legend is the only place for a late-night fix. Open until 2:30am on a weekend, the team offers an extensive menu of steamed delights, including xiao long bao (steamed pork dumplings), its signature dish. 
Price: Mains from £8.50.
15-16 Gerrard Street, Chinatown, W1D 6JE
Visit DumplingsLegend.com
Lina Stores, King's Cross & Soho
Much-loved Soho pasta joint Lina Stores now has a second site in King's Cross, with another on the way, this time in Marylebone. Within a Victorian transit shed behind Granary Square, the location is bedecked in the deli's signature green and white stripes, and stocked with the very best Italian pantry essentials to eat in or take away. Diners can enjoy the theatre of the open kitchen while they wait for dishes – such as black truffle tagliolini and pappardelle with beef shin ragu and horseradish gremolata – to arrive. A pared-back selection of secondi includes 'overnight' beef cheeks. 
Price: Pasta from £7.
21 Stable Street, King's Cross, N1C 4DR and 51 Greek Street, Soho, W1D 4EH
Visit LinaStores.co.uk
Homeslice, Various Locations
This small chain of pizza restaurants started as a pop-up in Neal's Yard and now has permanent venues around town. It's noisy, informal and wouldn't look out of place on any street corner in Brooklyn. If you're going for a full pizza, go 50/50: one half with the fresh, garlicky courgette and artichoke; on the other, the rich, flavourful Neal's Yard Dairy four cheese, jalapeno salsa and rye crumb.
Price: Pizza slices from £4.
Locations in Covent Garden, Fitzrovia, Shoreditch, City, White City & Marylebone
Visit HomeslicePizza.co.uk
DISCLAIMER: We endeavour to always credit the correct original source of every image we use. If you think a credit may be incorrect, please contact us at info@sheerluxe.com.