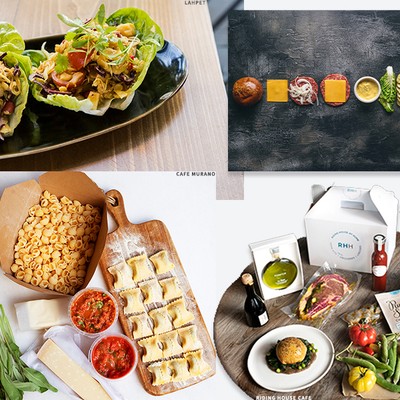 10 Speedy Suppers For When You Don't Want To Cook

As we approach 70 days in lockdown, you're not alone for feeling a bit of cooking fatigue. Thankfully, several top restaurants have switched from running full dinner services to creating finish-at-home meal kits and menus, all of which require minimal prep once delivered. From spicy Burmese salads to pasta dishes made by Angela Hartnett, here are 12 places to order a quick-win dinner.

Lahpet
Shoreditch restaurant Lahpet has launched an online shop, selling a range of Burmese pantry staples, plus meal kits to recreate some of Lahpet's signature dishes at home. Each kit requires customers to buy just one or two fresh and accessible ingredients, such as tomato or lime, and options include: coconut noodles with chicken – rich and fragrant chicken and coconut noodles, with chicken and coconut broth, egg noodles, shallots, spring onion, paprika oil, egg, lime, coriander and crispy noodles to garnish; Tea leaf salad – an umami-packed with pickled tea leaves, double-fried beans, cabbage, dried shrimps, garlic cloves, red chillies, dressing, fish sauce and sesame seeds; and ginger salad – with pickled ginger, double fried beans, cabbage, fresh shallot, crispy shallots, garlic, coriander, red chillies, toasted gram flour and shallot oil.
Visit Lahpet.co.uk
Café Murano
Angela Hartnett is now cooking Thursday to Sunday from Café Murano Bermondsey as the team launches its pasta delivery set-up, complete with an online Italian grocery. Customers can order ready-made meals such as family-sized lasagne, risotto kits, spinach and ricotta tortelli, and tagliatelle with sausage ragu, plus mix-and-match fresh pastas and sauces. Meanwhile, the small grocery section sells fresh vegetables, deli items, dried pastas and flours, wines and cheeses to cook at home with.
Visit CafeMurano.Slerp.com 
Prawn on the Lawn
Prawn On The Lawn has reopened its Highbury restaurant solely as a fishmongers. Day-boat Cornish and Devonshire seafood is making its way up to London, alongside some choice wines, herbs and vegetables. Over the next few weeks owners Katie and Rick are experimenting with some 'meal deals', but not as you know them. This week: for £25 for two, at-home kits include a bottle of wine, Padstow crab, fresh homemade pasta, lemon, chilli and olive oil. Next week expect the likes of mussels with soda bread and n'duja, or hake, tomato and butterbean stew.
Visit PrawnOnTheLawn.com
Mac & Wild
Mac & Wild has now launched its Venimoo burger kits across the UK. Each kit is filled with ingredients and recipe cards to feed four people, packed with four wild venison patties, four beef patties, baby gem lettuce, gherkins, burger cheese slices, two peeled and finely sliced onions – ready to be caramelised at home – as well as sesame brioche buns. A selection of sauces including béarnaise, mustard and Mac & Wild's 'Red Jon' sauce will come served in sachets, ready to be spooned onto burgers and layered up. All game and meat provided is sustainably sourced and sent direct from the Scottish Highlands.
Visit MacAndWild.com
Riding House At Home
Riding House at Home has launched, bringing home kits, ready-to-eat dishes and quality produce to homes across London via its pop-up store and home delivery service. Created by the team behind Riding House Fitzrovia, Loyal Tavern and Rail House Cafe, the online shop is stocked with restaurant-quality DIY dishes such as chicken, morel and truffle pie; Cornish lamb with spinach, minted mushy peas and wholegrain mustard sauce; and bake-at-home cookie dough. For a true weekend brunch experience at home, customers can order pancakes with clotted chantilly cream and berry compote, and a Full English breakfast complete with bloody marys and buck's fizz.
Visit RidingHouse.Cafe
The Gladwin Brothers
The Gladwin boys usually spend their time running Sussex in Soho, The Shed in Notting Hill, Rabbit in Chelsea and Nutbourne in Battersea. For lockdown, they've opened an online store to help Londoners create farm-fresh meals at home. The shop is filled with treats from the family's farm and vineyard in Sussex: think English wine, organic hand-reared pork and various family roasting boxes, designed for households of different sizes. It's rich pickings all round, but the beef wellington and Sussex beef pie are particularly outstanding – and both ready to serve two-four people.
Visit GladwinBrothers.com
Wright Brothers At Home
Wright Brothers has launched Wright Brothers At Home, offering home delivery of sustainable fish and shellfish. The range comprises fresh, smoked and cured fish; oven-ready whole fish to share; cooked crab and lobster; oysters and mussels; and frozen prawns and seafood. Delicacies include octopus tentacles, Alaskan king crab leg clusters and Carabiñeros prawns, with a vegetable and salad box is available to provide all the necessary accompaniments. For something completely fuss free, look to the dressed crab. 
Visit TheWrightBrothers.co.uk
Gaucho
Argentine steak restaurant group Gaucho now deliver Sunday roasts. Deliveroo users are able to order a Sunday lunch for £20pp, with a choice between succulent beef or spatchcock chicken, all of which comes with a selection of gravy, seasonal vegetables, yorkshire puddings and roast potatoes. Don't fancy a roast? A select menu of favourites are also available to choose from throughout the week. Dishes include premium cut steaks such as cuadril (rump), ancho (ribeye) and chorizo (sirloin) – all cooked to order – with a selection of sides such as chips with thyme salt, mac and cheese and tenderstem broccoli with chilli, crispy garlic and soy dressing.
Visit GauchoRestaurants.com
Patty & Bun
Throughout lockdown, Patty & Bun has been delivering its DIY kits to burger lovers across London – and now both kits are available to order around the UK. Meat and plant-based kits are available and include everything needed to make its famous burgers at home. In the signature P&B DIY kit, meat-lovers will receive ingredients for two 'Ari Gold' cheeseburgers and two 'Smokey Robinson' burgers, plus brioche buns, a mini squeezy bottle of P&B Mayo, cheese slices and homemade pickles and smokey onions. The Vegan DIY kit includes everything for two vegan 'Ari Golds' and two 'Smokey Robinson' burgers: four plant-based patties, rashers of 'THIS Isn't' Bacon, caramelised onions, vegan cheese slices and buns. Both boxes contain a step-by-step guide on how to assemble the burgers – all you need to buy is the lettuce and tomatoes.
Visit PattyAndBun.co.uk
Bar Douro
Wine bar and restaurant Bar Douro has made its contemporary take on Portuguese cuisine available for delivery and pick up in London. The menu is divided into 'Petiscos' (snacks), 'Horta' (garden), 'Mar' (sea) and 'Terra' (land), mirroring the menus at their two London restaurants in London Bridge and the City. Expect small plates such as garlic potatoes; heritage tomatoes with a white port vinaigrette; butterbeans with chard and cured egg yolk; baked duck rice; a piri piri chicken sandwich with blistered peppers; and black pig cheeks with cauliflower and kale migas.
Visit BarDouro.co.uk