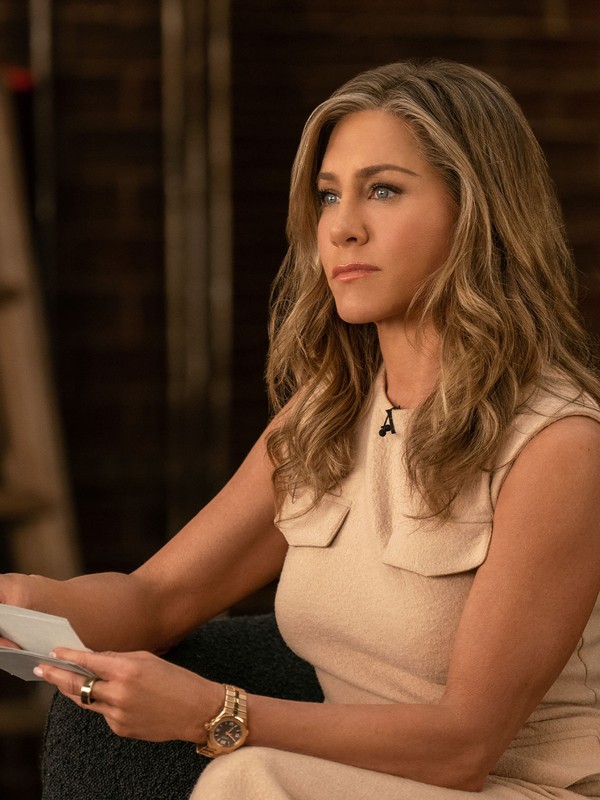 The SheerLuxe Culture List – September

Whether you fancy a trip to the cinema or want a series or novel to get stuck into, SheerLuxe's monthly edit of the best new books, films and TV will see you through September.

By Heather Steele
All products on this page have been selected by our editorial team, however we may make commission on some products.
The Morning Show – Series 3
In season three of The Morning Show, the stakes are high as the future of the network is thrown into question and loyalties are pushed to the brink when a tech titan takes an interest in UBA. Unexpected alliances form, private truths are weaponised, and everyone is forced to confront their core values both in and outside of the newsroom. Along with Reese Witherspoon and Jennifer Aniston, the star-studded series three ensemble cast is led by Billy Crudup, Mark Duplass, Nestor Carbonell, Karen Pittman, Greta Lee, Jon Hamm, Nicole Beharie and Julianna Margulies.
Visit TV.Apple.com
Janet, a foul-mouthed Belfast supermarket worker, encounters Seamus in unusual circumstances in her garden. Unlike her, he lives in London, works as a political broadcaster, and has a celebrity girlfriend. Despite the apparent gulf in experiences between them, the two find themselves unexpectedly falling for each other. As this extraordinary relationship develops, they must each contend with a range of difficulties that stem from the extreme differences in their backgrounds and life experiences.
Visit NowTV.com
Single mom Flora (Eve Hewson) is at a loss about what to do with her rebellious teenage son, Max (Orén Kinlan). Encouraged by the police to find Max a hobby, Flora tries to occupy him with a beat-up acoustic guitar. With the help of a washed-up LA musician (Joseph Gordon-Levitt), Flora and Max discover the transformative power of music. From the musical mind of John Carney, Flora & Son explores the bond between a mother and son.
Visit TV.Apple.com
British broadcasting legend Jill Dando was killed by a single bullet on her doorstep in 1999 in broad daylight. Despite one of the biggest murder investigations in British history, her death remains unsolved. This three-part series takes viewers through the twists and the turns of a true crime mystery as her family, friends, journalists, investigators and lawyers wrestle with the question: who killed Jill Dando?
Visit Netflix.com
This month, the critically acclaimed series Top Boy returns to Netflix for one more season – set to be the final chapter that will decide who can reign as Top Boy of Summerhouse. Sully's actions at the end of the last series have rewritten his business rules with Dushane. As new shared problems arise, everything they've built comes under threat from forces outside and within their empire. Can they coexist by following the rules of the road they've lived by their whole lives in a world that is changing before them? Or can there only be one Top Boy?
Visit Netflix.com
After missing her flight from New York to London, Hadley meets Oliver in a chance encounter at the airport that sparks an instant connection. A long night on the plane together passes in the blink of an eye but on landing at Heathrow, the pair are separated and finding each other in the chaos seems impossible. Will fate intervene to transform these seat mates into soul mates? Love At First Sight is a charming romantic comedy from the producers of the To All The Boys franchise based on the wildly popular novel, The Statistical Probability of Love at First Sight, by Jennifer E Smith. Starring Haley Lu Richardson, Ben Hardy, Jameela Jamil, Rob Delaney, Dexter Fletcher and Sally Phillips, the film is a reminder that timing is everything and true love can be found in the most unexpected places.
Visit Netflix.com
Following the closure of Moordale Secondary, Otis and Eric now face a new frontier – their first day at Cavendish Sixth Form College. Otis is nervous about setting up his new clinic, whilst Eric is praying they won't be losers again. But Cavendish is a culture shock for all the Moordale students – they thought they were progressive, but this new college is another level. Viv is totally thrown by the college's student-led, non-competitive approach, while Jackson is still struggling to get over Cal. Aimee tries something new by taking an art A-Level and Adam grapples with whether mainstream education is for him. Over in the US, Maeve is living her dream at prestigious Wallace University, being taught by cult author Thomas Molloy. Otis is pining after her, while adjusting to not being an only child at home, or the only therapist on campus.
Visit Netflix.com
Still Up is an almost romantic comedy set in the after-hours world of insomniacs Danny (Craig Roberts) and Lisa (Antonia Thomas) who have no secrets except their feelings for each other. Bonded by insomnia, best friends Lisa and Danny stay connected to each other late into the night and find their way through a world of wonderfully weird surprises as their relationship deepens. Also starring in the ensemble cast are Blake Harrison, Lois Chimimba, Luke Fetherston and Rich Fulcher.
Visit TV.Apple.com
In Pursuit of Happiness by Stacey Duguid
Stacey Duguid is a journalist and presenter who has a weekly dating column in the Telegraph. In 2004, Stacey joined British Elle as fashion editor and during this time, she wrote the award-winning column, Mademoiselle, Confessions of an Elle Girl. Featuring on the back cover for half a decade, the column was a fictionalised version of her life as a single woman living in London. In Pursuit of Happiness is her first book, and is an honest, raw, sexy and funny collection of essays about divorce, dating and the right to pursue your own happiness, despite societal expectations. This collection of short essays tells the story of a life that, until her marital breakdown, looked absolutely fabulous. Inside, she discusses everything that's taboo in today's society: miscarriage, abortion, debt, affairs, divorce, single parenting, post-natal depression, sex and dating in mid-life.
Visit Amazon.co.uk
Doppelganger by Naomi Klein
When Naomi Klein discovered that a woman who shared her first name, but had radically different, harmful views, was getting chronically mistaken for her, it seemed too ridiculous to take seriously. Then, suddenly, it wasn't. She started to find herself grappling with a distorted sense of reality, becoming obsessed with reading the threats on social media, the endlessly scrolling insults from the followers of her doppelganger. Why had her shadowy other gone down such an extreme path? Why was identity such an unstable concept? To find out, Klein decided to follow her double into a bizarre, uncanny mirror world: one of conspiracy theories, anti-vaxxers and demagogue hucksters, where soft-focus wellness influencers make common cause with fire-breathing far right propagandists (all in the name of protecting 'the children'). In doing so, she lifts the lid on our own culture during this surreal moment in history, as we turn ourselves into polished virtual brands, publicly shame our enemies, watch as deep fakes proliferate and whole nations flip from democracy to something far more sinister.
Visit Amazon.co.uk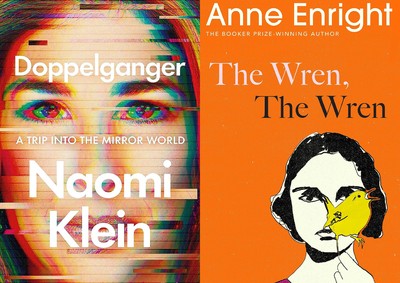 The Last Devil To Die by Richard Osman
We can hardly believe it, but this is the fourth novel in the record-breaking, million-copy bestselling Thursday Murder Club series by Richard Osman. On Boxing Day, a dangerous package is smuggled across the English coast. When it goes missing, chaos is unleashed. The body count starts to rise – including someone close to loveable OAPs the Thursday Murder Club – as the gang face an impossible search and their most deadly opponents yet. With the clock ticking down and a killer heading to retirement village Cooper's Chase, has their luck finally run out? And who will be 'The Last Devil To Die'?
Visit Amazon.co.uk
The Wren, The Wren by Anne Enright
Nell – funny, brave and much loved – is a young woman with adventure on her mind. As she sets out into the world, she finds her family history hard to escape. For her mother, Carmel, Nell's leaving home opens a space in her heart, where the turmoil of a lifetime begins to churn. And across the generations falls the long shadow of Carmel's famous father, an Irish poet of beautiful words and brutal actions. This is a meditation on love: spiritual, romantic, darkly sexual and genetic. A multigenerational novel that traces the inheritance not just of trauma but also of wonder, it is a testament to the resilience of women in the face of promises false and true. Above all, it is an exploration of the love between mother and daughter.
Visit Amazon.co.uk
The Fraud is the first historical novel from bestselling British author Zadie Smith. It is 1873. Mrs Eliza Touchet is the Scottish housekeeper – and cousin by marriage – of a once famous novelist William Ainsworth. Andrew Bogle grew up enslaved on the Hope Plantation, Jamaica. He knows every lump of sugar comes at a human cost – and that people are more easily manipulated than they realise. When Bogle finds himself in London, star witness in a celebrated case of imposture, he knows his future depends on telling the right story. The 'Tichborne Trial' captivates Mrs Touchet and all of England. Is Sir Roger Tichborne really who he says he is? Or is he a fraud? Mrs Touchet is a woman of the world and Mr Bogle is no fool. But in a world of hypocrisy and self-deception, deciding what is real proves a complicated task.
Visit Amazon.co.uk
Vanya, Duke of York's Theatre
This autumn, Fleabag's Andrew Scott brings to life multiple characters in Simon Stephen's radical new version of Anton Chekhov's Uncle Vanya. Comedic and tragic, Chekhov's examination of our shared humanity – our hopes, dreams, regrets – is thrust into sharp focus in Vanya. This production explores the kaleidoscope of human emotions, harnessing the power of the intimate bond between actor and audience to delve deeper into the human psyche.
Visit TheDukeOfYorks.com
30 Years of London Fashion at the Design Museum
The Design Museum in Kensington is one of our favourite galleries in the capital, so we were pleased to hear the venue is about to open an exhibition celebrating London's contribution to contemporary global fashion. Opening to coincide with London Fashion Week, the exhibition will be one of the most wide-ranging surveys of contemporary fashion culture ever staged in the UK, with nearly 100 innovative looks from debut and early collections, many of which have entered pop-culture history – and launched design careers. Highlights include the swan dress controversially worn by Björk at the 2001 Oscars, Harry Styles' Steven Stokey Daley outfit from his video for 'Golden' and a unique replica of Sam Smith's inflatable latex suit from this year's BRIT Awards. 
Visit DesignMuseum.org
DISCLAIMER: We endeavour to always credit the correct original source of every image we use. If you think a credit may be incorrect, please contact us at info@sheerluxe.com.