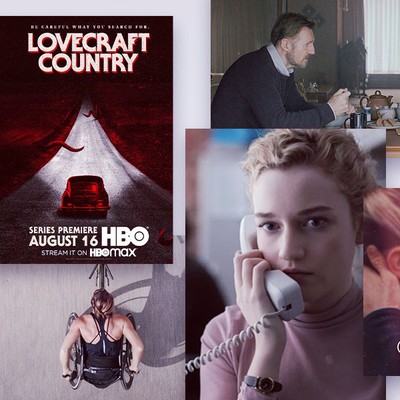 What To Watch Online This August

Get set for hours of entertainment as some of our favourite programmes return, as well as a string of debuts that will keep you hooked.

Joker, Now TV
Joaquin Phoenix won Best Actor at this year's Oscars for the performance that dominates Joker. Todd Phillips' film is the gritty origin story for the super-villain who has twice battled Batman on the big screen – first as Jack Nicholson then as Heath Ledger. In the aftermath of those two legendary efforts, for Phoenix to put his own stamp on the character is a remarkable feat. He channels Robert De Niro in Taxi Driver to track a shocking descent from troubled comedian to rampantly unhinged criminal. Catch it on Now TV in August with a Sky Cinema pass.
Watch here
Ready Or Not, Now TV
Dark, funny and pacey, this 2019 cinema release delivers as a class satire, a comic horror and a captivating thriller. Samara Weaving is an orphan bride marrying into a wealthy family. With the ceremony over, it's time to play a game of hide and seek with a twist: the bride's got to hide; the rest of the family's got to seek her out… and kill her. What follows is a memorably crazy night in a spooky old mansion.
Watch here
Chemical Hearts, Amazon Prime Video
Chemical Hearts is an unapologetic coming-of-age story involving a hopeless romantic and a young woman with a mysterious past. Seventeen-year-old Henry Page (Austin Abrams) has never been in love. He fancies himself a romantic, but the kind of once-in-a-lifetime love he's been hoping for just hasn't happened yet. Then, on the first day of senior year, he meets transfer student Grace Town (Lili Reinhart) and it seems all that is about to change. When Grace and Henry are chosen to co-edit the school paper, he is immediately drawn to the mysterious newcomer. As he learns the heartbreaking secret that has changed her life, he finds himself falling in love with her —or at least the person he thinks she is.
Watch here
Inception, Amazon Prime Video
Ahead of Christopher Nolan's delayed release of Tenet, his 2010 masterpiece Inception is now available to watch on Amazon Prime Video. The mind-bending film follows Cobb (Leonardo DiCaprio), a professional thief who steals information from his targets by entering their dreams. He is offered a chance to have his criminal history erased as payment for the implantation of another person's idea into a target's subconscious. The all-star ensemble cast includes Joseph Gordon-Levitt, Marion Cotillard, Ellen Page, Tom Hardy, Cillian Murphy and Michael Caine.
Watch here
The Assistant, Now TV
A young woman (Julia Garner) gets her dream job in a film company but begins to uncover dark secrets rooted deep within the workplace. Although inspired by the Weinstein scandal, this intimate character study focuses largely on everyday workplace structures that allow such abuse to continue unchallenged. The most unsettling aspect of all? This film is set over the span of a single day.  
Watch here
I Hate Suzie, Now TV
Billie Piper stars in a bold, bracing, Sky original drama about the moment in life when the mask slips, asking if any of us can survive being well and truly 'known'. Suzie Pickles (Piper), has her life upended when she is hacked and pictures of her emerge in an extremely compromising position. The series shows her unravelling as the event ricochets around every area of her life. Episode by episode we follow her through the stages of shock, denial, fear, shame, bargaining, guilt, anger and acceptance as Suzie and her best friend and manager Naomi (Leila Farzad) try to hold her life, career and marriage to Cob (Daniel Ings) together.
Watch here
Lovecraft Country, Now TV
Jordan Peele (Get Out) and JJ Abrams (Star Wars) are among the executive producers of this big-budget, ten-part HBO drama. Based on a 2016 novel, Lovecraft Country follows Atticus Freeman, his friend Letitia and his uncle George on a road trip across 50s Jim Crow America in search of his missing father. Along the way, they face a dual threat: the racism of white America and some monsters of a more supernatural kind. Check out the trailer here.
Watch here
Ordinary Love, Now TV
Joan and Tom have been married for years. When Joan is unexpectedly diagnosed with breast cancer, the course of her treatment shines a new light on their relationship and forces them to confront the challenges that lie ahead. This quiet, touching film is anything but mundane, with searingly authentic performances from Liam Neeson and Lesley Manville.
 
Watch here
Project Power, Netflix
This is August's most A-list streaming release. Project Power stars Jamie Foxx (Ray, Miami Vice, Django Unchained) and Joseph Gordon-Levitt (The Dark Knight Rises, Looper) as an ex-soldier and a cop who team up with a young dealer (Dominique Fishback) to contain a crime wave in New Orleans. The cause of the crime wave is a mysterious pill that gives a unique superpower to whoever takes it for five minutes.
Watch here
Rising Phoenix, Netflix
Rising Phoenix tells the extraordinary story of the Paralympic Games. From the rubble of WWII to the third biggest sporting event on the planet, the Paralympics sparked a global movement which continues to change the way the world thinks about disability, diversity and human potential. Athletes featured in the film include Bebe Vio (Italy), Ellie Cole (Australia), Jean-Baptiste Alaize (France), Matt Stutzman (USA), Jonnie Peacock (UK), Cui Zhe (China), Ryley Batt (Australia), Ntando Mahlangu (South Africa) and Tatyana McFadden (US).
Watch here
The Informer, Now TV
Reformed criminal and former soldier Pete Koslow is given the chance to work undercover for corrupt FBI handlers, in exchange for freedom from prison. Amidst his mission to infiltrate the Polish mob's drug trade in New York, Koslow has to race against time when a drug deal goes wrong and threatens to expose his identity. This British crime-thriller stars Rosamund Pike, Ana De Armas and Joel Kinnaman.
 
Watch here
(Un)Well, Netflix
This new docuseries casts an eye over some of the more improbable branches of the wellness industry. First in line for scrutiny is apitherapy, whose proponents say honeybee products including its venom can cure a range of health issues. Other episodes in this debut season zoom in on essential oils, breast milk, extreme fasting, ayahuasca and tantric sex. Want to know if natural hallucinogens from South America can save humanity? This is where you'll find out.
Watch here
Selling Sunset, Netflix
The top real estate brokers at The Oppenheim Group are back for a third series. Selling Sunset, a Netflix reality series set in the world of LA's high-end real estate, follows seven of the city's most successful female realtors who all work under the same roof at the number one agency in the Hollywood Hills and the Sunset Strip. This season, the ladies deal with even more mind-blowing mansions, shocking new romances, and explosive truths that will change their lives, relationships and careers forever. 
Watch here
The Great Heist, Netflix
Inspired by true events, this Colombian Netflix Original zeroes in on the 'robbery of the century'. In October 1994, thieves stole $33m from the country's Valledupar Bank of the Republic. Six 40-minute episodes will tell the full story in the style of an action thriller, from planning to the crime itself and its far-reaching impact on Colombian society.
Watch here
DISCLAIMER: We endeavour to always credit the correct original source of every image we use. If you think a credit may be incorrect, please contact us at info@sheerluxe.com.