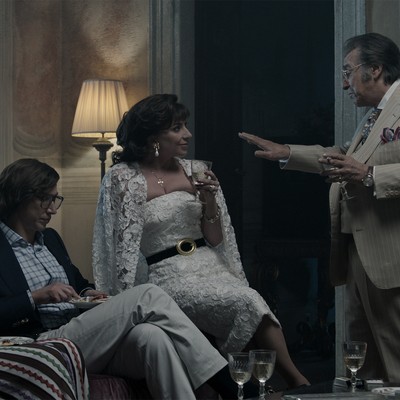 What To Watch This Weekend: House of Gucci

Ridley Scott's House of Gucci is inspired by the true story of the family behind the famous Italian fashion empire. Starting in the 1970s, the story follows Patrizia Reggiani – played by Lady Gaga – an outsider from humble beginnings who marries into the Gucci family. But soon, her unbridled ambition begins to unravel the family legacy, triggering a reckless spiral of betrayal, decadence, revenge and – eventually – murder. Here's what we thought about one of the year's most anticipated films…

This isn't the first film director Ridley Scott – the man behind Gladiator, Alien and Thelma & Louise – has released this year. In early autumn, The Last Duel hit cinemas. Starring Adam Driver, Matt Damon, Jodie Comer and Ben Affleck, the all-star medieval drama bombed at the box office. Having watched his second 2021 release, House of Gucci, we're certain it won't suffer the same fate. 
The film begins in the early 1970s. While a bespectacled Maurizio Gucci (Adam Driver) sips espresso in a quintessential Italian square, Patrizia Reggiani (Lady Gaga) struts across the concourse of her father's trucking company to a chorus of wolf whistles, heels high and a cigarette trailing from her mouth. She's in her early 20s, self-assured, flirty and keen to go places. Her journey to the top kicks off at a masked disco in a friend-of-a-friend's mansion where she meets Maurizio. Shy and gawky – albeit impeccably dressed – Maurizio tells her he's training to be a lawyer and has no interest in joining the family firm. After a bit of light stalking on Patrizia's part, the two end up running into each other in a library and soon, she manages to engineer a relationship with the Gucci heir. The reserved Maurizio grows in confidence, Patrizia's outfits get ever better, and their relationship goes from strength to strength.
But their happy bubble cannot last. We soon meet Rodolfo (an excellent Jeremy Irons) and Aldo (an even better Al Pacino), Maurizio's father and uncle. It was their father, Guccio, who started the Gucci brand in 1921. While Rodolfo sees fashion as a serious artform, Aldo is all about money – when we first meet him, he's practising Japanese in a bid to convince Rodolfo to agree to build a Gucci store at the foot of Mount Fuji. Slim, large; steely, larger-than-life; the brothers are different in every way, even when it comes to their sons. A widower and former actor, Rodolfo dotes on Maurizio and hopes to shore up his position as heir apparent. Aldo has been lumbered with Paolo (a prosthetics-laden Jared Leto), a deluded, talentless individual who's a constant source of embarrassment to his father and the wider family.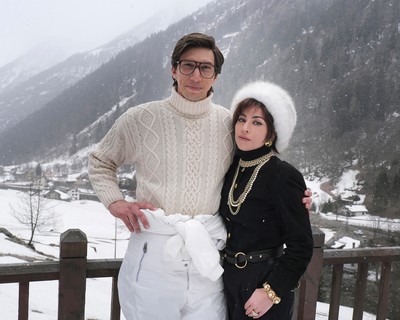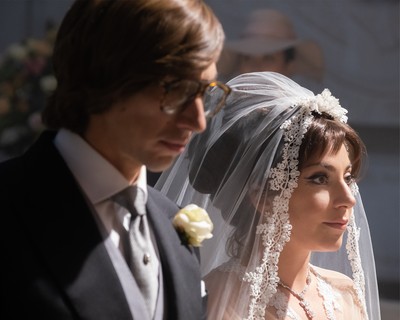 Rodolfo's commitment to the sanctity of the Gucci name means he rejects Maurizio's relationship with Patrizia, believing her to be a gold digger and social climber. We begin to warm to the mechanical Maurizio when he gives up his inheritance, job, status and family home to marry Patrizia. The happy pair walk down the aisle as George Michael's 'Faith' blasts out, before Maurizo gets a job washing trucks at Patrizia's father's business and the pair move into a tiny house. He says he's never felt happier. But this isn't the life Patrizia envisaged when she decided to get her claws into a Gucci. Soon she's scheming and seducing her way to the top of the family tree – taking Maurizio with her – with no regard for who gets trampled along the way.
There's much to love about House of Gucci – and it's a must-see for fashion fans. From Patrizia's vintage Gucci two-pieces and handbags – which become ever more fabulous as her wealth grows – to catching bang-on glimpses of the likes of Claudia Schiffer, Anna Wintour and André Leon Talley, there are moments that bring great joy. In the film's latter half, viewers are given front-row access to some landmark 90s fashion shows. Whether we're witnessing vintage Versace or a then-unknown Tom Ford's first Gucci collection in 1994, Scott truly captures the thrill of the era.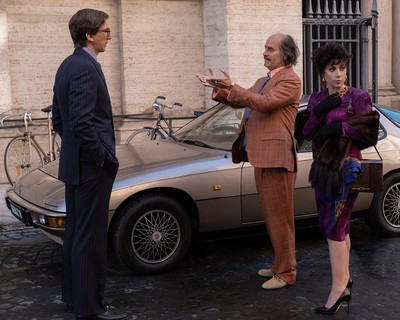 The whole film is magnificently maximalist. From the family's many mansions and their beautiful backdrops in Milan and Lake Como, to the variously successful Italian accents and the high-tempo soundtrack, aspects of the film are deliciously camp and theatrical. There are also plenty of laughs, especially when it comes to Leto's overblown depiction of Paolo and Salma Hayek, who plays a TV-psychic-turned-hitman-liaison.
But there are moments when the high drama jars with the real-life narrative – which would be utterly compelling on its own. The merging of these disparate things will please some but leave others confused over what the film's purpose is. Is it a soap opera or a crime story? It wants to be both, but in striving to offer thought-provoking domestic drama and visual spectacle, it doesn't always hit the mark. Despite Leto getting lots of laughs in the screening we went to, we're not sure his deliberately comedic portrayal felt part of the same film.
Based on the book The House of Gucci: A Sensational Story of Murder, Madness, Glamour and Greed by Sara Gay Forden, this is a compelling, larger-than-life tale that will fascinate viewers regardless of their existing knowledge of the legendary fashion house. And despite a few flaws, it's something that deserves to be seen on the big screen. Whether you leave the cinema revelling in Driver and Gaga's chemistry or just scratching your head, you are sure to have an opinion on one of the most talked-about films of the year.
SL Rating: 3/5.
House of Gucci is released on 26th November
DISCLAIMER: We endeavour to always credit the correct original source of every image we use. If you think a credit may be incorrect, please contact us at info@sheerluxe.com.