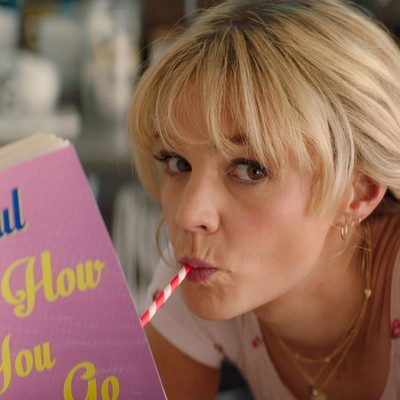 What To Watch This Weekend: Promising Young Woman

Just in time for the final awards ceremony of the season, five-time-Oscar-nominated 'Promising Young Woman' lands on Sky Cinema this weekend. A rape revenge drama that strays into the realms of black comedy and surreal fantasy, this is a bold directorial debut from 'The Crown' actor Emerald Fennell. Here's why it's worth a watch.

With just the Oscars left to go this awards season, it's been an unusual year for Brits trying to keep track of the prizes: as the pandemic continues to keep cinemas closed, many of the nominated films haven't been released in the UK yet. It's hard to have the same level of interest when you haven't even seen a handful of the shortlist. But that's set to change this weekend, as Emerald Fennell's debut film Promising Young Woman lands on Sky Cinema and Now TV. And what a film it is.
When it came out in the US last year, Variety's film critic Dennis Harvey criticised lead actor Carey Mulligan for not being right for the "femme fatale" role of Cassie, a 30-year-old woman who's hellbent on seeking revenge for the rape of her best friend, Nina. Harvey came under fire for suggesting that the film's producer, Margot Robbie, might have been a better fit. Having watched her performance, we couldn't disagree more – the multifaceted Mulligan is perfect in the role of nice, but troubled girl out for blood.
The film begins in a club, where Charlie XCX's 'Boys' is blasting. It sets the scene for Cassie's weekly ritual, where she dresses up, plasters on lipstick and heads out alone. At clubs and bars across town, she sprawls across banquettes or slumps across bars, make-up smeared, slurring and vulnerable. When she inevitably ends up at a faux-concerned man's apartment – who offers her another drink, despite her almost comatose state – she turns the scene on its head: she's completely sober and well aware of their murky intentions. The blinding judgement she delivers on each of them is enough to sober them up, too.
A medical school dropout, Cassie still lives at home – much to her mother's immense disappointment – and now works in a coffee shop, serving sub-par drinks in an unfriendly fashion. It's here she reconnects with former fellow medical student Ryan, which in turn kicks her revenge plan up a gear. Now, rather than preying on unsuspecting men, she scrawls a list of those who let what happened to Nina go unpunished – from the college boys responsible, to the lawyers and university staff who covered it up – and sets about dismantling their lives.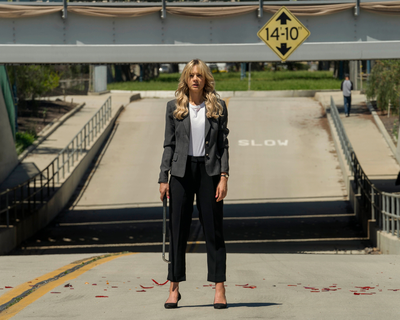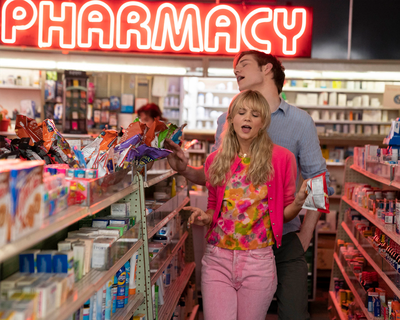 As always, Mulligan excels on screen, but the casting as a whole is especially clever. Alongside the likes of Lavern Cox, Jennifer Coolidge, Clancy Brown and Alison Brie, it's the 'nice boys' that are the really smart choice, as we witness a roll-call of 2000s teen stars turn their wholesome image upside-down – think The OC's Seth Cohen and Superbad's Christopher Mintz-Plasse. Then there's Ryan himself, a blond-haired, blue-eyed poster boy of all-American goodness, played by Bo Burnham, the comedian who wrote and directed last year's Eighth Grade, another subversive film that explores the murkiness of sexual assault.
Finally there's Emerald Fennell herself. Best known – until now – for playing Camilla Parker Bowles in series three and four of The Crown, she's also written for Killing Eve, and now has a couple of Baftas to her name for this film. She makes an excellent cameo in Promising Young Woman, playing the host of a 'Blowjob Lips Make-Up Video Tutorial' Cassie watches on YouTube before one of her big nights out, a knowing nod that highlights the playfulness of a story that also tackles huge, serious issues.
At first, some of this surrealism really jars – the costumes and backdrop are painted in an explosion of pink, and the soundtrack switches between eerie, pulsating instrumentals to 'Stars Are Blind' by Paris Hilton (a song that makes a surprising appearance in one of the best scenes of the film). But as the story progresses, this black comedy makes the uncomfortable subject matter and the film's most violent moments all the more memorable.
Midway though, you might think you know where this tale of retribution is headed – but trust us, you don't. Promising Young Woman is shocking, amusing and clever in equal measures, and while it probably won't win Best Picture at the Oscars in ten days' time, we do suspect it might pick up a couple of well-deserved awards along the way. Mulligan is always great – and her nod for Best Actress proves it – but after loving this debut, it's Fennell we're really excited to see more of in the future.
 
Promising Young Woman is available to watch on 16th April
DISCLAIMER: We endeavour to always credit the correct original source of every image we use. If you think a credit may be incorrect, please contact us at info@sheerluxe.com.