13 Things To Book For An Alternative Valentine's Day

Valentine's Day doesn't have to be a three-course meal for two. From murder mysteries and speed dating with your dog, to bingo and feminist films, here are 13 different things to do on 14th February – other half optional.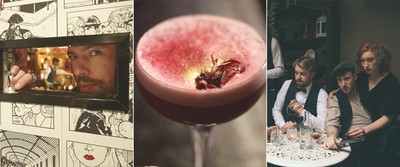 PLAY DETECTIVE HERE: Barts 
This Valentine's Day, secret speakeasy Barts invites guests to experience an immersive evening of mystery as they are tasked with solving a gruesome murder case. Put on in collaboration with Torchlight Mysteries, the investigative night will see guests manoeuvre their way through an old apartment block in order to solve the crime. Upon arrival, participants will rip their way through police tape and enter the apartment to find a room of suspects, each with their own spine-chilling motive. Then, it's time to take in all the evidence before convicting the right criminal. Afterwards, players can calm their nerves with a toast to the deceased as the venue transforms into what it's best known for – a sizzling 1930s-style speakeasy. 
Sloane Avenue, Chelsea, SW3 3DW; 14th February 
Visit Barts-London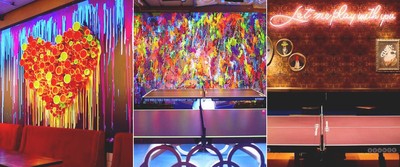 PLAY PING PONG HERE: Bounce 
Back again for a seventh year, Bounce's 'Anti-Valentines Party' will return to its Farringdon site on 14th February. Celebrating the joy of being single, the night will see guests smash apart heart-shaped piñatas and experience true love by way of pepperoni pizza, ping pong and a playlist that includes empowering numbers from TLC. For anyone looking for love, dating app Bumble will be on hand to dish out cocktails. The party includes unlimited ping pong; group games and tournaments; and music from DJ Shredded Pete. 
121 Holborn, Farringdon, EC1N 2TD; 14th February 
Visit BouncePingPong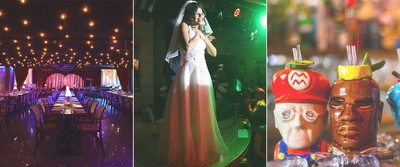 ATTEND A WEDDING HERE: Bunga Bunga Covent Garden 
For Valentine's weekend, Bunga Bunga Covent Garden will be throwing a 'Big Phat Roman Wedding'. Host Don Silvio invites guests on a trip to ancient Rome, as the venue is transformed into an immersive Valentine's dinner extravaganza. Participants will be invited to toga up and congratulate the bride and groom, as they party alongside fellow wedding guests (including, we hear, gladiators). Expect an Italian feast, plenty of entertainment and a drink on the house if you're single. 
167 Drury Lane, Covent Garden, WC2B 5PG; 14th-16th February 
Visit BungaBunga-London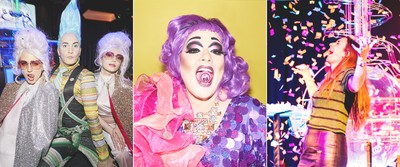 PLAY BINGO HERE: Dabbers 
This Valentine's, celebrate with pals instead of partners at Dabbers Social Bingo, as the team presents its first-ever 'Pal-Entines Day'. The modern east London bingo hall has reinvigorated the British pastime, replacing cups of tea with cocktails, bingo callers with comedians and dreary prizes with experiences. On the 14th, Dabbers' raucous hosts will get everyone going, while offering a selection of top prizes from The Magic Flower Company, an evening filled with games and entertainment and a free glass of fizz for all those celebrating the day with friends. 
13-22 Houndsditch, Shoreditch, EC3A 7DB; 14th February  
Visit Dabbers.Bingo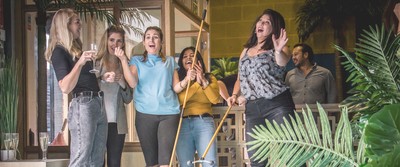 GO BOTTOMLESS HERE: London Shuffle Club 
London Shuffle Club wants guests to ditch the dickie bow and forget the flowers and instead head down for a night of playfulness. Fuelled by bottomless prosecco, draught beers and wood-fired pizzas, the night will also include a 30-minute shuffleboard session. It is an easy-to-pick-up, difficult-to-master game that is about using your cue stick to slide your weighted pucks down a long, narrow lane into a scoring triangle at the opposite end. But beware, overshoot and you'll end up in the 'kitchen' immediately knocking ten points off your score and inviting mockery from your friends. Once the shuffleboarding is over, there'll be music and several bars to explore, plus access to the winter terrace where you'll be able to toast your own s'mores.  
4 Ebor Street, Shoreditch, E1 6AW; 14th February 
Visit LondonShuffle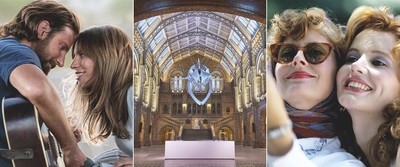 WATCH AN OLD FAVOURITE HERE: Luna Cinema 
Luna Cinema has announced six screenings across three evenings at the Natural History Museum. On 14th, 15th and 16th February, couples, singletons and groups of friends can choose between a rom-com or anti-Valentines action films – with a feminist twist. Films include 90s classic Pretty Woman, tear-jerker The Notebook, smash hit musical A Star Is Born and classic comedy Love Actually. For those looking for something a little less lovey-dovey, there will also be screenings of Kill Bill Vol 1 and Thelma and Louise. The films will be screened in the majestic Hintze Hall, underneath the 25m-long blue whale skeleton. Each guest will also receive a box of popcorn and access to the museum's exhibition Life in the Dark. 
Cromwell Road, Kensington, SW7 5BD; 14th-24th February 
Visit NHM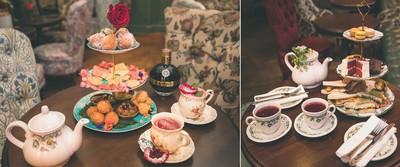 TREAT YOUR FRIEND HERE: Mr Fogg's House of Botanicals 
Mr Fogg's House of Botanicals is throwing an afternoon tea with a difference, where delicate tipples will be served alongside sweet and savoury treats. Groups of friends can toast the occasion with a choice of Chambord bottomless tipsy teapots, each of which is inspired by the Victorian tradition of expressing secret emotions through the giving of certain flowers. The menu will include a choice of three teapots; 'Forget Me Not': Chambord black raspberry liqueur, Hendricks Orbium gin, rose syrup, pink rose and lime cordial, fresh lemon and guava; 'My Sweet Pea': Chambord black raspberry liqueur, Russian Standard vodka, red fruit shrub, fresh lime juice and rose lemonade; and 'Red Tulip': Chambord black raspberry liqueur, Bacardí Añejo Cuatro rum, port reduction, apple juice, pomegranate, raspberry and lime. Perfect for sharing. 
48 Newman Street, Fitzrovia, W1T 1QQ; 14th February  
Visit Mr-Foggs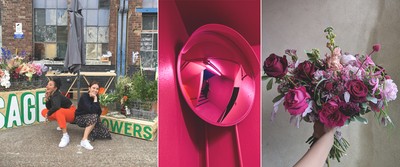 MAKE A BOUQUET FOR YOURSELF HERE: Peckham Levels 
Disappointed you didn't receive a mystery bunch of blooms this Valentine's Day? Make one of your own instead, as Sage Flowers host pop-up flower workshops at Peckham Levels on 13th-14th February. The two evenings will consist of flowers, cocktails and listening to slow jams, as guests learn to make a bouquet professionally. The team will guide you through making your creation from scratch, teaching you everything from form and colour, to structure and spiralling. Cocktails will be on hand during the class and top street food will be available from Zephyr Burger and Other Side Fried. 
95a Rye Lane, Peckham, SE15 4ST; 13th-14th February  
Visit PeckhamLevels 
GO SPEED DATING WITH YOUR DOG HERE: Pet Pavilion 
One stop shop pet emporium Pet Pavilion is inviting single dog owners – and their mutts – to join its very first speed dating event. Taking place between 6-8pm at The Market Place Restaurant in Chelsea Farmers Market, the event promises an evening of 'fun and flirting' where dogs will enjoy complimentary Pawsecco, treats and a goody bag to take home, and humans can take advantage of happy hour until 7pm. Guests will have four minutes to become acquainted with the dog-lover sitting opposite them – just keep your fingers crossed that your furry friends also get along. 
125 Sydney Street, Chelsea, SW3 6NR; 13th February  
Visit PetPavilion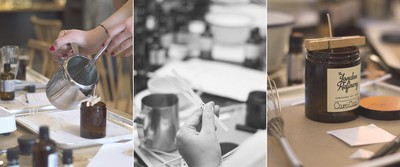 SET THE MOOD HERE: Soane's Kitchen 
Forget flickering candlelight in a restaurant. Instead, head to Soane's Kitchen where you can learn to craft candles of your own. The workshop will last for two hours and will be hosted by Lucy Heale - founder of The London Refinery - and the team behind the restaurant. Guests will be greeted with a welcome drink and canapés before the class begins. Attendees start by learning how our sense of smell works and how fragrance affects our mood and emotions, before picking from two Soane's Kitchen Garden inspired fragrance blends, and pouring their own 60ml travel candle to take home.  
Walpole Park, Mattock Lane, Ealing, W5 5BE; 15th February 
Visit Eventbrite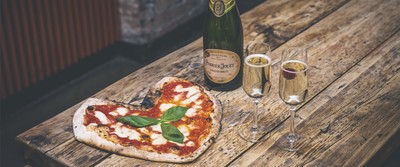 TEE OFF HERE: Swingers 
Couples with a competitive edge can leave clichéd Valentine's plans behind and instead opt for a round of crazy golf for two on one of Swingers' four renowned nine-hole courses. The Valentine's Day package will also include a bottle of Perrier Jouët champagne and a heart-shaped pizza from Pizza Pilgrims or Made of Dough (depending on which site you visit). After the bubbly, couples can head over to one of the bars for post-putt cocktails and ice creams from Hackney Gelato. 
15 John Prince's Street, Marylebone, W1G 0AB and 8 Brown's Buildings, City, EC3A 8AL; 14th-17th February 
Visit SwingersLDN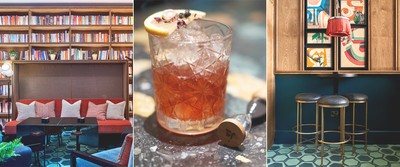 SIP TEA HERE: Teatulia 
A tea shop, cocktail bar and literary salon, Teatulia Tea Bar aims to show Londoners a new way to enjoy tea. By day, the bar sells a selection of chais, all from the Teatulia garden in northern Bangladesh. But come evening, the place transforms to serve a range of tea-based cocktails, which have been designed by Dandelyans's Enrico Gonzato. For Valentine's Day, the tea bar will present a one-off screening of Notting Hill and serve a one-off tea and bourbon-based cocktail with rose and cardamom. Tickets are priced at £5 and include one cocktail and access to the film. 
36 Neal Street, Covent Garden, WC2H 9PS; 14th February  
Visit TeatuliaBar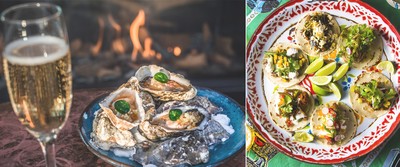 GET THE GIRLS TOGETHER HERE: The Curtain 
The Curtain hotel in Shoreditch is hosting a Galantine's Day extravaganza, a three-day celebration which will include various solo workshops: think 'galfex' yoga complete with RnB duets; a 70s drag disco; and screenings of True Romance and A Star is Born. Additionally, guests can head upstairs to The LIDO for a bespoke six-course tasting menu (£90), available alongside a champagne and oyster trolley, followed by a night partying in the members club. Downstairs, Red Rooster will also be putting on a sharing menu, including a piled-high crustacean plate and T-bone steak for two. 
45 Curtain Road, Shoreditch, EC2A 3PT; 14th-16th February  
Visit TheCurtain
DISCLAIMER: We endeavour to always credit the correct original source of every image we use. If you think a credit may be incorrect, please contact us at info@sheerluxe.com.