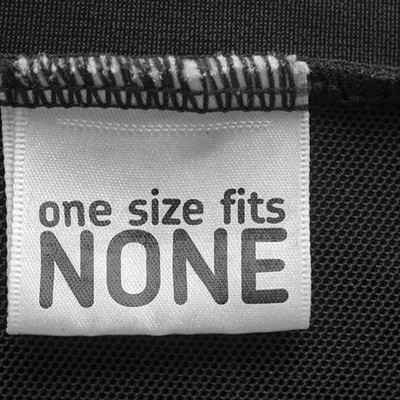 Can Fashion Stores Decide On Sizing Once & For All, Please?

If you're a woman living in the UK, you'll know that clothes sizes are all over the proverbial shop. Measurements notoriously vary from brand to brand, leaving many women feeling confused – and often self conscious – about the number attached to the tag. SheerLuxe asks the question, can fashion stores decide on sizing once and for all, please?

Much like a piece of bubblegum being blown up by a bored, pubescent teenager, within the space of a five minute walk down Kensington High Street I've managed to grow from size 8 to a 12 and shrink back down to a 10. Of course, this isn't some sort of grotesque biological mishap occurring in real life, but rather a numerical representation of the clothes' size I'm defined as, depending on what store I happen to walk into.
Like many women in the UK, I know that the number on the pieces I fit into will fluctuate from shop to shop. In Zara, I can happily get into a small or a medium depending on the cut and the fabric. In Topshop, I'm safe in a 28 inch waist Jamie jean. In M&S I can somehow squeeze into an 8 and in H&M… well, I gave up on H&M a couple of years ago when I got stuck in a size 12 dress for twenty minutes and only managed to get out of it by effectively dislocating my shoulder.
The western world is notoriously bad at regulating its sizing. Way back in 2011, The New York Times created an infographic detailing the disparity between designers' measurements, exposing a three inch difference in a US size 8 waist between Yves Saint Laurent and Dolce and Gabbana. Last year, a girl called out H&M on Twitter for its notoriously miniscule sizes and in March another wrote them an open letter expressing how "annoyed and frustrated" she was when she couldn't even get a pair of her usual size 14 jeans over one thigh.
Of course, this is the most pressing problem. Aside from it being just really annoying, for many women it can be a huge knock to the confidence. Instead of being exciting, shopping for a new pair of jeans can become a minefield littered with explosive anxiety triggers; forcing us to contemplate everything from the baguette we ate for lunch to the not so trifling matter of our entire self worth.
Given the advances we've made in technology, medicine and infrastructure, is it too much to ask that the head honchos of these shops all get together and come to a consensus on sizing? Men certainly don't have to deal with it to the same extent – after all, a 40 inch chest is a 40 inch chest. So why doesn't women's' sizing work the same?
Apparently it all went sideways when someone decided it would be a good idea to create 'vanity sizing' – sizes that are actually bigger than the number the tag suggests – as a way to flatter women into spending more money. This led to many designers making up their own size guides and, though the EU attempted to regulate the issue with the introduction of the EN 13402 size designation, many countries are still operating something of a free-for-all.
Thankfully, there does seem to be some light at the end of the tunnel. H&M recently vowed to bring their clothes 'in line with UK sizing' and Japanese company Zozo, which is set to launch in the UK later in the year, has done away with standardised sizing completely in favour of custom fit clothing.
Whilst, for most of us, it's not feasible to have everything tailor made, a little more regularity across the board would certainly go a long way – if only to reduce the amount of time we all waste in changing room and refund queues. After all, being a woman is a busy enough job as it is without wasting precious headspace wondering whether we should get the killer business suit in a size 12, 14 or 16. Because, quite frankly, who's actually got time for that?
DISCLAIMER: We endeavour to always credit the correct original source of every image we use. If you think a credit may be incorrect, please contact us at info@sheerluxe.com.