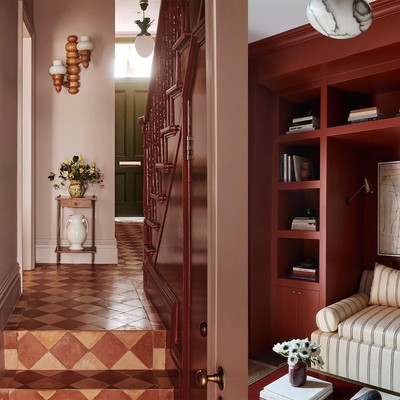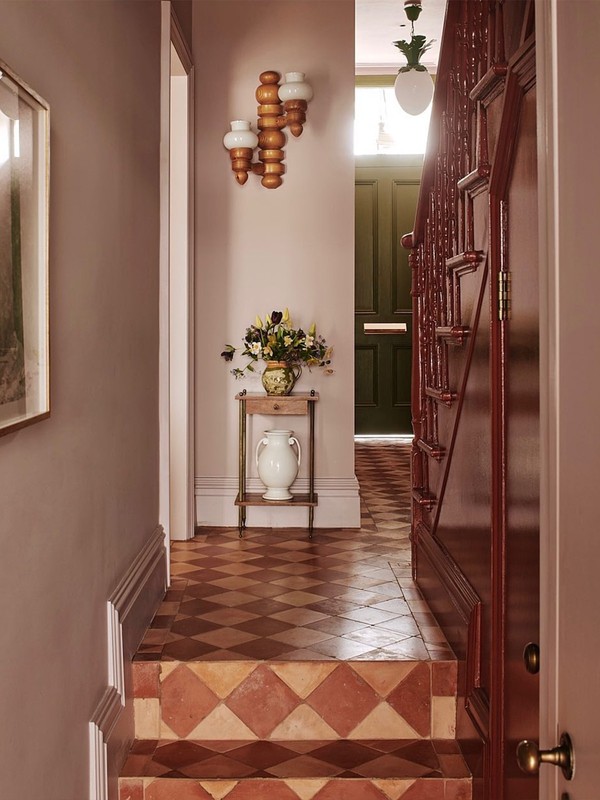 The Colour Trend We're Loving In Interiors Right Now

If you're still not on board with rust-coloured interiors, now's the time to get involved. Here, we spoke to two colour experts to find out more about the trend and how to get it right in your home.

By Georgina Blaskey
Why is rust so popular right now? 
"Rust is either a red-y brown or it can be red-y orange brown or even have more of a pink-y reddish tone to it. No matter the variation, it injects so much warmth and energy into a space and instantly makes it feel cosy, rich and welcoming.  At the Salone del Mobile furniture fair in Milan, rust was one of the spotlight colours – taking over from millennial pink. This colour is all about slowing down and reforging that strong connection to nature. The tone has this lovely natural aesthetic and while it's strong, the pink, yellow and orangey notes make it softer than harsh red. I definitely see it becoming more popular going forward." – Tash Bradley, director of interior design & colour specialist at Lick
"Colours fall in and out of fashion – and rust has been out of favour for the past few years. But, like terracotta, it's staging a comeback. The reason for this is two-fold: it is a warm, earthy colour, perfectly suited to the recent move away from white minimalistic interiors, and secondly, it plays into the current trend for more vintage and sustainable interiors." – Francesca Wezel, founder of Francesca's Paints
What are some complementary colours that work well with rust?
"If we think about it coming from nature, it's obvious that rust will pair beautifully with anything that also picks up those organic, outdoor tones – so sage green or other soft neutral colours like beige or off-white. If you want something a bit more contemporary, rust looks great with teal – try Lick Teal 01 or a dark rich blue like Lick Blue 07. Finally, if you want something a bit more bohemian, match rust with colours like mustard, pink and green – and then a soft neutral. Overall, it's a really versatile colour that can actually work with lots of different styles." – Tash
Are there any specific textures or materials that work particularly well with rust?
"When it comes to paint finishes, rust looks good in a lime wash as its unique chalky, velvety finish enhances the vintage feel of the colour and creates a lovely decadent feel." – Francesca
"Because rust has this richness to it, it can sit alongside stronger materials. So, for example, a bouclé looks awesome, as do other patterned textures. If you're looking to accessorise with rust, I always think it comes into its own in a velvet – it's a very Soho House look – and then offset that with a natural linen or brushed cotton. It's such a natural colour and therefore it works brilliantly with textures that bring in other earthy tones. Marble can often have a rust vein running through it and pairing that with other rust textures or materials, such as a sofa, would look great. It also really suits warmer fixtures, so if you're doing up a bathroom or a kitchen, antique brass is a much better finish than chrome." – Tash 
How can you use rust as an accent colour to create visual interest in a room? 
"Because rust works well with other shades of the same depth, it can easily be introduced as an accent colour on woodwork, shelves or cupboards. Of course, introducing it as an accent colour on soft furnishings, such as cushions or curtains, is also an easy way of introducing it into a scheme." – Francesca
"If, for example, you wanted all the walls to be neutral but still wanted a warm injection of rust, it would look amazing as a statement sofa, or as a headboard in a bedroom. If the walls are the dominant colour, you can bring in rust as a sub-dominant colour. Just stick to the interiors rule of 60/30/10: 60% being the dominant colour, so that could either be a neutral, a teal or green. Then 30% is where the rust could come in – so your sofa, headboard or a rug. If that's too strong for you, you could bring it in solely as an accent colour which is the 10% and that could be in the cushions or a lampshade. Personally, I would stick to rust being the sub-dominant colour or an accent colour." – Tash
Are there any patterns or prints that complement rust?
"Rust is a colour often found in nature, so it lends itself to natural-inspired patterns such as autumn leaves or bold geometric stripes. It also looks wonderful as a velvet because that sumptuous deep warmth mimics an oxidized metal." – Francesca
What lighting would enhance the look of rust?
"I would always opt for a warm light as it makes the room feel cosier, whereas a cold light makes it uninviting. In any room you should have a mix of lighting sources, but with rust particularly, table lamps will help you create that inviting feel." – Francesca
"If you're looking to create a bit of an intimate, even moodier atmosphere, I would look at LED lighting. So, no overhead lamp lights but instead look at incorporating low level lighting, like a side lamp or mid-tier, such as wall mounted lights on a dimmer switch with warmer bulbs." – Tash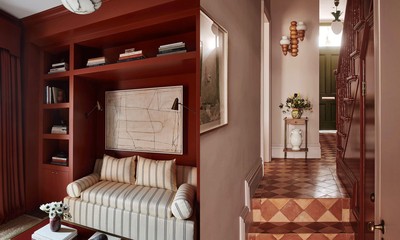 @WENDYLABRUMINTERIORS; @LUCYWILLIAMSHOME
Can you suggest some creative ways to incorporate rust into different areas of the home?
"I know it's bold, but trust me, rust looks so good on kitchen cabinets with gold antique brass fixtures. If you want to incorporate it into your bedroom, try using a paint colour such as Lick Red 03 to create a DIY headboard on the wall. For a bathroom, if you have a roll top bath, you can do the bottom of it in a rust paint or paint your windowsills for a burst of warm colour. Finally, for a living room, it looks perfect as the main sofa colour." – Tash
Are there any specific paint finishes or techniques that work best when using rust as a primary or secondary colour? 
"Matte, chalky, textured paint like the lime wash or an eco-emulsion would be best. But it all depends on what you want to achieve. It also works very well in a glossy finish." – Francesca
"Because its earthier in nature, I would recommend going with a matte finish to really capture the rawness and natural aesthetic of the colour." – Tash
Finally, is there anything to avoid or be wary of when using rust?
"Vibrant colours don't go with rust as they 'contradict' that look. For me, bright yellow tones are definitely a no-no." – Francesca
"The thing is, it's such a beautiful and versatile colour that can work in many rooms and be used in so many ways. If you love the colour, go for it. I'm not sure there's a lot it doesn't work with, which is the beauty." – Tash
DISCLAIMER: We endeavour to always credit the correct original source of every image we use. If you think a credit may be incorrect, please contact us at info@sheerluxe.com.