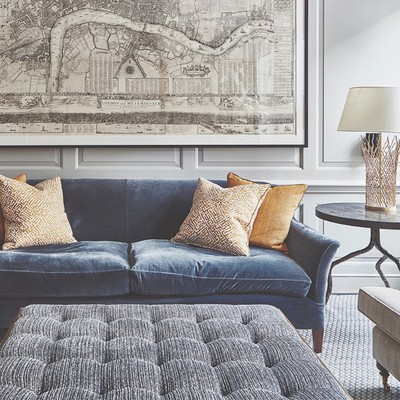 Design Tips & Advice From An Interior Designer

With a strong eye for detail and creative flair, Anna Hewitson creates solutions for every design brief. Her timeless style and refined approach have earned her recognition in the world of interiors. Here, Anna reveals exclusively to SL how to dress up your home with a blend of classic and contemporary styles.

How would you describe your style?
Typically, my style is quite contemporary, I like my interiors to be comfortable, interesting yet practical. I love to incorporate antiques, mixing old and new and layer patterns and textures using natural materials.
What inspires you?
My clients often inspire me, and other interior designers. London is such a hub for design - just being out and about is a constant source of inspiration. Equally Instagram as an interior style platform, has so much to showcase.
How does the location influence your design?
Location is hugely relevant, as is the existing architecture of the property. You might be inspired by a tropical theme from a sunny hotel but translating that into a London home is another thing entirely. I can't emphasise enough to clients how light and colour changes depending on the environment. I think as a designer, you must respect the location and equally the property's architecture and design in such a way that complements it rather than clashes with it.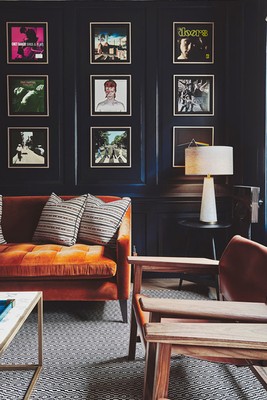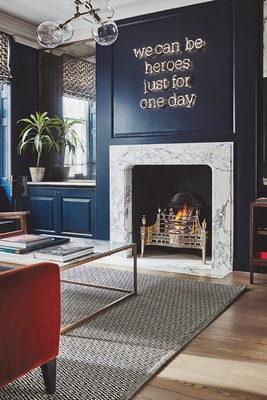 How much does practicality play a role in your design?
Many of my clients have young children, so practicality is a major consideration in the way I design. I'm very conscious of the fabrics I select - they must be durable and wear well over time. For instance, in a kitchen, I favour outdoor fabrics for seating which are stain resistant or even faux leather which wipeable. When it comes to specifying finishes, you must be mindful of whether they would scratch, chip or mark easily. I always consider how the space will be used and by whom.
When should you splash out?
I tend to believe 'if you buy cheap you buy twice' so if you really love something, go that extra mile and buy it - you'll love it forever. It's worth investing in decent curtains, blinds and ironmongery. Plus building a good foundation always pays off.
How can you save?
You can be quite clever dressing something up, i.e. buying an inexpensive kitchen cabinet but adding a great worktop and nice handles, or re-upholstering an old chair in a fun new fabric. Never discount something just because it looks a bit tired, it can always be refreshed. Fabrics can be expensive so if you're getting curtains made, you can save a huge amount by having a plain inexpensive fabric and adding a beautiful trim instead.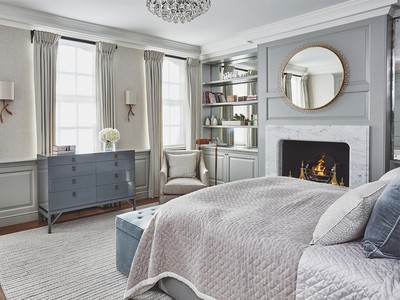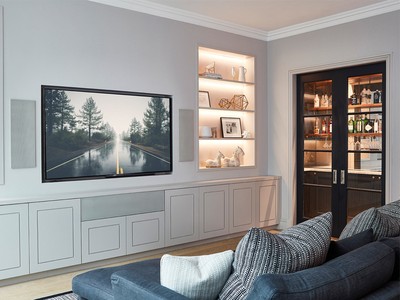 Which are you favourite high-street interior shops?
I love everything at The Conran Shop, and for decorative accessories, West Elm is very accessible. I recommend Nom Living for lacquer trays and Habitat stocks great ceramics, which add a pop of colour to a shelf or small niche. I really admire the work of Rose Uniake, she has some beautiful pieces. Likewise, I adore handmade rugs by Luke Irwin or Vandra rugs from Sinclair Till. Willer is my go-to for luxury tableware and decorative objects.
Where do you go to find unique pieces?
Mostly online. I go to First Dibs or The Decorative Collective. In London, Lillie Road has a surprisingly beautiful collection of antique shops.
What's your secret to mixing old and new?
For me, antiques bring a certain individuality and weight to a room, making it feel less contrived and more interesting. However it is important to create a balance. You don't want too many design statements in one room – it's about letting individual pieces shine. Less is more, tends to be a good guide.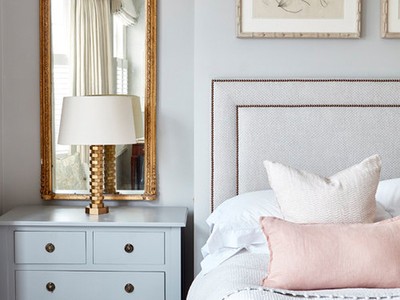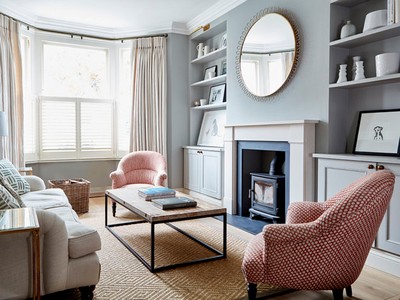 How do you introduce pattern into a home?
I like to layer textures and finishes and build pattern subtly. If you want to use a big statement pattern, maybe think about applying it to something interchangeable so if you tire of it, you can swap it out for something different; such as a decorative vase or patterned scatter cushions. Always consider the scale, as patterns can look very different when applied to large areas.
How do you work colour into design?
I love to add pops of colour where you wouldn't necessarily expect them – maybe inside a cupboard – it's subtle, but makes you smile. Spaces where you spend less time can take bolder colours, i.e. hallways or little WC's. At the moment I love using a single colour for a room on the walls and woodwork – I find this makes a classic room look quite contemporary. If you're afraid of colour, add it gently, with accents that are interchangeable – such as a lovely bright vase or some funky cushions.
What three things do you always say to your clients?
  Have a budget – work out how much money you've realistically got to spend and divide those costs into areas and priorities.
  Be practical – make sure your ideas work for you and your future household needs.
  Don't follow trends – try not to get sucked into a trend, however practical, you may love something now, but can you live with it forever?
What interior trends are you most excited about for 2019?
I love the look of Terrazzo in a bathroom. Rattan and wicker also add beauty in every room. Colour is ever changing; there is a continuing shift away from grey with people favouring warmer, friendlier neutrals such as oatmeal, honey and caramel tones. Rich dark greens are taking over from navy blue, whilst blush and apricot are increasingly popular.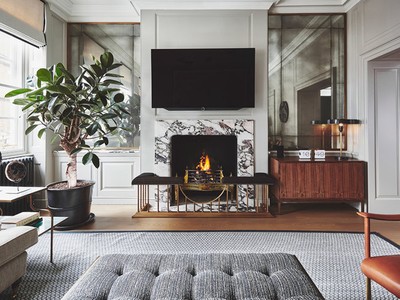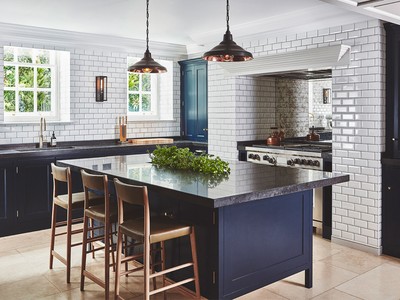 And finally, how do you make a house a home?
Personals touches; photographs, books, art and little accessories that are relevant to the client. All these things add to the character and personality of the interior and personalise it, making it individual and homely.
For more interior inspo, check out AnnaHewitonDesign.com
DISCLAIMER: We endeavour to always credit the correct original source of every image we use. If you think a credit may be incorrect, please contact us at info@sheerluxe.com.