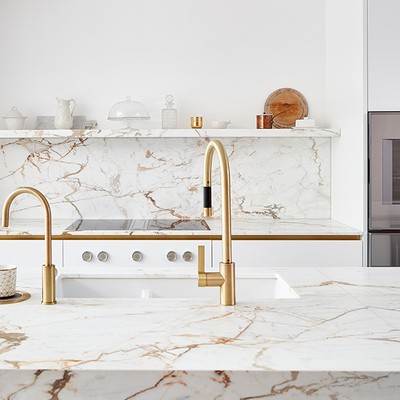 The Designer Name You Need To Know

Blakes London is passionate about creating beautiful and inspiring spaces, as well as designing and building high-quality, bespoke kitchens, bathroom vanities and dressing rooms. Founder and creative director Jamie Blake prides himself on taking a holistic approach, delivering innovative spaces and experiences that reflect his clients' personalities and lifestyles, without the usual ranges or off-the-shelf designs. Here, we spoke to three families whose living spaces were transformed by working with Blakes…

What was the brief for your new kitchen? 

For us, it was most important to open up the house. The interior had a strange, cramped layout which had no flow. We are in the Maida Vale conservation area, so were quite restricted in terms of planning and how much we were able to extend. We wanted to make the house feel bigger without a significant extension. We found opportunities to increase space by stripping back the ceilings, which had been lowered by 15-20cm to fit in enormous spotlights, while clever joinery filled previously unused spaces for seating and storage. We also renovated the attic to make space for a spare room and convert the lower ground floor into an open-plan kitchen and living area with an extension backing out onto the garden. The house feels much larger thanks to the re-modelling.
What were your top priorities? 

We were keen for our kitchen to be a spacious, social space and to make the most of the garden aspect. We prefer natural materials over man-made alternatives, hence the use of the dramatic paonazzo marble. In terms of the aesthetic, we wanted it to be beautiful but fundamentally it had to be a practical family kitchen.  
What do you love about it the most?It has to be the smoked glass larder, it's unique and a bit of an indulgence, but it has become such a feature and talking point for all that visit. We use the space as a breakfast larder, so we get use and joy from it daily.
 Blakes says…

"This kitchen is a fabulous example of how a simple flat-fronted kitchen can be transformed into something glamorous and impactful. The deep, bold brassy veins within the paonazzo marble inspired the complimentary use of brass hardware, which adds such elegance to the scheme. And let's face it, you know you've made it when you have a smoke-glazed walk-in pantry to prepare your morning coffee in – it's a total show stopper."
What was the brief for your new kitchen? 

We were keen to create a space where we could combine kitchen, dining and living functions without having the kitchen dominate the space. We were influenced by the style of New England coastal houses, while at the same time wanting to keep it appropriate for London. It had to be slicker than a beach house, warmer than a modern townhouse, and less fussy than a country kitchen. Simple yet elegant and a little bit different.  
What were your top priorities? 

We wanted to incorporate panelling into the scheme. We used plank panelling, with its horizontal 'dime lines', on the feature wall in the kitchen, in the paned cupboards and again across the room in the recesses either side of the fireplace. This connects and unifies the spaces and flows well with the rest of the house where there is lots of panelling! We didn't want the kitchen island to be too dominant, either. We wanted it to serve primarily as a food prep and social space, so avoided putting a sink or a hob on it.
We were also keen to make sure we had the right flow in the space. We mapped out in advance what items would go in which drawers based on our daily routines so we could be as efficient as possible. For example, we have a drawer behind the kitchen table so when the boys have finished breakfast, they have everything there they need to finish getting ready for school. It saves us running around the house every morning.
What do you love about it the most?

There's a good sense of harmony when you walk into the room. Everything is well balanced and in proportion to the space so no one area dominates. We love the rustic timber boards on the kitchen units which give the space a softer, more relaxed vibe without it being too bohemian or out of context with where we live. Practically speaking, the timber is very forgiving too, masking sticky finger marks and splashes, giving us a low maintenance look.
Blakes says…

"Proportions and materiality are well considered within this scheme. It would have been easy to make the kitchen much larger to fill the space: instead we turned the island on its axis making it smaller in order to open up the space to allow for more zones to be created. Through a clever use of materiality and detailing such as using complimentary timber on the kitchen base cabinets to the floorboards, we created cohesion and context throughout the space. Overall, it's a beautifully balanced, calm and visually interesting space. We love it."
What was the brief for your new kitchen? 

To create a room that works as a great entertaining space as well as a photoshoot location. It had to have balance and a focal point, as well as having lots of interest and texture. 
What were your top priorities? 

A movable island – great for photoshoots and for parties – as well as a herb trough island. We also wanted hard-wearing floors and interesting, dimmable lighting.
What do you love about it the most?

It's amazing to just be in the space with the lights down low, having a G&T. When it's time to cook, being around the square island is very social. We find we can cater for lots of people even though it's not a massive space. It's also wonderful being able to open the double doors and watch the kids run around the garden, as well as having the acoustic speakers on while we cook. The larder cupboard is also full of our gin collection and it's great to see all the interesting objects in the glass cupboards and remember the stories behind them all.
Blakes says…

"As the saying goes, no detail is too small and this kitchen is full of beautiful moments that grab the eye, from the bespoke copper kitchen tap, to the blush herringbone tiles behind the glazed units. All these little details make this kitchen special. The fact the island is on wheels so it can be pushed out of the way when entertaining is a particularly unusual touch. It's always great fun when working with clients like these who share a vision of doing things a bit differently."
For more information, visit BlakesLondon.com
DISCLAIMER: We endeavour to always credit the correct original source of every image we use. If you think a credit may be incorrect, please contact us at info@sheerluxe.com.