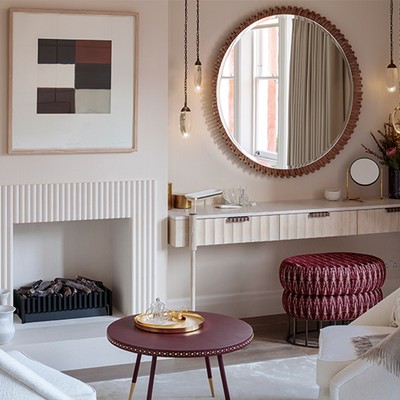 What To Know About Home Lighting

If you've ever done a project from start to finish, you'll know lighting is something the pros consider a priority. It can be as simple or as complex as you're willing to make it – but get it right and you'll reap the rewards. We went to the experts to find out more...

GIVE LIGHTING A PURPOSE
Lighting is vital when it comes to setting the mood and feel of a room, and how you light a space will largely depend on how you use it. "When starting a room from scratch, think carefully about the lighting in conjunction with the furniture layout. It's important to get all the electrics in the right place for lighting to work; once it's done it is costly and a pain to change," explains interior designer Katharine Paravicini. A lighting designer can be helpful if you're finding it hard to visualise the space (and may even be a more cost-effective decision in the long term). "While it can be hard to imagine, make sure a light is going somewhere for a reason," advises lighting designer Alex Fry. "Never just put spots on the ceiling in a grid, for instance. Think about where your pictures are, perhaps light your curtains or blinds, or place a light over a coffee table."

CONSIDER YOUR SOURCES 
You don't need to use only one source when lighting a room – different light fittings offer different solutions. "Architectural light fittings are designed to be functional and create certain lighting effects," says Maxwell Barlow, lighting designer. "They are also designed to be as discreet as possible – think spotlights and strip lights." On the other hand, decorative light fittings are designed to be seen, and help tie the whole scheme together. "Think of these kind of fittings as pendants, wall lights and table lamps," he adds.
UPGRADE WHAT YOU HAVE
If your existing lighting has never been re-imagined, or you've inherited a scheme that doesn't go with your furniture or way of living, there are some easy ways to upgrade it. "A quick and cost-effective way to improve what you already have is to put use a 5amp circuit," says Alex. "An electrician can run cable behind the skirting board and you can put all table lamps on it so they work off one switch." Another quick fix is to put every circuit on a dimmer. It doesn't require different cabling and allows you to immediately change and adjust the lighting according to the time of day and the mood." If you don't want to fork out for a dimmer, Asda sell step dimmer bulbs – simply flick the mains switch multiple times to dim the bulb without the need for a separate dimmer switch.

USE CLEVER TRICKS
The experts agree, lamps are a great quick-fix. "Part decorative, part task lighting, lamps look great either side of a sofa and in corners of a room," says Alex. "A floor lamp by a chair in a corner is always inviting. Lamps also give you flexibility, but be careful with lampshades. A black lampshade might look cool but it's hopeless. Shades with gold inside are great for warming up LED bulbs which are generally very white." Not only do lamps create soft low level lighting, they can also be used to inject colour, pattern and personality into a room. "This would also be my go to if I were on a tight budget or not able to re-wire a room," says Katharine. "There are so many great budget options for lampshades or table lamps out there, or you could put your money into a really fantastic, more expensive table lamp and shade – this would still be a lot cheaper than re-wiring a room but will make a big difference." You can also light up shelving with hidden LED strip lighting, which can be purse friendly and create a more contemporary look.

THINK ABOUT CIRCUITS
Most of us will use our main living area at different times of day –  so how you choose to light different areas of the room at different times should inform the circuits. For example, in a kitchen, table lamps, pendants and wall lights would be on a different circuit to spots. If you are eating or entertaining in the kitchen, it might be more suitable to have the spots off and use the table lamps and pendants for a more ambient light. But when cooking or doing homework at the kitchen table, it might be better to use spotlights. 
LAYER UP
"In bedrooms and living rooms, create different levels of softer lighting with table lamps, floor lamps and wall lights," explains Katharine. "Picture lights are also a great option if you have artwork on display." In a bedroom, Alex suggests a reading light as a useful extra. You can also have fun with bathroom lighting – just don't be tempted to put a spot over the shower head, as it will cast a shadow. "Instead, have it 100mm from the door and light the tiles," advises Alex. "A spot over a basin is fine but go for wall lights either side of the mirror to stop that downward shadow effect. It's also advisable to have a nightlight in a bathroom on a motion sensor, especially if you have kids in the house. This can just be a floor washer, if you want. Also, remember that dimmers make for more relaxing baths."
 
Our experts' little black book of lighting…
 
DISCLAIMER: We endeavour to always credit the correct original source of every image we use. If you think a credit may be incorrect, please contact us at info@sheerluxe.com.