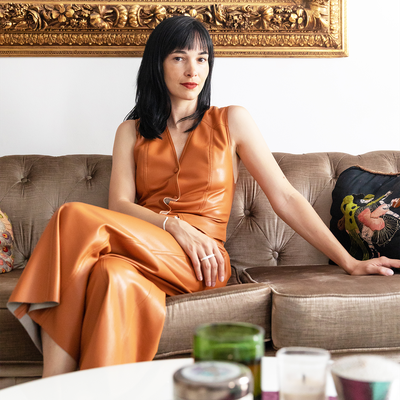 Meet The Former Design Director Of Soho House

Founder and creative director of Linda Boronkay Design Studio, Linda Boronkay is a multi-award-winning interior designer. As the former design director of Soho House, she says she is driven by a passion to create immersive experiences, as well as spaces that tell a unique story . Here, she shares more about her style, creative process and inspiration, before talking us through three of her favourite projects.

Style & Ethos
The studio's signature aesthetic is decorative and characterful – we like layered architecture and interior design that's interesting – not just on a bigger-picture level, but on a human level, too. That doesn't mean we only do traditional design. Quite the opposite – we love a contemporary scheme peppered with vintage pieces, or in fact, the opposite. It's about creating interiors that feel accidental and relaxed, not forced or composed. Contrast and opposites excite us, and that fusion, or sometimes contradiction, results in more interesting spaces. We are very detail focused, too, and like to mix different styles to end up with a result befitting of a specific project or brand.
Design & Inspiration
We aren't just a design studio. Our background ranges from product design to operations, which helps us understand what makes a commercial and residential space successful – as well as being able to design right down to the smallest details. We generally aim for warmth and an emotionally intelligent approach. Our work is rich in storytelling, artistry and integrity, and we draw most of our daily inspiration from art, culture, fashion, literature and movies. It's why so many of our projects have a cinematic quality to them.
Colour & Pattern
Life is too short not to use colour and pattern! I'm a huge fan of both, and love to make the most of them in our projects. We don't have a signature method to mixing them – it's always specific to each brief, but we do tend to shy away from neutrals and greys, and only opt for muted colours if it's a restrained or more minimal concept.
Finishing Touches
A space only feels right in both commercial and residential environments when it feels lived in and for that, you need a lot of layers, which you can achieve with accessories and art. We visit markets and tap our go-to antique dealers to find individual pieces to lend some personality to each space.
Instagram Favourites:
Here, Linda tells us about three of her favourite projects...
Project One: White City House
Inspiration
The Soho House design team's starting point with this project, as with many others, was the history of the location and the existing architecture. We watched movies from the 1950s and 60s, like James Bond, and also Mad Men, but we didn't want to re-create a movie set. The main inspirations were the classic BBC shows from that era – from Top of the Pops to Blue Peter, and even Doctor Who. This pop culture aspect of the property's heritage was referenced in the interiors and artwork, combined with a definitive nod to mid-century design.
Space & Planning
The members' club occupies the eighth, ninth and tenth floors of the new-build adjoining the iconic Grade II-listed doughnut-shaped Helios ring, which houses a huge gym with a swimming pool, and 45 White City House hotel guestrooms, as well as private residential apartments. Creating the club in a brand-new property posed a challenge. When there is heritage aspect to a building, it's usually easier to tell a story between the architectural elements and the ambiance, but this was a completely blank canvas. So, we had to work hard to create atmosphere, ensuring every floor feels different, while also retaining the Soho House ethos. Most of the club areas are on the top two floors, with the eighth floor acting as a flexible events space, including a stage and a bar that can be screened off.
Colour Palette
We went for a bold colour palette in the club areas and more pastel tones in the rooms. We just wanted to have a lot of fun with it, which meant combining plenty of pattern and colour in a style reminiscent to the 1960s. We used a lot of fabrics by Tibor, which was appropriate in terms of texture and colour, but also because they once designed patterns for the BBC during the era we were trying to reference.
Materials
Taking design cues from the history of the building and its mid-century heritage, we wrapped the lounge areas and hotel corridors in fluted timber walls, which were inspired by the original BBC reception, to create a retro-chic vibe. This was amplified by terrazzo flooring and period appropriate furniture. Blue banquettes and red leather chairs with brass legs emphasised the feel further in the members' lounge on the ninth floor, where the flooring, which was inset with brass, runs through the entire space. Even the bedrooms take inspiration from the building's past, with mid-century terrazzo tables, George Nelson lamps, modern wooden minibars, original exposed concrete support beams and circular patterned tiles in the bathrooms.
Project Two: Soho House Mumbai
Inspiration
As soon as you land in India, it's a multi-sensory overload, and we wanted to recreate this excitement for those visiting the House. We focused on Mumbai-based designers and craftspeople to achieve the unique look and feel, with more than 90% of the bespoke furniture and lighting made by locals. The more talent we discovered, the more their amazing skills shaped our concept. The bedrooms are all completely individual, and feature tactile sisal carpets, as well as antique timber-and-bone inlay furniture and delicately ruched silk lampshades. Most of these were stitched from saris found in nearby marketplaces.
Space & Planning
The site was originally an 11-storey, beachfront townhouse in the city's affluent Juhu neighbourhood, which is home to a number of Bollywood celebrities. Featuring 38 guest bedrooms, a cinema, two restaurants, and rooftop pool, the members-only club now contains fixtures and soft furnishings that were almost all locally sourced.
Colour Palette
The light in Mumbai is very different from the UK – every colour looks so much warmer. This allowed us to really go for it: vibrant colours and patterns exist in every single room of the property. We also worked with local block printers to come up with bespoke patterns for the curtains and cushions, so there are lots of fabrics you won't see anywhere else in the world.
Materials
We wanted to give the venue the kind of aesthetic that authentically represents India through its use of colour and material, so we tried to use as many local craftsmen and materials as possible. The design team spent many months in India travelling around Mumbai, New Delhi, and Rajasthan to find craftspeople who could create beautiful objects from scratch. The unique and beautifully crafted pieces can be found throughout the House. Each of the 38 suites is adorned with bespoke items. Antique pieces, too, feature prominently. All the rugs were hand woven in Jaipur using traditional looms and materials, too.
Lighting
The club features antique cut glass chandeliers and lamps that were sourced in local antique shops and markets. We also layered lots of low-level lighting to create an easily changeable atmosphere, while the ceiling lights are mainly decorative in their purpose.
Sources:
Project Three: Soho House Amsterdam
Inspiration
The main inspiration for the project was the rich history of the Bungehuis (the property), specifically its beautiful architecture and the surrounding neighbourhood. The site was originally the headquarters of a trading company that mainly traded corn and exotic wood during the Art Deco period. Stained windows, ceramic glazed sculptural staircase, travertine clad corridors and a beautiful internal atrium are just some of the features you'll find here. The Soho House design team relocated to Amsterdam for several months so they could completely absorb the city's vibe and reflect it in the club.
Space & Planning
The site includes a Cowshed spa, events space, Cecconi's restaurant, 79 bedrooms, club space, cinema and rooftop pool and bar. On the ground floor, Cecconi's features an internal courtyard style design with stone and marble floors, retractable roof and plenty of greenery. 
Colour Palette
Dutch 'Herenhuis' green (dark canal green) features a lot throughout the space, as a nod to local front door colours, as well as deep blues, burnt orange and coral. The patterns we used are largely geometric and were inspired by the fabric of the building. Meanwhile, the florals we used – mainly against dark backgrounds – are reminiscent of the Dutch masters. We also chose black floorboards for the club, as we'd seen these in many homes in the original canal houses. However, the scheme as a whole is still light and bright – we needed to balance out the grey, rainy weather! 
Materials
We did our utmost to make Soho House Amsterdam feel as Dutch as possible. The interior's original wooden and marble panelling, Delft tiles and stained-glass windows were all lovingly restored, while new additions were commissioned from Dutch firms, such as bespoke light fixtures by Jan Best, landscaping by The Wunderkammer and a Studio Drift installation. The eclectic choice of mid-century modern and deco furniture was inspired by the history of the 1930s, too.
Lighting
Most of the lighting was designed bespoke and made locally by Jan Best. We took cues from existing fixtures in the building or from historic photographs we found as part of the research process.
Sources:
Visit LindaBoronkay.com to see more of Linda's work.
All images courtesy of Soho House. 
DISCLAIMER: We endeavour to always credit the correct original source of every image we use. If you think a credit may be incorrect, please contact us at info@sheerluxe.com.