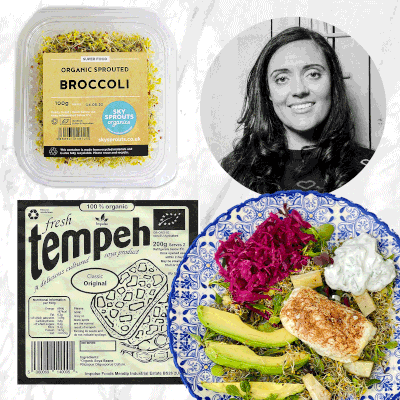 11 Women In Wellness Share Their Go-To Healthy Lunches

Whether you're looking for some fresh lunch inspiration or want to put a healthier spin on your daily salad or soup, we went to some of the wellness industry's biggest names to discover their go-tos. From antioxidant-packed salads to warm bowls of dhal, here's what they eat…

All products on this page have been selected by our editorial team, however we may make commission on some products.
Angelique Panagos, registered nutritional therapist and author
"My good mood super bowl is a lunch staple. Like a Buddha bowl, it's packed with nutrition – think broccoli, pumpkin, kale, asparagus, edamame, pak choi, seeds and avocado. The perfect balance of healthy greens, protein and complex carbohydrates as well as mood-supporting vitamins and minerals, it's also free from gluten, dairy and refined sugar. It's quite a light lunch so on the days I am feeling particularly hungry, I'll add in some quinoa or rice. If you are vegan or vegetarian, you can leave out the chicken and add in your protein of choice, finishing with a sprinkling of nutritional yeast and seeds."
Visit AngeliquePanagos.com
Melanie Lawson, CEO and founder of Bare Biology 
"Lunch follows a fail-safe formula – some form of protein, usually chicken, fish or eggs, alongside a variety of vegetables and a high-fat dressing, such as a vinaigrette. During lockdown, when the children were at home, lunchtimes in our kitchen were busy as they aren't keen on salads – toasted sandwiches or eggs on toast were on the menu for them."
Visit BareBiology.com
Katie Gray, Pilates instructor and founder of Kind by KG
"As I tend to teach classes in the morning, by midday I have a little time on my hands and take advantage of this to have something cooked for lunch. By and large, my lunch includes eggs – Clarence Court eggs are my favourite. You can't beat two soft boiled eggs with smoked salmon and a slice of seeded bread; I serve this with smashed avocado mixed with olive oil and chilli flakes, it's the perfect combination of protein, carbs and fats, which keeps my mood and energy on an even keel during the afternoon." 
Visit KindByKG.com
Emilia Herting, Escapada Health co-founder & TCM practitioner
"Spring days and the arrival of warmer weather makes me crave colourful food, and the Pink Quinoa Wellness Bowl we serve at our retreats is currently my favourite lunch option. Quinoa is a gluten-free grain that's higher in fibre than most other grains and has a low GI index, which means it's a great energy booster while also keeping your blood sugar stable. From a traditional Chinese medicine (TCM) perspective, beetroot is a great blood-builder essential to women's health."
Visit EscapadaHealth.com
Rhian Stephenson, registered nutritionist, naturopath and founder of ARTAH
"Dhal is a nutritional powerhouse – it's rich in protein, fibre, minerals and antioxidants – and is incredibly versatile. It's great with a side salad for a lighter meal but is also great with a poached egg or brown rice for something more substantial. The dhal recipe from Artah's At Home e-book is my trusted recipe, I make it at least once a week. I'm also a huge fan of roasted cabbage – I often make a batch at the start of the week. Simply roast a whole head of white cabbage with coconut oil, sea salt and black pepper."
Visit Artah.co
Lily Simpson, founder of Detox Kitchen
"Lunch tends to be a warm salad – think warm Puy lentils with roasted vegetables, capers, lots of fresh herbs and nuts and seeds. A big portion of a salad like this is so satisfying and keeps me fuelled for the rest of the day. I try to eat lentils at least three times a week as they work wonders for your digestive health. I always try and squeeze in a green juice, too – a great way to pack in some extra nutrients."
Visit DetoxKitchen.co.uk
Jenna Hope, registered nutrition consultant
"Poached eggs with salmon and tomatoes on rye toast is my go-to lunch which is perfect for a hectic day. It may sound complicated, but it takes less than five minutes to put together and is a great balance of protein, complex carbohydrates and healthy fats. The smoked salmon is also a great source of omega 3, which is required for optimal cognitive function. Sometimes, I mix up the tomatoes for mushrooms and spinach, depending on what's in my fridge."
Visit JennaHopeNutrition.com
Rebekah Brown, founder of MPowder
"Lunch has taken the biggest bashing in lockdown. Many of us are working from home with a new level of intensity and simply don't have time to think about what a balanced lunch is. Others are at work but finding their usual lunch options are limited. And we're all exhausted. Keeping it simple is key, and it can also be helpful to prepare lunch the night before. I start by looking what's in the salad drawer and pick based on colour and texture – I also like to batch cook grilled or roasted vegetables to make dishes more interesting. A typical lunch for me is feta with spinach, grilled courgettes, roasted butternut squash, toasted pine nuts, a sprinkle of tinned chickpeas and a squeeze of lemon. I have steamed edamame on hand for the afternoon dip, too. Just keep a bag in the freezer and defrost nibble-sized portions."
Visit MPowder.store
Pippa Campbell, nutritionist
"From a nutritional standpoint, you can't go wrong with a salad made with rocket or watercress as a base, both of which are high in antioxidants to support detoxification. I tend to add in some coloured vegetables – think radishes, red onion, grated carrot and broccoli sprouts, which are said to be 40 times higher in antioxidants than broccoli itself. I add tinned mackerel or sardines for a source of protein and healthy fats as well as a dressing, which I always make using extra virgin olive oil. If I have a little more time, I'll grill some white fish, such as monkfish, and serve with avocado and a coconut yoghurt salad." 
Visit PippaCampbellHealth.com
Clarissa Lenherr, registered nutritionist
"If I don't have leftovers from supper the night before, lunch is always something quick and easy, like an omelette or Buddha bowl. Having spent more time at home recently, my fridge is often filled with the odd vegetable that needs using up, so a Buddha bowl is a great way to avoid waste. Start with a base of complex carbohydrates such as brown rice, throw in any veggies you have in the fridge, add some protein (pan fried tempeh is my-go to for plant protein) and top with a delicious dressing filled with good fats – I steer towards dressings made with tahini or olive oil."
Visit ClarissaLenherr.com
Isabel Zapf, founder of Z-Ora Nutrition
"I try to avoid snacking in the afternoon, so lunch is my main meal of the day. A balanced ratio of carbs, protein and healthy fats keeps me satiated and energised throughout the day without feeling too full. Most days, I'll have a warm bowl of grains, such as rice, noodles or quinoa with plenty of fresh or fermented vegetables, nut butter or tahini and seeds, and sometimes some fish, tempeh or chickpeas. Whatever is in my bowl, I'll always top it with extra virgin olive oil and apple cider vinegar. In every dish I eat, I try to follow the principles of Ayurveda to include all five tastes (sweet, sour, bitter, astringent and salty), which helps prevent cravings. I never strictly follow a recipe but look to East by Meera Sodha and East by West by Jasmine Hemsley for inspiration."
Visit Z-Ora.com
Supercharge your lunch with the experts' picks… ​
DISCLAIMER: Features published by SheerLuxe are not intended to treat, diagnose, cure or prevent any disease. Always seek the advice of your GP or another qualified healthcare provider for any questions you have regarding a medical condition, and before undertaking any diet, exercise or other health-related programme.​
DISCLAIMER: We endeavour to always credit the correct original source of every image we use. If you think a credit may be incorrect, please contact us at info@sheerluxe.com.