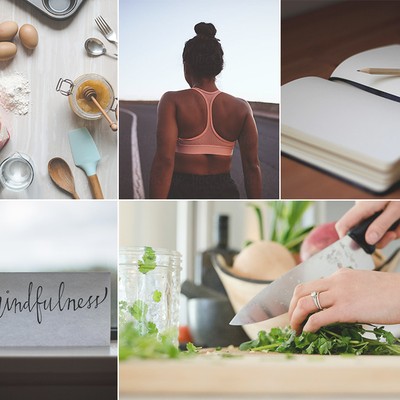 9 New Year's Resolutions That'll Change Your Life

January is traditionally the time of new beginnings – the month to ditch your bad habits and replace them with healthier ones. So whether your New Year's resolutions revolve around friendships, money or well being, we asked the experts for their tips on staying resolute and using your big January shake-up to switch up your life. Plus we recommend the apps that'll help you stay on course.

"I want to save more money" 
In order to finance our dreams of 2019, we need some cash. Getting your finances in order isn't easy, particularly if you've got yourself into a bit of debt, but Clare Francis, Director of Savings and Investments at Barclays Smart Investor says it's important to face money issues head on and take control. 
"Work out how much money you have coming in and what bills and expenses you have going out. If you have any outstanding debts, work out which re-payments have the highest interest rate and make paying these off a priority. Once you're back in the black, and on top of what you have 'left over' each month, turn your attention to working out your savings goals and set a spending budget. 
"A great way to keep on top of things and ensure you don't spend money you don't have, is to make a note of what money you have coming out your account before your next pay day and set this money aside into an instant access savings account. If it's not in your current account, you are less likely to succumb to any temptation to spend!" 
Once are debt-free, Clare has some handy hacks to help you stay in control of your everyday spending. "Take cash on a night out instead of getting carried away on your card. Or set a limit on your daily cash machine withdrawals so you don't go over budget. 
"If you're trying to save more, take a look at your monthly spending to spot the areas where you can save each month - small tweaks to our daily routines can have a big impact on our rainy day funds. For example, if you buy a coffee every day, switch to taking your own flask and pocket the saving. If you've got subscriptions you're hardly using, maybe it's time to cancel them. Before you know it you'll have a nice buffer built up." 
There's an app for that: Monzo
 
"I'm going to get fit" 
Now this is a classic. On 1st January, 'New Year, New Me' is in full swing. We all have good intentions of getting in shape, but by February our enthusiasm's waning and curling up on the sofa with some Doritos is far more appealing. Niko Algieri, co-founder of Equilibrium, says to keep yourself motivated at the start of your journey, take time to concentrate on the little things. 
"Start by just thinking about movement: How well am I moving? And is my range of motion and mobility allowing me to create good and safe positions at the start and end of each movement?" He says. "If you're new to fitness, then start with a TRX suspension training class, which ensures you're doing the correct positions, using your body as the resistance. " 
"HIIT classes have been ruling the roost to the detriment of technique, quality and creating injury-prone sweat fanatics. Now is the year for quality movement. Once your movement patterns improve, your motivation to continue will sky rocket, because the changes and benefits in how you look and feel will be rapid but more importantly, sustainable." 
When we're first starting out on our fitness journey, it can be really hard to learn how to breathe properly. Stuart Sandeman, transformational breath coach and founder of Breathpod, has some tips for helping us breath efficiently to help us increase our lung capacity and feel calmer.  
"Try Box Breathing – it balances the autonomic nervous system, which can help lower blood pressure and provide an almost-immediate sense of calm. It also improves your mood and keeps you energised, motivated and alert." 
To try this technique: 
1. Inhale through your nose into the belly for a count of four. 
2. Hold your breath for a count of four. Try not to tighten your muscles when holding the breath, simply avoid inhaling or exhaling for four seconds. 
3. Exhale through the nose for a count of four. 
4. Hold the breath for a count of four. 
5. Repeat four rounds. 
There's an app for that: Coach to 5K
 
"I'm going to get better at looking after myself" 
Making time for self-care is something we all need, but rarely do. The New Year offers the perfect opportunity to make room for it in your life. Kim Palmer, co-founder of Clementine, the hypnotherapy app designed to help women practise positive mindfulness, says the best way to adopt a more confident mindset is to book-end your day with the good stuff that brings you joy: "How you start and end the day has a key impact on your mood and wellbeing, so find your little rituals and routines that work for you and then protect them like gold. For me, it's sitting down for breakfast with my family together at the table. If I don't do this, I'm lost. Then at the end of the day, it's reading in bed – getting a good night's sleep is so important. Even if I just read for five minutes, it helps me sleep and I feel happy that I've made the time to read." 
There's an app for that: Clementine
 
"I'll spend some time volunteering" 
It's always good to help others, especially those who are less fortunate, and studies show it makes you feel good about yourself. But for many, concerns about carving out time in already busy lives, can make them wary of volunteering. Shaun Delaney, Volunteering Development Manager for the National Council for Voluntary Organisations says if you fancy helping others, but are worried about the time commitment, there are plenty of places that'll fit around your schedule: "Go along to meet an organisation, dip your toe in the water and find out more about their volunteering opportunities. Plenty of organisations will be able to fit around your timetable and allow you the flexibility to give your time when it works for you. There are loads of ways you can find out about opportunities – visit NCVO's website to discover the right role for you. Volunteering is great for improving your skills and boosting your self-esteem – that's what makes it the perfect New Year's resolution." 
There's an app for that: Just Giving
"I want to shop without a guilty conscience"
With all the focus on sustainable fashion this year, one of our New Year's resolutions should be to shop with the environment firmly at the forefront of our minds. Here's how. Anna Fitzpatrick from the Centre for Sustainable Fashion at London College of Fashion, UAL, gives these handy tips for more conscious shopping this year:
Don't buy anything at all – simply go shopping in your own wardrobe.
Buy second hand.
Do your research. Decide what's really important to you: how something is made, what it's made from, who made it and how you will look after it. Really understand what that means for you and your purchasing habits.
Learn how to mend and repair your own clothes.
LOVE. Embrace your items and wear them with joy.
 There's an app for that: Good On You 

"I'll get better at sustainable eating"
Alongside fashion, we're also becoming more eco-friendly with our food. And a key starting point is cutting down on food wastage in your own kitchen. Alex Head, founder of Social Pantry, says you can begin by ensuring all parts of your food have a purpose: "Becoming more sustainable is hugely important to us, so reducing waste by preparing and eating more root-to-stem and nose-to-tail dishes, will increase our zero-waste policy. We've already pickled lots of fruit and veg from last year's summer glut and with lots of new delicious seasonal produce coming in at this time of year, we can't wait to get in the kitchen and store these away for a rainy day. Pickling and fermenting is a great way of eating healthily in the winter months." 
There's an app for that: Seasons  

"I want to help the environment"
Going plastic-free or, at least, reducing your plastic consumption can feel daunting, especially as single-use plastic plays a pretty big part of our lives. Luckily, there's some great advice on small changes to transform how you consume plastic. Beth Terry, who runs the site My Plastic Free Life, gives the following tips:
 
Carry reusable shopping bags
Give up bottled water and carry a stainless steel travel bottle instead
Buy a soda stream instead of buying bottles of fizzy drink
Reuse containers for fruit and veg by refilling them at a farmer's market
Buy from bulk bins
Clean with vinegar and water rather than cleaning agents that use plastic bottles
There's an app for that: My little plastic footprint  

"I want to see the world"
Probably the most fun of all the resolutions, more travel should be front and centre of everyone's list. Can anything beat promising yourself you'll jet off to new climes on a regular basis?
However, as we all know, the biggest drawback of travelling is the sheer cost. Having just knocked your finances back in shape (as per the first resolution), the challenge is how to stay in the black if your resolution is to hot foot it around the globe? Luckily, earlier this year we covered flight hacks that save you money, giving you the best days to book cheap flights, the cheapest places to fly from and how to make sure those flight costs don't creep up. Team that with our article on how to use the bank holidays in 2019 to make the most of your annual leave, and you've got at least two decent holidays to look forward to.
There's an app for that: Skyscanner 

"I'll make more time for friends"
Whether you want to make new friends this year or just see your old ones more regularly, it's useful to recognise a barrier often stopping us is anxiety - and sometimes pure laziness. Dr Elena Touroni, consultant psychologist at The Chelsea Psychology Clinic says we often restrict ourselves from making new friends through self-consciousness or social anxiety. But you can overcome this by identifying activities you enjoy and using them to meet new people: "Consistent regular contact with new people helps overcome barriers and break the ice gradually, even when we feel anxious. Being genuine and expressing feelings and opinions in an open way, can also bring about a deepening of friendships over time. The more we share with someone, the more we facilitate closeness in a new friendship."
When it comes to staying in contact with your existing friends, we all know there are times we turn down social invites, simply because we can't be bothered. But David Brudö, CEO and co-founder of mental wellbeing and self-development platform Remente, stresses the importance of face-to-face contact with your pals: "We need to talk to our friends, and listen to them, both to enjoy a good laugh, but also to have a support network to help us cope with the challenges life might throw our way."
So if you struggle to find the time for social meet-ups, David recommends this: "If you have a busy schedule, try to book in dedicated time slots to see friends, or set yourself a quota on how often you should see them. Also, make sure you do things that fit your personality. For example, if you are a morning person, perhaps try to meet for breakfast instead of a boozy night out. Or if you are both fitness enthusiasts, then commit to a class together."
There's an app for that: Bumble BFF
DISCLAIMER: We endeavour to always credit the correct original source of every image we use. If you think a credit may be incorrect, please contact us at info@sheerluxe.com.