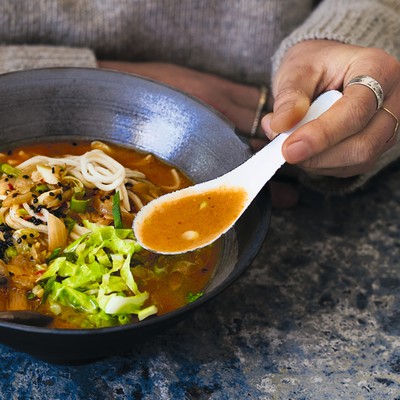 Cabbage Ramen

This easy ramen is packed full of flavour and nutritious veggies. Keep some homemade veggie stock in the fridge (and noodles in the cupboard) at all times so you can whip this up for a healthy mid-week meal.

Ingredients
For the kansui (makes more than needed for the recipe)

For the noodles

125ml

of hot water (make sure this is not boiling)
½

tsp

of salt (high quality preferably)
1

tbsp

of kansui (see above)
210g

of plain flour, plus extra for dusting/kneading (00 flour is great)
For the ramen

1

medium white/brown onion, roughly chopped
4

-6

cloves of garlic, thinly sliced
Approx. thumb-sized piece of ginger, sliced thinly or grated
1

.5

-1

.75 litres of vegetable stock
2

-4

tbsp

of soy sauce or tamari
1

½

tsp

of crushed red pepper flakes
Approx.

125ml

of soya milk
8

dried shiitake mushrooms or

150g

of fresh mushrooms
Noodles (see above) or approx..

350g

of bought ramen noodles
Method
Step 1
To make your own kansui, preheat your oven to approximately 150°C fan. Spread the baking powder on a foil-lined tray and bake for around 1 hour. Once cooked, allow to cool entirely and store in an airtight container/ jar. Use accordingly.
Step 2
To make the noodles, stir together the hot water, salt and kansui in a bowl. Wait until the kansui and salt have completely dissolved.
Step 3
Sift in about three-quarters of the flour. Making sure your hands are floured, begin to carefully knead, slowly adding the rest of the flour and continuing to knead until you have a smooth dough with no lumps. If the mixture is a little dry, add water, 1 teaspoon at a time. You want the dough to form well without sticking to your hands. Shape it into a rough square and cover, then leave to rest for a minimum of 1 hour. If you want to use cling film here (and if you can find a compostable one) go ahead and use that to wrap the dough, or cover with a bowl.
Step 4
While your dough is resting, make the broth. In a large pot over a low-medium heat, heat your oil and fry the onion until golden brown and fragrant, about 3–4 minutes. Add the garlic and continue to fry until this also turns golden, about another 1–2 minutes. Make sure you don't burn the garlic.
Step 5
Stir in the sesame seeds and ginger and fry for a few seconds, then go ahead and add your stock, scraping the bottom of the pan with a wooden spoon to remove any of the ingredients that have stuck (don't worry if they are slightly charred, this will enhance the flavour).
Step 6
Add the soy sauce or tamari, crushed red pepper flakes, spring onions, tomato purée, miso paste and soya milk. Bring to the boil, stirring frequently, then lower the heat to a simmer and add your cabbage and mushrooms. Allow to simmer until the cabbage and mushrooms have wilted and are very tender. The broth will start to thicken at this stage. Season with salt and pepper to taste.
Step 7
To make the noodles, split the dough into 4 even pieces and sprinkle with a little extra flour. If you are not using a pasta maker/roller, you'll need to flour a surface and roll each piece approximately 1cm thick and as rectangular as you can get. Rub flour all over each one, then fold up until you reach the end, creating a small rectangular shape that's about 15cm wide. Using a sharp knife, carefully cut into the desired thickness for your noodles, placing them in a floured bowl while you do the rest. If you are using a pasta maker, start flattening the dough on the lowest setting, working your way up to achieve 1cm thin regular shapes. Then cover each flattened piece with flour and pass through either a noodle cutter or another cutter should you want thicker noodles. Again, place in a floured bowl while you make the rest.
Step 8
This next stage is optional: you can remove about half or less of the solids from the broth and about 125-250ml of the liquid, add these to a blender and blitz until smooth. Add back to the broth. I like to cook the noodles separately, as you can pour the broth over when serving and don't have any residue starch in the broth. To cook the noodles, put them in a pot of salted boiling water and boil for about 3 minutes, then drain.
Step 9
To serve, divide the noodles between the bowls and ladle over the broth. You may have extra broth, which is why it's good to cook it separately. Serve with any extra or desired toppings. Note: if you are adding tofu, I'd go ahead and add this when the broth is simmering.
The Whole Vegetable by Sophie Gordon, published by Penguin; Michael Joseph, £22.99 (was £25.00). Available here.
DISCLAIMER: We endeavour to always credit the correct original source of every image we use. If you think a credit may be incorrect, please contact us at info@sheerluxe.com.