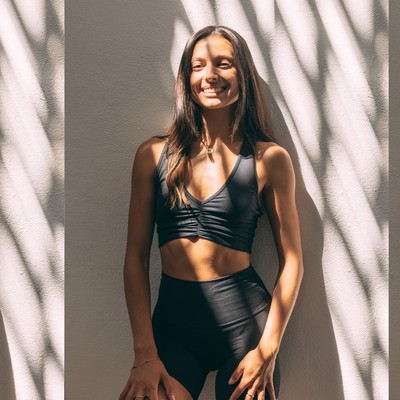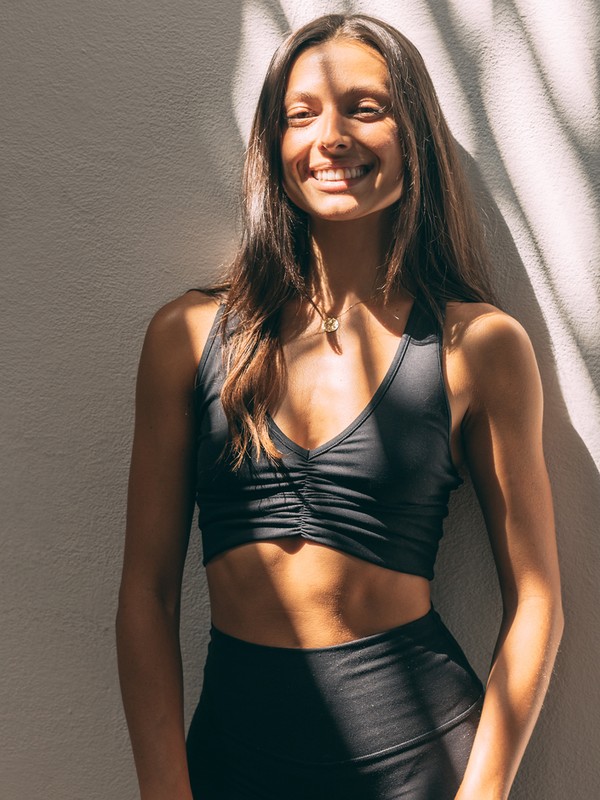 My Yoga Essentials: Meroula Hondrou

Ex-pro ballerina Meroula Hondrou founded the Meroula Method after spotting a gap in the market for a yoga class that was relaxing, sculpting and challenging all at once. A devout yogi, few people are more qualified to share their activewear, kit and nutritional essentials – here are her go-tos…

By Tor West
All products on this page have been selected by our editorial team, however we may make commission on some products.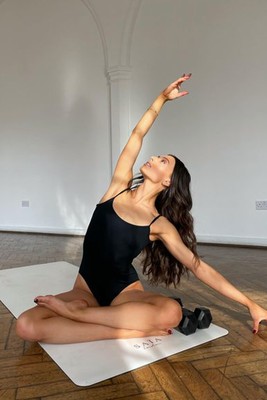 LEGGINGS…
I live in activewear 95% of the time. For yoga, the best leggings need to be soft with just the right amount of stretch. My go-to brands include Alo, All Fenix, Adanola and Beyond Yoga, and I can't live without my Lululemon Align High Rise Shorts – they feel like butter on the skin and are perfect for everyday wear. 
Lenny London is a great sustainable option. It only uses natural and sustainable fabrics for its pieces, which also happen to fit perfectly – a tricky feat in the world of activewear. The Farrell sports bra and Florence leggings are my favourites in the collection. The leggings are great – they're high waisted for a flattering fit, offer excellent coverage and sculpt in all the right places. 
SPORTS BRAS…
Support is essential in yoga. In a yoga class, you spend a large proportion of your time upside down, so a good sports bra is a must. For me, there's no better feeling than an Alo sports bra – they fit like a glove. I have both the Airlift Intrigue and Wild Thing Bra and wear them on rotation. 
YOGA MATS…
Finding a decent yoga mat is tricky. It needs to be non-slip and have enough support for your knees and joints – around 4-5mm thick is the sweet spot for me. I love Lululemon's 5mm mat, which offers great support and has a non-slip feel, as well as Fable's Pro Grip mat, which I have in a taupe colour. Alo's Warrior mats also come highly recommended – they make you want to stay there forever. Saia London also does beautiful mats. 
ACCESSORIES…
Props can help you get deeper into a pose. They're especially useful if you're just starting out, as they can help with alignment, stability and support. In the studio we use Yogamatters yoga blocks but at home I can't be without Yogi Bare's firm foam support block – the foam makes it supportive and comfortable to lie on. At the end of a class, I love lying on this block in a reclined butterfly (placing the block where your bra strap would sit) – it's an incredible way to release tension in the heart and chest. I also do this before sleep and while meditating. 
Add in weights for a challenge. The Meroula Method is a sculpting form of yoga – I always add a 1.5kg pair of hand weights, resistance bands, a Pilates ball and sometimes ankle weights. I also love the burn I get from using a looped resistance band.
I always travel with my yoga mat. I start the day with some form of movement, wherever I am in the world, and if there's space in my suitcase, I'll pack my block too. If I'm feeling anxious, I'll lie on the floor with the block behind my back and breathe deeply for a few minutes.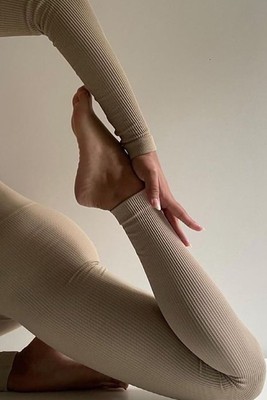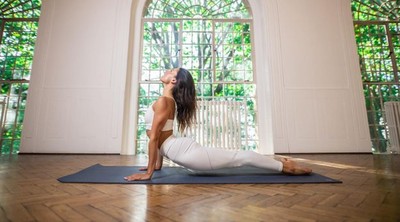 RECOVERY…
Yin yoga is a slow-paced, meditative style of yoga. It contrasts with styles like ashtanga or vinyasa and is a great way to reset the nervous system and ease stress in the body and mind. In a yin class, you can expect to be holding postures close to the ground for three to five minutes. It's an exercise in mindfulness.
The more props, the better. In a yin class, you want to relax as much as possible, which is where props come in. If you struggle to keep a straight spine during meditation, try sitting on a block, while a bolster is a great addition to the relaxation part of class. Either place it underneath the knees to create space for the lower back or lie directly on it to open the heart and chest. Yogamatters bolsters are the best around.
NUTRITION…
Staying hydrated is essential, especially during a sweaty class. I always carry a bottle of water with me but if it's been a more intense practice, I'll have some coconut water. Coconut water is naturally rich in electrolytes, which can help with energy levels and cognitive function – Coconaut and Vita Coco are my favourites. I also enjoy a PRESS charcoal water – it's so hydrating. 
Food is fuel. For years, I would undereat running from client to class, but now I prioritise nutrition. I stick to eating the same things every day and what I know makes me feel good. I love starting the day with a spirulina protein smoothie (I use Form's salted caramel protein powder) and a typical lunch could be avocado on toast with two boiled eggs, a wrap or salad. Dinner varies – either fish or chicken with rice and vegetables or a stir fry. I always carry snacks in my bag – you can't go wrong with a Deliciously Ella or Good Life Eatery energy ball.
SELF-CARE…
I start every morning with a bit of gua sha. Even if I have to do it in the car, it's become a daily ritual. I use Face Gym's Multi-Sculpt tool and keep it in the freezer for an added depuffing effect. I use it with Biossance's squalene oil, which makes my skin so soft. I love the entire Biossance range.
I can't live without essential oils. When I'm stressed or in need of an energy boost, I use Anatome's Balance + Stability and Energy + Strength essential oils. Because they're oil-based, you can put them straight on your skin. 
A CBD balm is the perfect way to unwind before bed. Dreem Distillery's CBD Bed Balm is my go-to – it contains a dose of muscle-relaxing CBD to ease tight and aching joints. If I'm really struggling to unwind, I'll tune into a Boho Beautiful stretch on YouTube – the founder Juliana inspired me to start my yoga journey and she'll help you get some headspace at the end of a busy day.
For more information visit MeroulaMethod.com & follow @MeroulaMethod.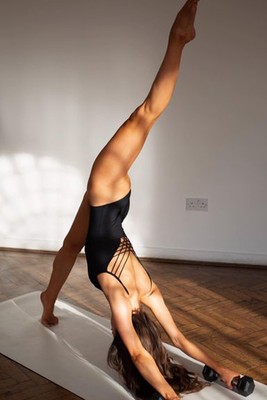 ---
Shop Meroula's Favourites...
DISCLAIMER: We endeavour to always credit the correct original source of every image we use. If you think a credit may be incorrect, please contact us at info@sheerluxe.com.