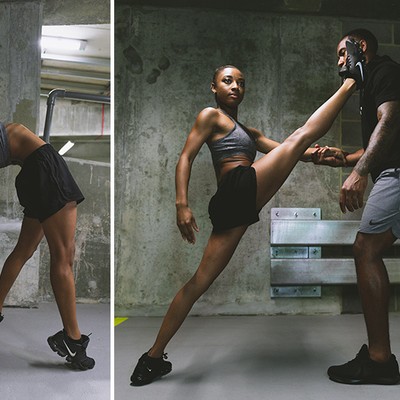 SL Tries: StretchLAB

It's the thing many of us skip at the end of a workout, but so powerful is its effect that people are now paying for professionals to help them stretch. A workout in its own right, assisted stretching is causing quite the stir on the capital's fitness scene. We booked in for a session at StretchLAB, in the heart of Soho, to find out more...

First things first – what exactly is assisted stretching?
Performing better, recovering faster and preventing injury is fast becoming a priority for people of all fitness levels, not just athletes. That's where assisted stretching comes in. So much more than a generic calf stretch at the end of a workout, these one-on-one sessions, carried out with a dedicated 'strechologist', aim to release fascia, the dense, fibrous connective tissue that encompasses both muscle and bone. In small amounts, fascial tissue is protective, but it accumulates as a result of intense exercise. Fascia build-up can ultimately become restrictive, limiting our range of motion and leading to injury. 
What happens in a session?
In short, a lot of stretches you didn't know your body was capable of. We booked in for one of StretchLAB's longer 50-minute sessions, which started with a ten minute warm up with a Theragun (a clever chiropractor-developed tool that uses percussive therapy to boost blood flow, break up scar tissue and banish lactic acid). Lying face down on a massage table, it felt somewhat like being pummelled with an electric drill. Once the warm-up was complete, our therapist worked from top to toe for the remaining 40 minutes, pushing and pulling our body into dynamic stretches designed to loosen up tight areas.
How do you feel afterwards?
At least two inches taller. Somewhere between a Thai massage and the most intense yoga class of your life, regular sessions will leave you feeling more flexible, as well as taller and leaner. 
Who is it for?
Whether your head is bowed over a desk all day or you're training for your next marathon, assisted stretching is a must-try. More interactive than a massage and ten times more effective than sitting on the foam roller for ten minutes, it's the cool down you didn't know you needed. This type of stretching is also perfect for the gym junkie that frequently skips the post-class stretch, which can shorten and tighten muscles and ultimately hamper results.
Whether your head is bowed over a desk all day or you're training for your next marathon, assisted stretching is a must-try.

How is it different to yoga?
If you believe your regular yoga class gives you all the stretch you need, think again. Assisted stretching is a completely different ball game to yoga, instead working the body in a passive way, enabling you to reach a depth in your stretches that isn't possible in a pigeon pose, for example.
How often should you go?
It depends on your goal. If you're training for a race or have a specific aim in mind (our 'stretchologist' told us lots of people come in desperate to be able to do the splits) the experts say you should be visiting once a week. Just be aware, the pros say it takes a few weeks for your muscles to respond to assisted stretching. If budget is an issue, once a month is adequate for most.
What else is on offer?
StretchLAB is a dedicated recovery zone, offering one-on-one bookings as well as compression boot sessions (designed to banish lactic acid from the legs, they are well worth a try if you are a keen runner) and speedy 15-minute stretches done solely with a Theragun. Tucked just behind Oxford Street in London, the studio is in the perfect spot to swing by after work or on your lunchbreak. 
The bottom line?
While there will always be a place for a massage, StretchLAB felt just as restorative as an hour spent in a spa. The staff are charming, and all are experts in their field – the majority have a background in dance, Thai massage and yoga. At £55 for 50 minutes, this is a luxury. But when it comes to better posture, increased performance and stress reduction, it's one workout you don't want to skip.
Sessions start at £28; visit StretchLAB.co.uk for more information on additional services, discounted packages and membership options.
DISCLAIMER: We endeavour to always credit the correct original source of every image we use. If you think a credit may be incorrect, please contact us at info@sheerluxe.com.