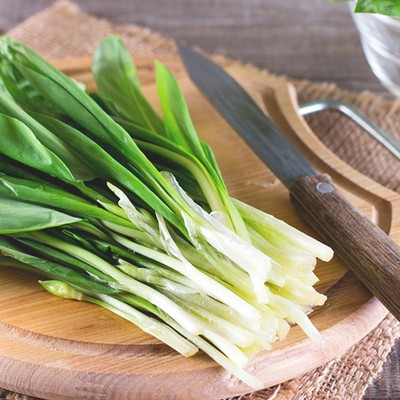 How To Forage For & Cook With Wild Garlic

Whether you're on the hunt for first time foraging tips or need a flavoursome punch to your meal, make wild garlic your main ingredient – we asked six of our favourite chefs to show us how to get the best out of these lovely leaves.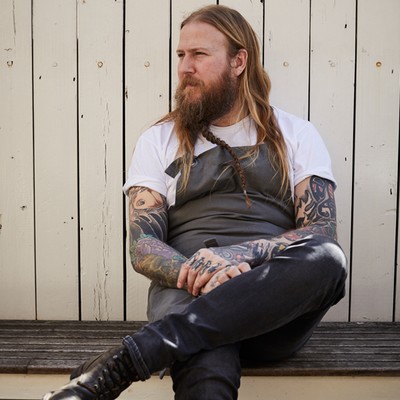 Andrew Clarke, Chef and Co-Founder of Brunswick House, St Leonards and Orasay:
Where is best to find wild garlic?
I've foraged wild garlic for 20 years or so. Growing up in Kent meant I had a good choice of woodland nearby so I could harvest the broad green leaves and stellar white flowers. From the beginning of April until the beginning of June, the woods would fill with a heady aroma of allium. The plant grows in abundance, for as far as the eye can see. I always think hunting and finding your own fresh garlic is best. Damp woodlands are the best places to hunt them down, but I must confess my closest spot these days is a north London cemetery. Otherwise your local grocers should sell it.
And what's the best way to prepare it?
Once picked, it stores well wrapped in kitchen roll in an airtight container in the fridge. There's so much you can do with wild garlic: it's really versatile. You can roughly chop leaves and fold through salads or tortillas and omelettes; finely chop it into crushed or roasted baby potatoes; wrap up with fish in steamed parcels; or use it to replace soft herbs or spinach.
The flowers make attractive garnishes for spring dishes and later in the season, when the petals fall from the plant, you have the bulbils, which chefs often refer to as 'ramson capers'. Preserve these in a pickling vinegar or brine for use throughout the year.
Try Andrew Clarke's wild garlic recipes below...
Wild Garlic, Feta & Hazelnut Pesto
This is great for serving as a dip for vegetables, or as a sauce for grilled fish or meat. You could leave out the feta and serve with a ball of burrata instead – drizzle the oil over for a striking finish.
INGREDIENTS
4 tbsp wild garlic pulp
4 tbsp feta
2 tbsp roasted hazelnuts
1 tbsp crème fraiche (or reek yoghurt)
100ml olive lil
½ lemon, zest and juice
METHOD
Simple: blend all the ingredients in a food processor. Season to taste.
Wild Garlic Butter
A very flavoursome butter for making garlic bread or resting on hot grilled lamb chops.
INGREDIENTS
2 tbsp wild garlic pulp
1 block unsalted butter – soft
Zest of 1 lemon
METHOD
Blend all ingredients in a food processor or pestle and mortar. Season to taste.
Wild Garlic Pulp & Oil
INGREDIENTS
400g wild garlic leaf (not the stalks)
400g mild olive oil
METHOD
If you have a food processor with a heating function, take the roughly chopped wild garlic leaves and olive oil, then thoroughly blitz until the temperature reaches 6C. If you don't have a heating function, just give the leaves a quick blanch in boiling water, shock in ice water (squeeze the excess water out) then transfer to a food processor with the oil.
Cool the mix down quickly, then hang the pulp in muslin for a couple of hours, so the oil can drain free from the pulp. Both the pulp and the oil can be used and store very well in the freezer until needed (the freezer keeps the colour and flavour bright). The pulp can be added to pasta dough, risottos or even a great garlic butter and the oil is great for making sauces, dressings and emulsions – simply stir into shop-bought mayonnaise.
Visit StLeonards.London
Ivan Tisdall-Downes, Head Chef at Native:
How can you identify wild garlic in the wild?
You'll probably smell the wonderful aroma before you see it. Then, depending on the time of year, you'll spot their beautiful dainty white petals (there are six petals on each flower) and their deep green, spear shaped leaves towards the end of the season. Usually found under a leafy, damp woodland canopy in early spring, once you find a spot, you'll enjoy its bountiful goods year on year. Just remember to only ever take one fifth of the plant – leave the majority to bloom, flower and continue for years to come. You can never be too careful when foraging, so never be complacent, and always double-check each plant is wild garlic, as there are similar ones which are poisonous. These do not smell like garlic, so they are easily identifiable.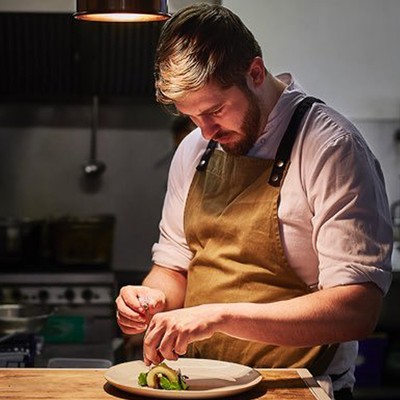 Where can you buy it?  
You can buy it online via Abel and Cole plus at smaller, local farm shops and farmers' markets.
Tell us the best way to prepare it?
Give it a good rinse in cold water and brush off any dirt, and make sure you use the vibrant, green and healthy-looking leaves, not the wilted ones.
And any favourite wild garlic recipes you can recommend?
Wild garlic pesto is a great way to enjoy the fresh, powerful flavours – at Native we use a mixture of nettles, wild garlic, hazelnuts, rapeseed oil and a hard cheese from Neal's Yard Dairy. It's a quick and delicious way to enjoy with pasta or a bruschetta for lunch. You can make the pesto and freeze in ice cube trays ready to defrost for a weekday dinner. A potato salad made with finely shredded wild garlic leaves and plenty of creamy butter is a great addition to any BBQ.
Visit EatNative.co.uk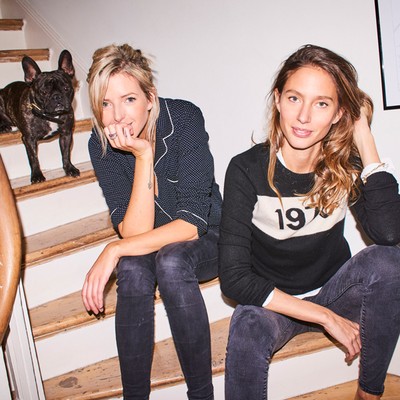 Lucy Carr-Ellison & Jemima Jones, Founders of Wild By Tart:
Where's best to buy wild garlic?
We buy from Parkway Green in Camden Town, but you should be able to find it at your local greengrocers and Natoora.
What's the best way to cook it?
We love making marinades from it and whizzing it into pesto (which keep well jarred in the fridge), or adding the freshly chopped leaves to spring soups, pastas, stews, salads and sandwiches. It's also great whizzed into butter and kept in the freezer for whenever you need a good hit through the rest of the year.
Try Tart's wild garlic recipes below...​

Marinade for a BBQ white fish
INGREDIENTS
2 fillets of sea bream or sea bass
2 handfuls wild garlic
1 handful parsley
1 handful basil
Juice and zest of 1 lemon
3 spring onions
100ml olive oil
Pinch of sea salt
Pinch of red chilli
METHOD
1.Whizz all the ingredients, minus the fish, together in a blender.
2. Score the fish and slather on the marinade. Allow to marinate for a couple of hours before hitting the hot grill.

Spring pasta
INGREDIENTS
3 rashers pancetta, chopped
2 shallots, finely chopped
2 sprigs rosemary, finely chopped
1 tsp dried chilli
1 tsp fennel seeds
1 glass white wine
1 handful wild garlic
2 handfuls fresh peas
1 lemon
1 tbsp crème fraiche
Pasta of your choice
METHOD
Sauté the chopped pancetta, shallots, rosemary, dried chilli and bashed fennel seeds in plenty of olive oil for six minutes. Add the white wine once the mixture begins to caramelise and reduce with a knob of butter.
Blanch a large handful of wild garlic and a large handful of fresh peas for a few minutes. Blitz these with the juice and zest of the lemon, crème fraiche, two tablespoons of water and a good glug of olive oil.
Cook the pasta until al dente.
Mix the pasta into the sautéed shallots and pancetta, pour in the blitzed wild garlic and pea sauce and add the final handful of peas. Heat through and serve with grated parmesan.
Visit Tart-London.com
Patrick Powell, Head Chef at Allegra
If you wanted to pick your own wild garlic, where in London would you suggest?
Try Springfield Park which is just north of the Queen Elizabeth Olympic Park and Hackney Marshes. Otherwise, try the Hoxton Fruit & Veg Shop – it has everything.
Can you eat it raw?
It's too strong to eat raw so gently soften in a pan to mellow the flavour. I like to blitz it through leek and potato soup right at the end with loads of black pepper. Serve with a poached egg.
Visit Allegra-Restaurant.com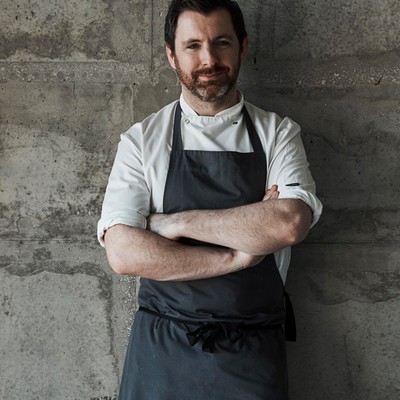 DISCLAIMER: We endeavour to always credit the correct original source of every image we use. If you think a credit may be incorrect, please contact us at info@sheerluxe.com.