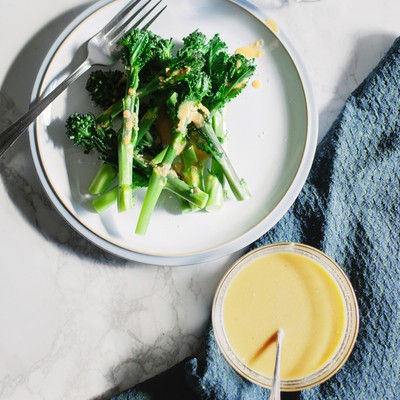 How To Use Tahini In Your Home Cooking

A paste made from hulled sesame seeds, tahini is a staple ingredient in the Middle East and Mediterranean. High in protein and good fats, it works just as well in sweet dishes as it does in savoury dressings. From a smoked aubergine dip to a tahini and berry sundae, here's how to make the most of it – and a selection of recipes to try.

So, tahini is made from sesame, right?
Yes – tahini is a condiment made from toasted ground hulled sesame. It is often served on its own as a spread or salad dressing but is also a primary ingredient in popular dips like hummus and baba ghanoush. Popular from Georgia to Jordan, tahini tastes like its source ingredient – sesame seeds – and has a savoury, bitter and nutty flavour profile.
Is it good for you?
Tahini is relatively low in calories, but high in fibre, protein and an assortment of important vitamins and minerals, such as B vitamins (which boost energy and brain function), vitamin E (which can help protect against heart disease and stroke) plus calcium, magnesium and iron. However, it's also high in omega-6 fatty acids – a type of polyunsaturated fat found primarily in the likes of sunflower oil – so it's best to consume it in moderation and enjoy it alongside healthy food such as grains, salads and vegetables. Don't let its high fat content put you off: tahini has also been associated with several benefits, including improved heart health and reduced inflammation.
How To Use Tahini
Cesar Fernandez, Home Economist at Miele GB
When you buy tahini, make sure you choose the lighter coloured variety, so there's not a lot of oil separation in the jar. This will happen naturally after a certain amount of time, but it normally indicates the tahini is on the older side. Check the label and make sure the ingredients list is as short as possible, ideally only sesame seeds. You can store tahini in the fridge but keeping it at room temperature makes it much easier to use. Always remember to stir it before using, too.
 
Great for both sweet and savoury recipes, some of my favourite ways to use tahini are: 
Mixed with Greek yoghurt, garlic, lemon, salt and pepper and a sauce to dip roasted veg or crudités.

Mixed with equal quantities of lemon juice, olive oil, garlic, salt and pepper. Coat cauliflower, broccoli or Romanesco before roasting for about 20-25 minutes on 200°C.

Served with noodles. Italy might have brought bolognese into the world, but China has dan dan noodles – stir-fried pork mince with ginger, chili oil, szechuan peppercorns and tahini over egg noodles. Simply mixed with soy sauce is great, too.

With chicken thighs. Sear the thighs and then add a mixture of chicken stock, tahini, soy sauce and a little sugar and cook for 35-40 minutes. The sauce will be thick, sweet and salty at the same time – delicious.

Baking. Swirl into cheesecakes, brownies, blondies or biscuits before baking for extra creaminess and flavour. White chocolate and tahini is a fantastic combination – one of my favourites.
CESAR'S FAVOURITE RECIPE: Tahini & Black Sesame Cake
Ingredients
3

tbsp

of black sesame seeds
1

½

tsp

of bicarbonate of soda
1

tbsp

of toasted sesame oil
For the icing:

100g

of unsalted butter, softened
Method
Step 1
Preheat the oven to 170°C on a fan setting. Using an electric whisk, beat the sugar, black sesame seeds and together for 3-4 minutes or until pale and frothy. Gradually add in the vegetable and sesame oil and whisk until fully incorporated.

Step 2
Sieve together the dry ingredients into a bowl and combine the yoghurt and tahini in another bowl, do not worry if it thickens. Add the dry ingredients a third at a time alternating with the yoghurt tahini mixture.

Step 3
Line and grease a 24cm springform cake tin, pour in the cake batter and bake for 35-40 minutes. Remove from the oven and allow to cool down completely.

Step 4
To make the icing, use an electric whisk and beat together the butter and tahini and gradually add in the icing sugar. Whisk until light and fluffy, ice the cake and serve.

Need to add some to your kitchen cupboard? Here are the best shop-bought tahinis to try…
Inspired? Here are seven more recipes to try at home…
Tahini Dressing
Adam Byatt, Trinity
Apart from using tahini in hummus, this is a wonderful dressing for grilled vegetables and light meat dishes like grilled chicken. The best tahini is from Belazu. Also look out for red tahini, which is awesome in cashew nut hummus. 
Method
Step 1
Mix the tahini and yoghurt, then add the lemon juice, water and olive oil.

Step 2
Mix well – in a Nutribullet is best – and dress over your vegetables.

Beetroot Hummus
Heather Kaniuk, Longboys
If you're big a fan of hummus, you'll love this beetroot version. The colour is simply divine, and the ruby shade brightens any mezze platter or crudités. If you have fresh beets, simply wrap in tinfoil and bake for 1 hour at 180°C, otherwise use store bought cooked beets for a quick and easy alternative. If you find your tahini has separated into a hard layer with oil on top, a good tip is to scoop out the whole jar of tahini into a blender or food processor and blend until smooth.  Pour back into the original jar and store in the refrigerator – it won't separate again.
Ingredients
1

tin of chickpeas in brine
1

small clove garlic, minced
Method
Step 1
Drain the chickpeas and rinse lightly. Place all ingredients into a blender or food processor.

Step 2
Pulse until you have a smooth but thick paste. Season to taste.

Step 3
Serve with pita chips, lavosh crackers or crudités. The hummus can be stored in the refrigerator for up to three days.

Smoked Aubergine Puree
Liam Dillan, The Boat Inn
Tahini is obviously great with humus to give a silky rich finish. This recipe is a smoked aubergine puree finished with tahini. Serve it with lamb, or on its own as a tasty dip. 
Ingredients
375g

of aubergine, cooked and chopped
10ml

of extra virgin olive oil
10g

of salt (smoked salt is good for this but not essential)
Pinch of ground cayenne pepper
Method
Step 1
To get a smokey flavour to the aubergines I blowtorch them first until the skin goes a kind of silver. Or over a gas flame similar to burning a pepper. Once this is done all over put them under the grill or oven to get them cooked all the way through.

Step 2
Squeeze some of the liquid out of the aubergines and then blitz them with the lemon juice and garlic. Slowly add the olive oil.

Step 3
Next, add the salt, tahini and cayenne pepper and then slowly combine with the creme fraiche to finish.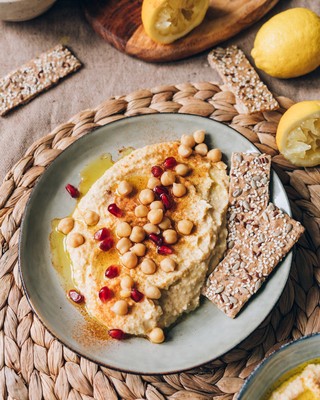 NATAŠA MANDIĆ/STOCKSY UNITED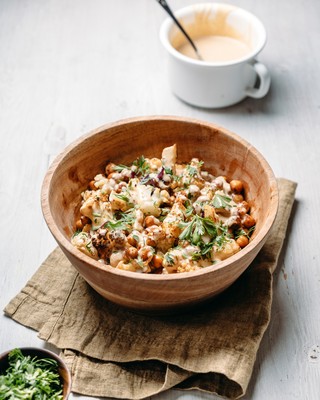 INA PETERS/STOCKSY UNITED
Tahini, Vanilla and Berry Sundae
Henry Russell, Belazu
Adding a drizzle of tahini and a sprinkle of marcona almonds elevates what is usually a basic pudding to an elegant and rich dessert. Layer the elements together in tall sundae glasses, allowing all the ingredients to combine together so with every spoonful you get a delightful mix of each. It is also important to get a good quality vanilla ice cream for this dessert, as the quality will really come through.
Ingredients
250g

of natural full fat yoghurt
500ml

of vanilla ice-cream
50g

of salted marcona almonds, chopped
Toasted sesame seeds, to sprinkle
Method
Step 1
In a heavy bottomed pan place the frozen berries, sifted icing sugar and lemon juice. On a medium heat, cook until the berries are soft and the sauce syrupy, approximately 12 minutes.

Step 2
In a bowl whisk together the yoghurt, tahini, icing sugar and salt until combined. Chop the marcona almonds.

Step 3
In a dry pan lightly toast the sesame seeds on a medium heat moving regularly. In four wine glasses, alternate the berry compote, tahini yoghurt and ice-cream then top with the nuts and sesame seeds.

Tahini Dressing Three Ways
Belazu
Tahini is an incredibly versatile ingredient, especially when it comes to dressings and sauces. The smooth texture can be used make a variety of creamy dressings for salads, grilled vegetables or meats. We developed a simple recipe to go with three tahini dressings as easy inspiration.
Ingredients
For the mustard & caper tahini dressing:

4

tbsp

of capers, drained of liquid and finely chopped
½

clove of garlic, crushed to a paste
For the shawarma paste, yoghurt & tahini dressing:

4

tbsp

of natural yoghurt
For the grapefruit and tahini dressing:

1

lemon, zested and juiced
1

Small garlic clove, crushed to a paste
Method
Step 1
Put a large pan of salted water on a high heat and bring to the boil.

Step 2
Cut 1cm from the base of the broccoli, then peel the stalk of the broccoli to remove the tough, green outer skin. Cut in half, starting at the base and cut down towards the dark green outer part. Then cut each half into small wedges, around 5-6 per half.

Step 3
Drop into the boiling water and cook for 2 minutes, then remove and allow to drain on a rack with a tray underneath, until cool. You can prep the broccoli ahead of when you want to BBQ it.

Step 4
Place on a hot BBQ grill and cook for 3-4 minutes on each side, until the edges of the broccoli are nicely charred and starting to crisp.

Step 5
Remove from the BBQ and dress with one of the tahini dressings while still warm.

Step 6
For the mustard & caper tahini dressing:

Step 7
Combine the mustard, tahini, water, lemon juice and sherry vinegar and stir or whisk until completely combined.

Step 8
Add the capers and garlic, stir again and taste. Add salt if you think it needs it. This makes quite a thick dressing, so add a little water if you want it looser.

Step 9
For both the shawarma dressing & the grapefruit dressing:

Step 10
Mix all the ingredients with a spoon in a small bowl till smooth and well combined.

Step 11
Taste then add salt and mix again. Repeat if you think it needs more salt.

Tahini & Turmeric Granola Bars
The Groovy Food Company
Ingredients
150ml

of dark agave nectar
2

tbsp

of The Groovy Food Company organic virgin coconut oil infused with turmeric
100g

pistachios, shelled and chopped
2

tbsp

of toasted sesame seeds
75g

of dried cranberries, roughly chopped
Method
Step 1
Preheat oven to 180°C/160°C Fan/Gas Mark 4. Grease and line a 20cm square baking tin with parchment paper.

Step 2
Spread oats evenly on a large baking sheet and place in the oven for 10-15 minutes, until lightly toasted. Set aside to cool.

Step 3
Combine agave nectar, tahini and turmeric infused coconut oil in a small saucepan. Cook over a gentle heat for 5 minutes. Meanwhile put the dates in a blender along with 100ml of warm water and blitz until smooth.

Step 4
Remove the pan from the heat, add the date puree, vanilla extract, cinnamon, and ¼ tsp salt. Mix well then add the dates and set aside to cool slightly.

Step 5
Combine oats, pistachios, dried cranberries and sesame seeds in a large bowl. Pour over the tahini and date mixture, and combine well making sure the oats are well coated. Tip into the prepared tin and press the mixture down using your hands (compressing the mixture helps the bars hold together better).

Step 6
Bake for 15-20 mins, then leave to cool in the tin for 15 mins before transferring to a wire rack. Cool completely before cutting into bars.

Tahini Sesame Noodles
Kimberly Lin, Floozie
This is a flavourful quick fix for those nights when I really don't feel like cooking after a busy day. The rich nutty tahini pairs so well with the spicy chilli sauce, it's easy to jazz up with extra veggies or other proteins. I keep mine simple with just some silken tofu and spring onions.
Ingredients
25g

of sriracha chili sauce
20g

of Japanese soy sauce
1

small piece of ginger about

3cm

, roughly chopped
150g

of Japanese silken tofu
2

tbsp

of toasted sesame seeds
Method
Step 1
In a highspeed blender, combine the tahini, water, soy sauce, maple syrup, ginger and chilli sauce. Blend until smooth. Set aside.

Step 2
Prepare the noodles as directed. While the noodles are cooking, cube the tofu and slice the spring onions.

Step 3
In a small saucepan, combine the rice noodles and the tahini dressing. Mix to evenly coat the noodles and to warm through. Place the noodles on the plate or bowl, and top with cubed tofu, spring onions and a sprinkle of toasted sesame seeds.

INSPIRATION CREDITS: DARREN MUIR/STOCKSY UNITED
DISCLAIMER: We endeavour to always credit the correct original source of every image we use. If you think a credit may be incorrect, please contact us at info@sheerluxe.com.