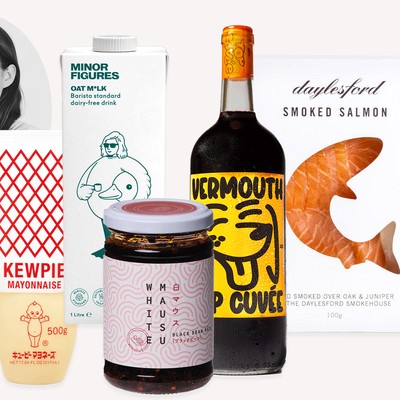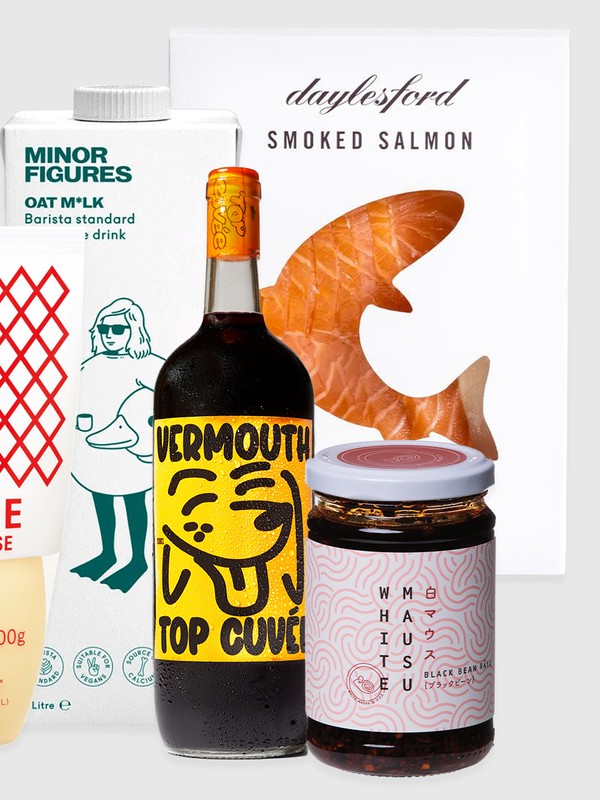 'Inside My Fridge' With SL's Managing Lifestyle Editor

Want some fresh inspiration for your next weekly food shop? We asked SheerLuxe's Managing Lifestyle Editor Heather Steele to share her fridge essentials – from the Italian staples she's never without to her favourite condiments to spice up weeknight dinners, these are the items she always has on hand.

By Heather Steele
All products on this page have been selected by our editorial team, however we may make commission on some products.
Cheese: Anyone who knows me knows I love cheese – in any form. I always have a block of parmesan on the go to grate over pasta, and right now I have a seriously punchy pecorino my boyfriend recently brought back from Sicily safely stashed away in a scent-proof Tupperware. There's also a small burrata from Natoora to serve with grilled peaches, rocket and balsamic vinegar at the weekend and a packet of feta to throw into a huge Greek salad or as part of a Tart London Mexican green eggs recipe, which I always make for brunch if I have people over. 
Yoghurt: There are usually a couple of tubs of yoghurt in the fridge. I like to have a thick Greek yoghurt or live natural yoghurt to make dips with, or to dollop on the side of savoury dishes such as poached eggs on spinach or curries. As an occasional treat, I'll buy a large tub of The Collective Dairy's thick Greek yoghurt – my favourite flavour is the lemon curd one.
Avocado: Sometimes, I can't be bothered to go off in search of the perfect avocado to eat that day. That's when these Holy Moly avocado packets come in handy, and they're usually on special offer. I like the smashed avocado one for quick breakfasts at the weekend and the extra-hot jalapeño one to serve alongside fish tacos.
Butter: Ever since I saw Nigella Lawson's Eat, Cook, Repeat series in 2020, I've been converted to unsalted butter. In classic Nigella fashion, instead of using salted butter on her toast, she'll use unsalted before topping it with a liberal sprinkling of Maldon salt. Trust me, it makes a round of weekend toast taste even better.
Sauce Shop: I know it's controversial, but I'm one of those people who keeps their condiments in the fridge. From ketchup to chutneys, srirachas and mustards, two of my shelves in the fridge are completely crammed with pastes and sauces. One of my favourite brands is Sauce Shop and two I've been using a lot lately are its 'FU' Fry-Up Sauce – created in collaboration with cult Instagram account The Fry-Up Police – and its honey sriracha drizzle, which I'll have on everything from scrambled eggs to veggie burgers.
Sweet Baby Ray's: This is the best BBQ sauce out there – and you can find it in Lidl. A household staple in the US since the 80s, the sauce was created when chef Larry Raymond perfected his family recipe and entered it into America's largest rib cookoff, beating almost 700 other entries. Sweet and tangy, it tastes great with chicken and sausages (and, ahem, leftover slices of takeaway pizza).
Kewpie Mayonnaise: I've never been a fan of mayo or salad cream, but an interview with Japan-mad chef Tim Anderson changed my mind. The brand – which dates back to 1925 – contains four egg yolks per bottle, which gives it a lovely richness and savoury taste that works really well in dips and dressings. It's the only mayo I'll eat.
White Mausu: Earlier this year, I came across Dublin-based Asian condiment brand White Mausu, which makes more-ish peanut rayu (a Japanese chilli oil). I have jars of its stuff in the fridge, including its signature crunchy and hot black bean rayu, which is incredible in ramen, over stir-fries, mixed into Asian dressings and drizzled over fried eggs.
I know it's controversial, but I'm one of those people who keeps their condiments in the FRIDGE. From hot sauce to harissa, two of my shelves are completely CRAMMED with pastes and sauces.

Fresh herbs: Seggiano is an incredible Italian brand that I've seen pop up in UK shops a lot this year. It's got a great collection of pestos, pasta sauces, antipasti and olives, but I'm most taken with its range of fresh jarred herbs. They last for ages in the fridge so you can use them like dried ones, but they deliver the flavour punch of fresh herbs.
Fresh pasta: I always have lots of dried pasta in the cupboard – and recently brought back some ridiculous Dolce & Gabbana spaghetti lunghi from Bologna – but sometimes it's good to have fresh stuff to hand for those occasions when the trains aren't playing ball and I want something quick when I get in from work. I really rate Rana, and its aubergine parmigiana tortellini is my favourite when served with pesto or simply with parmesan, olive oil and torn basil leaves.
Preserved lemons: I've recently been cooking my way through Yotam Ottolenghi's Simple cookbook. An Ottolenghi must-have, a jar of preserved lemons will last for ages in the fridge and adds so much flavour to the likes of roast chicken, pasta sauces and roasted aubergine stews.
Smoked salmon: For a quick lunch at home, I love a couple of slices of smoked salmon on Ryvita with cream cheese and a dollop of Ikea's dill and mustard sauce, which you can grab on the way out along with the obligatory bag of mini Daim bars. Recently, I've been enjoying Daylesford and Smokin' Brothers' thicker-cut, sashimi-style slices.
Sauerkraut: My parents were friends with a couple from Budapest when I was growing up, so I've always loved sauerkraut and often still make Gita's Hungarian pork and sauerkraut goulash in the winter. It used to be a pain to find, but now – like all gut-friendly food – it's easy to source and comes 'live' so it's even better for you. Hurly Burly is one of the more affordable newcomers and makes a great addition to salad bowls and many of Nigel Slater's and Nigella's autumnal recipes.
Miso: I love cooking Asian dishes and using miso. The best I've found is this massive tub from the Japan Centre, which lasts for ages and has such a great taste. I'll use it in stir-fries, smeared over a roast chicken, with roasted vegetables and to make a quick soup on 5:2 days.
Tahini: Another Ottolenghi staple, tahini is a much-used ingredient in my kitchen. As well as using it in Middle Eastern dishes, the girls from Wild By Tart have a great recipe for tahini broth with spicy ground pork and soft boiled eggs in their book A Love Of Eating. I also make Hetty McKinnon's smashed cucumber salad with tahini and chilli oil from her book To Asia, With Love loads.
'Nduja: I've just been looking through Theo Randall's new cookbook, The Italian Pantry, and he's got a great 'nduja recipe in there I'm keen to try – fried polenta with 'nduja butter. I also love using it in Nigella's cavolo nero pappardelle and as a secret flavour bomb in a bolognese sauce.
Cookie dough: I'm not a massive baker, so Doughlicious's range of ready-to-cook cookie and savoury biscuit doughs have been a gamechanger. There have been several occasions when a bowl of still-warm matcha and white chocolate cookies topped with vanilla ice-cream have left friends and family impressed at the end of a meal – and all in under 15 minutes.
Canned wine: I've started getting in cans of wine rather than bottles for those times I just fancy one glass. They're also useful for cooking with when you just need 150ml or so, but don't want to open a bottle. Recent brands I've loved include Defy, Vinca, Banks Brothers and Copper Crew.
Vermouth: We recently upgraded from a tiny fridge-freezer to a bigger model that comes with more shelves and an all-important bottle rack. Fortified wines such as sherry and vermouth should be kept in the fridge once opened, so I've got quite the collection in there. I use vermouth for negronis, martinis, spritzes or just over a couple of cubes of ice on a lazy Sunday evening.
Sea Arch: Contrary to the above, I don't tend to drink that much at home anymore, but occasionally I'll have one of these non-alcoholic Sea & Ts, which are genuinely the best non-alcoholic spirit replacement I've tried. Sea kelp, samphire, cardamom and blood orange are added to the spirit before the alcohol is removed, which means the taste is much more powerful, and there's a salty edge that almost replicates the alcoholic tang of gin.
Oat milk: I've always hated milk, so I use Minor Figures – a carbon-neutral oat milk brand – in my morning smoothie instead of dairy, alongside dates, a banana, peanut butter, Form Superblend protein powder and a dash of cinnamon.
Crodino: These sparkling Italian non-alcoholic aperitifs taste a little bit like a Campari & soda or a slightly sweeter negroni. Until this summer they were difficult to source in the UK, but happily they've just landed in Sainsbury's and Waitrose. I'm not really one for fizzy drinks, but these are a nice alternative to a cocktail on a weeknight when poured over ice into a nice glass.
---
Shop Heather's Fridge Staples Below...
DISCLAIMER: We endeavour to always credit the correct original source of every image we use. If you think a credit may be incorrect, please contact us at info@sheerluxe.com.