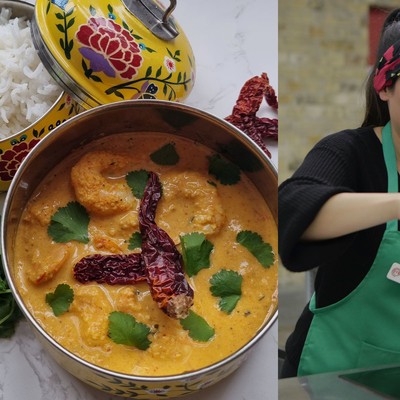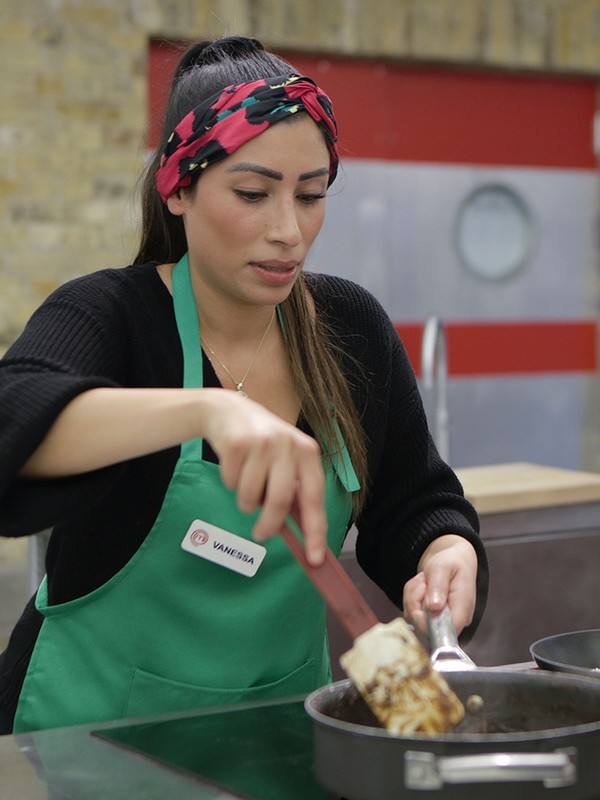 Meet The Neurodiverse Chef Determined To Change The Way We Cook

Vanessa D'Souza describes herself as "just a simple girl from Croydon trying to make her food dream a reality". But in reality, she's so much more than that. After receiving a late autism diagnosis only a couple of years ago, she set out to pursue her love of cooking as 'The Autistic Chef' – you may recognise her from the most recent series of MasterChef. We sat down with her to find out more about her culinary roots, her diagnosis and what makes her journey so inspiring.

By Harriet Russell
How did you discover your passion for cooking?
My passion for food started in childhood – it's not a stretch to say I come from a family of food enthusiasts. From a young age I was lucky enough to be surrounded by delicious and diverse culinary experiences. However, it wasn't until my teenage years and even early adulthood that I discovered my true passion for cooking. I found I loved creating my own unique recipes with distinctive flavours – many of which were inspired by my Portuguese-Indian roots and travels. I'm an absolute travel junkie – I've probably been to more than 50 countries – so that definitely informs my approach to food now.
What's your earliest foodie memory?
I've always loved food but for a long time I struggled with different food textures and sensory sensitivities, which made it challenging to enjoy certain things. My grandmother was the one who realised that a lot of my aversion to trying different foods came from these different textures, so she had the clever idea to get me involved in making butter chicken as a standalone sauce. It was a complete gamechanger for me ­– and now I can't make it any other way.
How has your autism diagnosis influenced your approach to cooking?
It's allowed me to harness my unique perspective and creativity, which often results in more innovative flavour and texture combinations outside the traditional 'norms' of culinary practices. Receiving my diagnosis last year really helped me understand the real me – after years of masking environments, foods and everything else I struggled with. The kitchen has always been my safe space and food is the one thing that grounds me wherever I am in the world.
What was your experience on MasterChef like?
Reaching the semi-finals of MasterChef was an amazing experience, filled with both highs and lows. It was a challenge to navigate the high-pressure environment and sensory overload, but I pushed my myself to prove that anything is possible – if you have determination and perseverance. It was incredibly liberating to be able to enter this competition as my authentic self, cooking foods that I love that also catered to neurodiverse individuals with sensory sensitivities in mind – and specifically with alternative and adaptive presentation. To reach the top six was a dream come true, but I know it's just the beginning.
My diagnosis has allowed me to harness my UNIQUE PERSPECTIVE AND CREATIVITY, which often results in more INNOVATIVE FLAVOUR AND TEXTURE combinations.
Tell us a bit more about The Autistic Chef…
The main mission of The Autistic Chef is to break down stigmas that surround autistic and differently abled individuals, and showcase the unique talents and perspectives that we bring to the culinary world. It's an online platform where people can come to feel inspired by food, find recipes they can be confident will cater to their unique sensory make-up, and even connect with like-minded individuals across both the neurodiverse and neurotypical spectrums. It's a community and my hope is to build a group of culinary enthusiasts that support and inspire each other with diverse and inclusive cooking.
How would you describe your cooking style today?
It's probably best described as a fusion of my Portuguese-Indian heritage and my love for diverse and bold flavours. I always set out to create unique dishes that stimulate the senses and challenge convention – especially after my diagnosis, as this is what's given me the freedom to explore different combinations and not feel restricted by what traditional cooking says we 'should' do.
What are three things we'd always find in your fridge?
The first would be grass-fed organic butter – it's the simplest secret ingredient to making everything taste better. Then it would probably be my homemade chilli sauce – I would use it on everything if I could. Finally, miso – I call it my umami best friend. For the kind of cooking I like to do, I swear it just adds that magical hit to so many dishes. Right now, you might also find quite a lot of ingredients used in southeast Asian cuisine. I'm always drawn to bold and complex spices, and at the moment I'm particularly interested in the unique tastes and textures of the region.
How about three things everyone should keep in their store cupboard?
The first would be a variety of herbs and spices. You can alter the flavour profile of so many things just with the right – or different – combinations. Then I'd say it's important to have a range of grains and legumes in there. Again, with the right herbs and spices too, you can make something out of nothing. Finally, I consider a selection of healthy oils (such as olive oil or coconut oil) essential.
To be more INCLUSIVE, the culinary industry needs to recognise the UNIQUE CHALLENGES AND STRENGTHS strengths that NEURODIVERGENT people bring to the table.
Is there a memorable cooking experience or a dish that holds special meaning for you?
If I cast my mind back, it was probably when I recreated my grandmother's Goan fish curry for the MasterChef quarter-final. It brought back so many fond memories of family gatherings and homecooked meals – it took me right back to her house when she made it. Sometimes, I think it's the smell of certain dishes you don't forget. Making them again transports you back to a different time – and I'm pleased to say this one is a happy memory for me.
Are there any other cooks or chefs you really look up to?
I love unique diverse cooks who aren't afraid to push the boundaries, mix cuisines and come up with unique ideas. That's a reflection of my own journey – so I really respect it in others, too. My favourite chef is probably Heston Blumenthal, who is also neurodivergent, but that's not specifically what grabs me about his food. It's just brilliant: inventive, imaginative and he's never afraid to try something new. People often ask me if I use cookbooks or have any favourites but, because of my diagnosis, I do struggle to find ones which don't overwhelm me. That's why one of my future goals is to create a neurodivergent-friendly cookbook that could be truly inclusive for anyone who feels – or experiences – the world in a similar way to me.
Finally, how do you think the culinary industry can become more inclusive?
To become more accommodating for neurodivergent individuals, the culinary industry needs to recognise the unique challenges and strengths that we bring to the table. This can be accomplished by creating sensory-friendly cooking environments, offering neurodiverse-friendly menus and promoting inclusivity in the workplace. I'm just glad I'm able to shine a light on these issues and bring attention to them – because in the end, everyone benefits.
Visit VanessaDSouza.co.uk
---
Inspired? Here's the recipe for The Autistic Chef's Authentic Goan Prawn Curry…
Ingredients
1

tbsp

of coriander seeds
6

dry red chillies (ideally Kashmiri)
1

cup of fresh or frozen grated coconut
1

large onion, finely chopped
1in

piece of ginger, finely chopped
½

litre of water, plus more as needed
A handful of curry leaves
500

prawns, deveined & de-shelled
Method
Step 1
Start by making the masala. In a blender or Nutribullet, combine coriander seeds, cumin seeds, garlic cloves, tamarind, red chilies, grated coconut, turmeric powder, and some water.
Step 2
Grind the mixture into a nice, fine paste. Your masala is now ready.
Step 3
In a pan, heat the coconut oil and add finely chopped onions and ginger. Sauté until the onions turn translucent and become soft.
Step 4
Add the finely chopped tomatoes and continue sautéing until they become mushy.
Step 5
Add the prepared masala to the pan and sauté until it changes colour and releases a wonderful aroma. The spices need to cook out well but be careful not to burn them.
Step 6
Pour in the half litre of water and coconut milk and add the curry leaves and the cleaned prawns. Season with salt to taste.
Step 7
Cook the mixture for about 4-5 minutes, allowing the flavours to infuse and the prawns to cook through.
Step 8
Once ready, turn off the flame and plate the dish.
DISCLAIMER: We endeavour to always credit the correct original source of every image we use. If you think a credit may be incorrect, please contact us at info@sheerluxe.com.