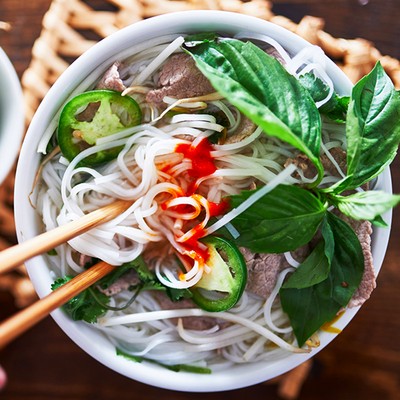 What To Know About & How To Use Sriracha

Sriracha has become a cult ingredient over the last few years, making the jump from Thai dipping sauce to kitchen cupboard mainstay. There's even a Walkers crisp flavour for die-hard fans. From understanding how it's made to using it in simple recipes, here's what you need to know about the world's most popular hot sauce.

What Is Sriracha?
Sriracha (pronounced see-rotch-ah) is a hot sauce that originated in Thailand. The condiment is named after the city where it was first made over 80 years ago, Si Racha, on the east coast of Thailand. It was created by home cook Thanom Chakkapak, who began manufacturing the sauce commercially under the label Sriraja Panich. It quickly became the most popular sauce in Thailand.
Sriracha was virtually unknown to those in the West until 1980, when Vietnamese immigrant David Tran founded Huy Fong Foods in the USA and began manufacturing his own version of the sauce. Huy Fong sriracha is packaged in an easily recognised clear bottle – allowing the sauce's naturally bold colour to shine through – and is completed with a bright green lid and its rooster logo. Today, Huy Fong's California HQ makes 20m bottles each year, and in America, sriracha is often just referred to as 'Rooster sauce'.
Here in the UK, the most popular brand you'll find is Flying Goose – which also rocks a green nozzle. Made in Thailand, it's made from an original recipe from Si Racha, using peppers from chilli farms in Thailand. There's a full range of flavours – and heat levels – to choose from and all its products are gluten free and suitable for vegetarians.
What's In It?
The key ingredients in sriracha are chilli peppers, sugar, garlic, distilled vinegar and salt. Its consistency varies between brands – Western versions are similar in consistency to ketchup, whereas the original sriraja panich has a thinner, more liquid-like consistency. Spice levels can vary between brands – when it comes to Flying Goose, customers can choose from different peppers – think green chilli and yellow chilli – and opt for variations on the original, such as wasabi, extra garlic, black pepper and sriracha mayo.
Is It Unhealthy?
Taken at face value, yes. It's worth noting that its second listed ingredient is sugar, followed by salt. That said, there's typically only 1g of sugar per teaspoon, and a little goes a long way, so don't feel like you have to ban it from your kitchen altogether.
How Spicy Is It?
According to the Scoville scale – the barometer that measures spice – sriracha scores 2,200 points, making it less spicy than a jalapeño pepper. This is because the peppers used in the sauce lose almost half of their spiciness during processing – so don't be afraid to add a spoonful to your stir-fry or a drizzle to avocado on toast if heat isn't normally your thing.
Cesar Fernandez, Home Economist at Miele GB, offers a few different ways you can use it…
 
Savoury porridge: as strange as it might sound, rather than adding milk and fruit, you can turn your porridge into a great savoury breakfast. Cook with water and a large pinch of salt and top with a fried egg, spring onions, sesame seeds and a lot of sriracha.
 
Popcorn: pop the kernels and when ready, mix together 1 tbsp of olive oil, 1 of butter and 1 or 2 drops of sriracha and coat the popcorn with it. You might want to add a bit more of hot sauce if you like it extra spicy.
 
Bloody Mary: substitute tabasco sauce with some sriracha for a twist on this classic.
 
Dips: combine with mayo, crème fraiche or guacamole.
 
Tomato-based dishes: add a hit of spice to dishes like a tomato and basil soup or a prawn cocktail.
 
Eggs: sriracha and eggs are a perfect combination – it can perk up a couple of poached, scrambled or fried eggs over the weekend.
 
Cheese: use some on any heavy dishes like a mac and cheese or cheese on toast. As vinegar is one of the ingredients, it will cut through the richness.
 
Meat & fish: think chicken wings or burgers. If you're braising some short ribs or brisket, add it towards the end of cooking for the best flavour. Try combining sriracha with soy, honey, garlic and ginger and marinating salmon, too. You can either grill it or if you leave it in the fridge overnight, it is excellent the following day as part of a raw poke bowl.
 

James Cochran, chef/owner of 12:51 and Around the Cluck delivery service tells us why he loves sriracha…
 
Siracha has become such a cult ingredient not only because that bottle and green top is stylish and automatically ignites ideas of deliciousness, but the balance of flavours of hot, sour, sweet, salt is perfectly aligned and so gives the impression of going with absolutely everything – which it does. Also, because it tastes amazing with everything, you can have it all hours of the day. 
A great dish which is an easy go to, especially in BBQ season, is using leftovers to create something delicious. Take cold rice, add some BBQ spiced lamb – or other leftovers like chicken or pulled pork, some pickled cucumber, crispy shallot and then drizzle with sriracha. The balance of textures and flavours of cold rice, meat, crisp shallots and crunchy cucumbers match and balance with the notes in the sriracha, too.
 
It's suited to so many different dishes. Add it to the pork mix for a scotch egg to add some oomph to the meat, which will help cut through the richness of the yolk and the breadcrumbs. I like a dash in a fry up to bring out the umami in the baked beans and it makes a fruity difference to brown sauce. Use it on cheese on toast with a hard or sharp cheese like cheddar, montgomery, oglesheild or larkham. It can handle the flavour punch of sriracha.
 
For something a little different, The Sauce Shop sriracha honey glaze is a winner. Add it to meat for something sweet and spicy.
 
Visit 1251.co.uk
 Shop our favourite products below…
Feeling inspired? Try out ten of our favourite soy sauce recipes, from sticky peanut tofu to late-night miso soup…
DISCLAIMER: We endeavour to always credit the correct original source of every image we use. If you think a credit may be incorrect, please contact us at info@sheerluxe.com.