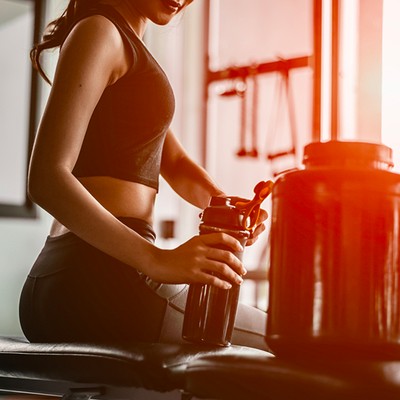 10 Of The Best Protein Powders To Know

Whether it's to keep blood sugar stable, maintain muscle strength or support a healthy weight, protein is an essential macronutrient – especially for women who naturally have a lower muscle mass than men. Fortunately, the protein world has moved on from bodybuilding, with the latest powders featuring clean ingredients, hormone-balancing adaptogens and probiotics to support a healthy gut. Here are the blends to know…

BEST UNFLAVOURED PROTEIN: Form Nutrition Pureblend, £26
If you haven't got a sweet tooth, or are looking for a tasteless protein for baking and other recipes, this unflavoured blend is one to try. Clean, simple and fuss-free, Form's Pureblend is suitable for vegans, and is completely free from added sugars or sweeteners. Our top tip? Try adding a scoop of this to your favourite vegetable soup to up the protein content and add a hint of creaminess. It's also the perfect addition to healthy muffins, cookies and waffles. 
PROTEIN PER SERVING = 15.5g
Available at FormNutrition.com
BEST FOR FLAVOUR: Hermosa Whey Protein, £30
This sleek offering has been fuelling Barry's Bootcamp devotees since 2014 and with good reason. Made from premium whey protein sourced from grass-fed cows in the Lake District and 100% natural stevia from South America, this clean blend is one of the best-tasting powders out there, and is never chalky or lumpy. If you're vegan or lactose intolerant, Hermosa's plant-based blend packs the same flavour punch and is super easy to digest. 
PROTEIN PER SERVING = 21g
Availabe at LiveHermosa.com
BEST FOR VEGANS: Form Nutrition Superblend Protein, £26
Available in three delicious flavours (the vanilla and toffee are our favourites), this bestselling protein powder ticks all the boxes when it comes to nutrition. A base of organic pea protein with brown rice, hemp and whole algae proteins deliver an impressive amount of plant-based protein, while added fibre, prebiotics, probiotics, maca and flaxseed will keep digestion and energy on track. Bonus points also go to the added superfoods, which provide your daily hit of antioxidants. 
PROTEIN PER SERVING = 20g
Available at FormNutrition.com
BEST FOR SUPPLEMENT JUNKIES: Innermost The Health Protein, £29.95
This high-protein vegan powder is ideal for those looking for a holistic health boost. As well as a hefty dose of protein, you'll also find a medicinal mushroom blend to give the immune system a helping hand, as well as antioxidant-rich bilberries; camu camu berries, famed for being the richest natural source of vitamin C; and acai berries, prized for offering brain health and anti-ageing benefits. Mix up to four scoops with water or your favourite milk for a low-sugar, nutrient-packed treat. 
PROTEIN PER SERVING = 31g
Available at LiveInnermost.com
BEST FOR BUILDING MUSCLE: KIN Nutrition Whey Less, £24.50
The protein of choice at 1Rebel and other top London gyms, KIN's clean products get our vote every time. Research shows whey is the most effective protein for the body to use, meaning it'll supercharge muscle growth and repair. This clever anti-bloat formula contains 100% natural ingredients, bacteria cultures, flaxseed and probiotics to support digestion and maintain optimal energy levels. Just remember whey is derived from milk, so it isn't suitable for vegans.
PROTEIN PER SERVING = 23g
Available at TheSportsEdit.com
BEST ORGANIC OPTION: Garden of Life Raw Organic Protein, £25.20 (was £28)
If a protein powder that's as natural as it gets is your biggest priority, Garden of Life's raw protein should be in your shopping basket. Made with 13 raw sprouted proteins delivering an impressive dose of plant-based power, this non-GMO powder also contains fat-soluble vitamins A, D, E and K as well as raw probiotics and digestive enzymes. If that wasn't enough, each serving also contains 7mg of natural caffeine and 260% of your RDA of vitamin D, a combination that's guaranteed to keep you energised. 
PROTEIN PER SERVING = 22g
Available at GardenOfLife.co.uk
BEST LOW-CARB OPTION: Pulsin Keto Protein, £24.99
If you're a fan of the ketogenic diet (which consists of consuming less than 50g of carbs per day, instead focusing on fat and protein), this powder is a lifesaver. This nutritionist-formulated product contains a keto-friendly balance of fat and protein as well as MCT from coconut oil, which is a ketone boosting fat. Simply add three large tablespoons to a shaker with 250ml of water for a quick snack or meal replacement. The vanilla-flavoured powder is also vegan and gluten-free, making it suitable for a wide variety of different diets.
PROTEIN PER SERVING = 9g
Available at Pulsin.co.uk
BEST FOR BREAKFAST ON-THE-GO: Purition, £22.95
Made from 100% wholefood ingredients – think linseed, sunflower kernels, almonds, coconut, pumpkin seeds, chia and sesame seeds as well as either vegan or whey protein – this blend is the perfect meal substitute for when you're too busy to think about food. Taking the stress out of healthy eating, each serving of Purition contains around 200 calories, comprising healthy fats, fibre, protein and minimal carbs. Blend with milk or water, and add a banana or a handful of oats if you're refuelling post-workout.  
PROTEIN PER SERVING = Between 15-16g, depending on the flavour
Available at Purition.co.uk
BEST FOR ADDED ADAPTOGENS: Supernova Women Protein 01, £35
Specially formulated for women, this plant-based powder is packed with organic brown rice and fermented pea protein, offering a full amino acid complex. A handful of powerful adaptogens designed to support female health have also been added to the mix – think maca to balance hormones, camu camu to strengthen immunity, ashwagandha to reduce stress and wild chaga to reduce inflammation. This is so much more than your average protein powder.
PROTEIN PER SERVING = 17g
Available at SupernovaLiving.com
BEST FOR ENDURANCE SPORTS: Tribe Recovery Protein, £15 
With high levels of essential amino acids to build lean muscle and support recovery as well as superfood powders and electrolyte-balancing sea salt, this is the ideal blend for keen runners, cyclists and other endurance enthusiasts. We rate all three flavours, but the cocoa and sea salt version feels particularly indulgent after a long run. Tribe's protein bars, hydration sachets and energy balls are also worth a try if you're after a protein-packed post-workout snack. 
PROTEIN PER SERVING = 20g
Available at WeAreTribe.co
Still not sure if you need a protein powder? As a general rule, the amount of protein you need depends on the type of exercise you do and your weight. As nutritional therapist Yasmin Alexander explains, "Sedentary women require around 0.8g per kg of body weight per day, equating to 48g protein for someone weighing 60kg. For women who are more active, the target is about 1.2-1.5g per kg body weight per day, as the body will require a higher amount to function, perform and repair. Therefore, a 60kg female who is active will require roughly 72-90g of protein per day."
*Features published by SheerLuxe are not intended to treat, diagnose, cure or prevent any disease. Always seek the advice of your GP or another qualified healthcare provider for any questions you have regarding a medical condition, and before undertaking any diet, exercise or other health-related programmes.
DISCLAIMER: We endeavour to always credit the correct original source of every image we use. If you think a credit may be incorrect, please contact us at info@sheerluxe.com.