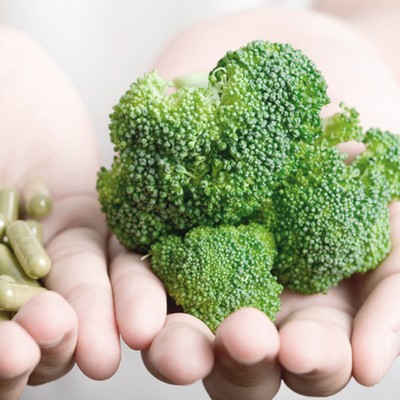 DIM: The Supplement Every Woman Should Take

Forget your daily multivitamin – the supplement taking the wellness world by storm is Diindolylmethane, otherwise known as DIM. Proven to balance oestrogen levels, and boost everything from skin health to mood, this could well be the supplement you've been waiting for. Here's what you need to know…

What is DIM?
We all know how important it is to keep hormones in balance, and some of the common culprits which throw them out of whack. But little is said about how to fix the problem. To cut a scientific story short, DIM is a compound found in cruciferous vegetables like kale and broccoli which does several things to help. Consider it a supercharged plate of greens – many of the DIM supplements on the health shelves contain the equivalent of around 400g of broccoli in a single capsule.
How exactly does it work?
As Shabir Daya, MPharmS and co-founder of Victoria Health explains, "DIM works to metabolise excess oestrogen through a safer pathway by increasing the 'good' oestrogen by-products and simultaneously decreasing the 'bad' metabolites." Interestingly, research shows it's this 'good' oestrogen which protects against breast cancer. At the same time, it's the 'bad' oestrogen that stimulates sebum production and can lead to hormonal breakouts.
What are the benefits?
Daya maintains dozens of women's health concerns are linked to oestrogen dominance, so using DIM as a natural hormone regulator could help with countless issues. Studies have suggested DIM could also benefit those suffering from hormonal breakouts (the internet is awash with stories of women claiming it cured their adult acne); PMS; fibroids; endometriosis; water retention; low libido and more. Daya also says increased levels of 'good' oestrogen metabolites help to burn stored fat, especially in the lower half of the body.
Who should consider taking it?
If you are experiencing hormonal imbalances linked to your period, PMS or the menopause, such as acne, weight gain, breast tenderness or irregular periods, you could benefit from incorporating DIM into your daily routine. Daya says the supplement can benefit your other half too – key signs of oestrogen dominance in men include erectile dysfunction, mood swings and a low sex drive. 
How should we take it?
If you suspect your oestrogen levels are out of whack, take DIM daily for eight weeks, although chances are you'll see results far sooner. Side effects might include mild headaches and darker urine, although these are both signs DIM is working. 
Shop Our Picks Below...
DISCLAIMER: We endeavour to always credit the correct original source of every image we use. If you think a credit may be incorrect, please contact us at info@sheerluxe.com.