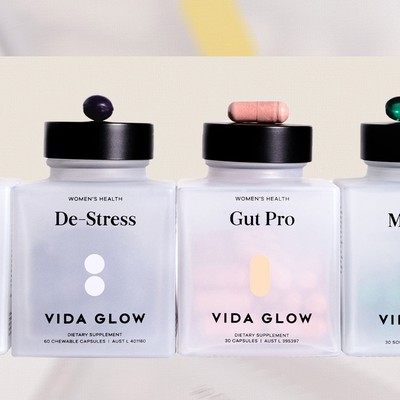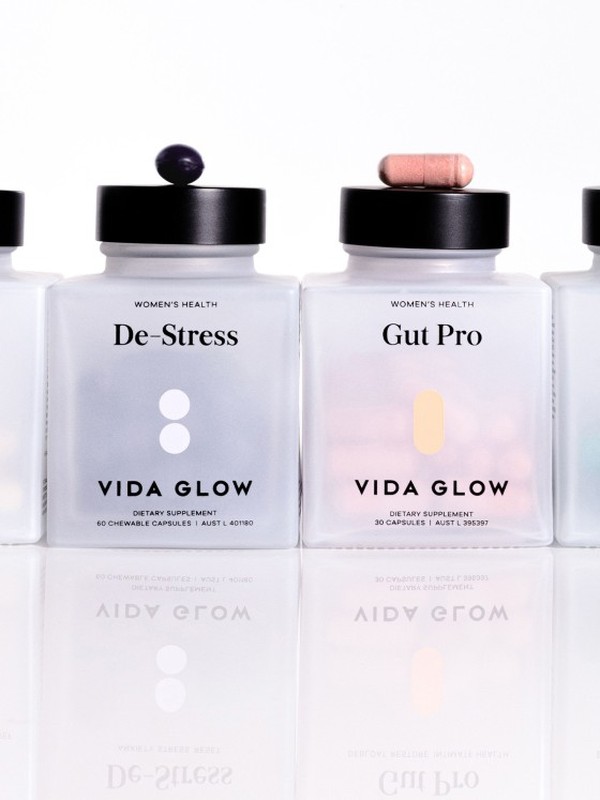 The Game-Changing Women's Health Supplement Range Worth A Try

Supplements that promise real results are everywhere these days, but Australian brand Vida Glow is a cut above. Set to revolutionise the way we approach self-care and nourishment, its new formulas have been designed with women in mind, catering to every aspect of our wellbeing – from gut health, energy and immunity to fertility, pregnancy and beyond. Here's what you need to know about the range, including why it's setting a new benchmark for women's health.

Created in partnership with VIDA GLOW
Vida Glow has been leading the way in the health world since 2014 and is now the global number one marine collagen brand, with one unit of its collagen powder sold every four seconds. Backed by scientists, the brand continues to break boundaries in the supplement space and its new collection is no exception. Headed up by mother of four Anna Lahey and with a 95% female customer base, Vida Glow understands what women need from their daily routines to support optimal wellbeing.
Whether you're burning the candle at both ends, looking for an immunity boost, wanting to optimise your gut health or trying for a baby, Vida Glow's new women's health range has something for everyone. Expect formulations at meaningful doses that make a real difference to gut and intimate health, stress and anxiety, immunity, preconception and prenatal health. Building on Vida Glow's expertise as a leader in ingestible solutions, the new female health range offers powerful, science-backed solutions unlike anything else out there.
The Women's Health Range...
De-Stress
What Makes It Different: Stress isn't just in your head. Too much cortisol – your main stress hormone – can affect everything from your sleep to your appetite, your sex drive to your skin. This clever, orange-flavoured chewable liquid capsule is shown to relieve symptoms of stress and mild anxiety. It's formulated with an industry-first active proven to help address immediate stress and bolster the body's stress response in the long term, too. Unlike standard anti-stress supplements, De-Stress uses both physiological and sensorial methods to support relaxation – reducing anxiety by 39% in just six weeks and stress-related tension by 59% after 12 weeks.
Multi 360
What Makes It Different: A once-daily, super-strength multivitamin designed with women in mind, this intelligent formula contains 11 essential vitamins, minerals and fish oils at high doses for full-body support. Unlike your average multivitamin, Multi 360's advanced cap-in-cap technology (if you're a Vida Glow fan, you'll recognise this from some of their other supplements) gives you the benefits of a targeted multivitamin and fish oil in one capsule. Ideal for those looking for a holistic health solution without having to take multiple capsules at a time.
---
Prenatal+
What Makes It Different: Formulated with key micronutrients – think activated folate (which is better absorbed by the body than folic acid), B6 for morning sickness relief and vegan DHA (a form of omega) – this gentle yet hard-working formula will support optimal fertility and foetal development. It also contains low-constipation iron, and active and non-active B vitamins to cater to every mum-to-be's needs. Plus, you'll only need one capsule a day.
Gut Pro
What Makes It Different: Like your gut, your vagina is home to millions of bacteria, which are collectively known as your vaginal microbiome. While the gut may get more airtime, these intimate colonies of bacteria play an important role in your health – studies show they're involved in everything from controlling UTIs to PCOS. This powerful multi-strain probiotic nourishes both the gut and vaginal microbiome in one daily capsule, relieving symptoms of digestive discomfort while supporting an optimal vaginal pH.
The collection is available online at VidaGlow.com as well as in store at Harrods, Selfridges and Harvey Nichols. Multi360 will launch in August.
DISCLAIMER: Features published by SheerLuxe are not intended to treat, diagnose, cure or prevent any disease. Always seek the advice of your GP or another qualified healthcare provider for any questions you have regarding a medical condition, and before undertaking any diet, exercise or other health-related programme.
DISCLAIMER: We endeavour to always credit the correct original source of every image we use. If you think a credit may be incorrect, please contact us at info@sheerluxe.com.