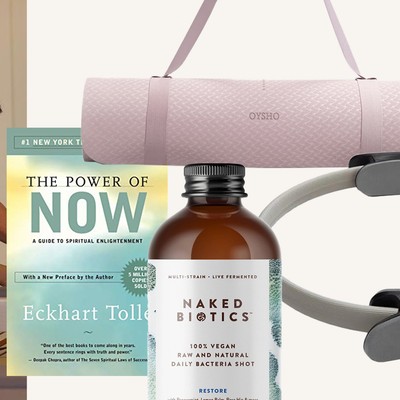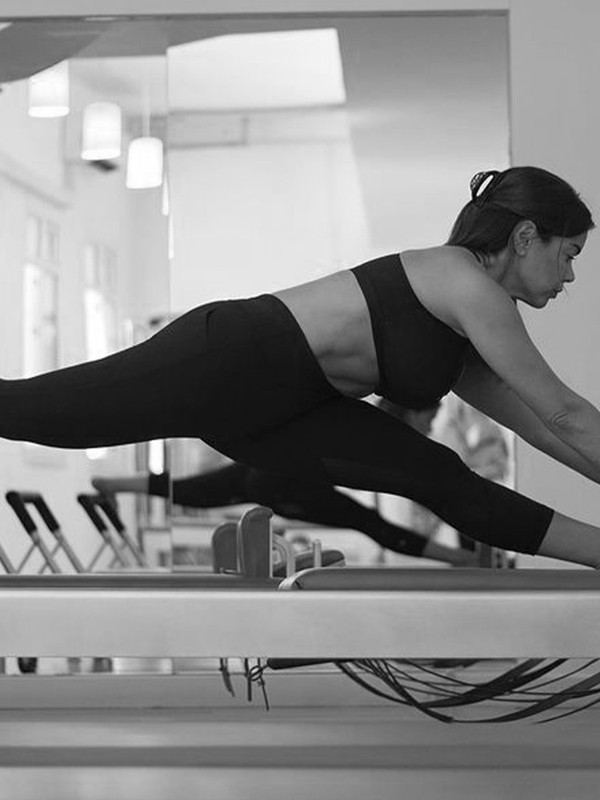 My Life In Health: Gaby Noble

Counting Harry Styles, Sadie Frost, Kate Moss and some of the world's top athletes among her clients, Gaby Noble is the person the stars call when they need to get in shape. The founder of Exhale Pilates – one of the only studios that still teaches Joseph Pilates's classic method – she's considered something of an authority in the wellness industry. Here, we sat down with her to find out more about her health journey and how she stays in peak condition.

By Tor West
All products on this page have been selected by our editorial team, however we may make commission on some products.
My day starts at 6am. The first thing I do is drink a large glass of water and then make a strong cup of coffee. I enjoy this while taking ten minutes to map out my day – this can be anything from thoughts and emotions to ideas and tasks for me and my team, as well as things I am grateful for. Then it's time for some form of movement – whether it's getting my steps in or moving on the mat for 15 minutes. I feel my strongest and healthiest when I fit in some daily movement – in an ideal world, this is three full-body Pilates sessions and two weight sessions. If I have the time, I'll throw in a boxing session too – it's a great way to let off steam.
A car accident in my 30s changed my relationship with my body. I'd always been a sporty child and an adrenaline junkie, but being hypermobile, my body didn't always respond the way I wanted it to. A doctor recommended Pilates as a way to strengthen and stabilise my joints to complement my other training, and I was instantly hooked. Not only for the physical aspect, but the mental element, too. It was one of the only times in my week I was able to focus for an hour on being present, something which is essential for Pilates. The accident left me unable to lie, sit or walk properly. I was working in the corporate world at the time, but quickly lost my contracts as I was unable to work
long hours or travel. The accident affected me physically and mentally and Pilates took on a whole new meaning at that stage. I used it to heal a severe spinal injury – it's such a powerful form of recovery.
Joseph Pilates was ahead of his time with an aerobic workout that WORKED AND TONED
MUSCLES you didn't know you had.

Pilates is a form of rehabilitation. Created by Joseph Pilates in the 1920s, it is traditionally a sequence of exercises (both mat-based and equipment-based) that create strength and flexibility throughout the body and correct imbalances. I underwent twice-weekly physio for the first year following my accident and gradually built up to basic Pilates moves. Pilates ultimately enabled me to dial down the pain and, through my own training, I am now able to maintain my strength and improve my fitness while being entirely pain-free. Over the last two decades I've helped stroke victims walk again and trained professional athletes through recovery.
I believe in Pilates in its most authentic form. My team and I are on a mission to revive the original work of Joseph Pilates – it's an entirely different experience to many of the watered-down versions seen in the ever-growing fitness market. Both of the Exhale studios are home to the full range of classical Pilates apparatus – think wunda chairs, pedi-poles, cadillacs and the well-known reformer. We also teach a 'tower' class, a format not commonly found in the UK. It has springs that provide resistance – it offers an incredibly deep stretch that leaves you feeling lean and tall.
Don't discount mat-based classes. Lockdown made mat-based Pilates more popular, which is great. Just because it's done without a reformer, doesn't mean it's not effective. Pilates is an incredible full-body workout, which a lot of people don't realise.
You can see results with a lower-impact workout. For many, 'exercise' is about dripping with sweat, pounding the treadmill or experiencing muscle fatigue. But this doesn't guarantee results – in fact, this approach will likely come back to bite you. Joseph Pilates was ahead of his time with an aerobic workout that worked and toned muscles you didn't know you had. Pilates fatigues muscles by building strength, stamina and tone simultaneously. It's particularly effective for women. In a world where there is so much pressure to look good, always do more and constantly be in a place of high stimulation, Pilates supports all of that and more. Exhausting the body from daily HIIT workouts, being desk-bound, or running after kids only damages our posture and compresses the spine, and it wreaks havoc with cortisol levels, which will ultimately reverse your goals. Remember, the spine is your central nervous system – keep it in good health and you'll reap the rewards both mentally and physically.
 
My definition of 'healthy' has changed over the years. Once, it was always about what you ate and what gym classes you were doing, but healthy to me now means striking a balance across all aspects of life. An all-or-nothing approach quickly becomes an unhealthy way of doing things. Finding balance in the things you love, that make you feel great, bring out the best in you and make you function at your optimum is my definition of healthy. 
I was diagnosed with PCOS when I was 17 and endometriosis in my 30s. I was operated on twice following a PCOS diagnosis to remove cysts on my ovaries. Then, seven years ago, I had my first episode of endometriosis, which was graded at level four, the highest level of severity. I was operated on immediately, which was terrifying, but the results were instant. My mood and energy lifted and the mobility in my hips when I walked completely changed. Last year, I had a second episode and again underwent emergency surgery. I believe it was brought on by the stress of the pandemic and a ruptured cyst I had earlier in the year. Over the years, I've spoken to countless practitioners, and they all agree lifestyle and nutrition can play a part in managing endometriosis symptoms.
Remember the spine is your central nervous system – KEEP IT IN GOOD HEALTH and you'll reap the rewards both mentally and physically.

I made the decision to freeze my eggs earlier this year. It's something I had wanted to do for years but there was always a reason not to. The final trigger was the recent surgery related to my endometriosis. The minute I came out of hospital I realised I needed to stop playing roulette with my future. The week after my 42nd birthday this year, I started the hormone treatment and had a successful procedure. It took a couple of months to get my body back into balance but I feel relieved to have taken control.
I follow a low FODMAP diet. I've always suffered with a sensitive stomach and after years of trial and error, I've found a low-FODMAP way of eating suits me best. Gluten, garlic, onions and fruit with stones are the biggest culprits that trigger a flare-up, so I avoid these. I also don't eat much dairy or red meat, and avoid fruit after a meal or in salads. I've just finished a five-day, post-summer Press detox. A pure juice detox is too harsh on my stomach, but the Press mix of juices, soups and light meals for the evening felt more balanced. I felt fantastic afterwards.
Supplements keep me on track. I've been a fan of probiotics for years and recently started taking Naked Biotics – a liquid probiotic that contains 12 beneficial strains, herbs and nutrients. I also add JS Health Vitality + Collagen powder to my smoothies – it contains a good dose of both collagen and protein, which is good for both my muscles and skin.
I love to unwind with a podcast. I can't get enough of The Diary of a CEO with Stephen Bartlett and Mary Portas' Beautiful Misfits; and have just started reading The Power of Now by Eckhart Tolle. Roxie Nafousi's Manifest is always on my bedside table for a dose of evening positivity. 
To find out more about Exhale Pilates or to book a class, visit ExhalePilatesLondon.com & follow @ExhalePilatesLondon.
DISCLAIMER: Features published by SheerLuxe are not intended to treat, diagnose, cure or prevent any disease. Always seek the advice of your GP or another qualified healthcare provider for any questions you have regarding a medical condition, and before undertaking any diet, exercise or other health-related programme.
DISCLAIMER: We endeavour to always credit the correct original source of every image we use. If you think a credit may be incorrect, please contact us at info@sheerluxe.com.