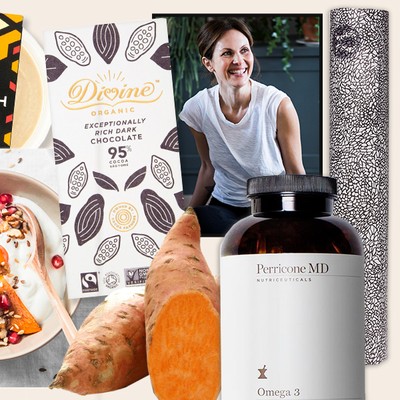 Nadia Narain: My Food & Fitness Regime

From getting the low-down on how they work out to discovering how they maintain balance in their diet, here's the latest instalment in our series where we ask industry experts to share the ins and outs of their weekly food and fitness regimes. We discover exactly what powers these power players…

First embracing yoga to help restore balance to a fast-paced lifestyle, Nadia Narain is now one of the UK's most renowned yoga teachers, with regular clients including Kate Moss and Rachel Weisz. When she's not teaching fully-booked classes at Triyoga in Camden, she's busy with her soul sister Katia, with whom she recently released a second book dedicated to the importance of self-care. Here, she tells us what an average day-in-the-life looks like, as well as how she keeps her mental health in check.
My early-morning regime is a non-negotiable. However early I need to leave the house, I always get up in time to fit in 20 minutes of meditation. My morning tea has become something of a ritual too, because it allows me some quiet, contemplative time. I always start with a glass of warm water and lemon, followed by a cup of Earl Grey with lemon and a teaspoon of raw honey. Being a yoga teacher means I need to be calm throughout the day, and I find this helps set the tone. 
My diet isn't hugely restrictive. I see a naturopath from time to time who often advises me to cut out dairy or eggs for four to six weeks. I also don't eat meat and if I do eat dairy, I try to stick to Goat's cheese, which I often snack on with rye crackers. I've never been on a diet but sometimes after a summer holiday I crave getting back to my routine. I try to go with the flow and accept that once I'm back home, things will fall back into place.
Buying organic produce is important to me. Every week without fail, I'll buy lemons, raw honey, avocados, spinach and sweet potatoes. 
I'm a creature of habit when it comes to breakfast. If I'm in a rush, it'll be some kefir yoghurt with chia seeds, flaxseed and blueberries, but if time is on my side, I'll have some soft-boiled eggs with avocado on toast. I always try to start the day on a healthy note – I've found it makes a huge difference to my mood and energy.
Supper is always simple. I have a small kitchen, which means I don't have the space to cook extravagant dishes. Dinner is often a homemade vegetable soup (I love stirring in sweet miso) or grilled fish with greens and brown rice. When I'm teaching late, I often have my main meal around 4pm and skip dinner.
I've outgrown my sweet tooth. I used to crave sugar but think drinking celery juice has helped. However, I do love really dark chocolate and if there's a chocolate mousse on the menu, I'll always order it. I also love a couple of biscuits with my tea on a Sunday morning. I also have a weakness for bread. Especially when it's fresh, good quality, and ideally a focaccia. 
I struggle with meal prep. I know it makes life easier but I can never seem to find the time to do it. If anything, I'll make a big batch of soup or roast vegetables, but more often than not I'll be lazy and graze on toast and hummus instead.
I always try to start the day on a healthy note – I've found it makes a huge difference to my mood and energy.
Eating out is a treat. I rarely eat out, usually only once or twice a week, and always try to order clean food where I can. I love Japanese food and Nobu is one of my all-time favourites – their sashimi and salads are to die for. Palomar is also up there, I love all their veggie dishes. I've never had a Deliveroo and have only used Uber Eats once, and even then it was a salmon bowl from The Good Life Eatery.
I'm a supplement enthusiast. My naturopath has recommended I take vitamins D and C as well as magnesium, probiotics and fish oil, which I take religiously.
My yoga practice has changed over the years. When I was younger, yoga was my only form of exercise and it was a more intense, physical practice. It has become much more restorative in recent years and I pay more attention to breathing, meditation, depth and space. I spend a lot of my week teaching, but always try to get on the mat a couple of times a week at home, even just for 20 minutes.
…But it's not all about yoga. I'm lucky enough to live near Regent's Park and find spending time in nature, whatever the weather, hugely restorative. You'll find me training there with my PT, Lee Craig, during the week, and I love the classes at Body by Simone in Camden Town.
I also see a therapist once a month. It really helps with all aspects in my life. I've seen her for years and if something big is going on, I'll see her more often, sometimes as much as once a week.
I'm a brilliant sleeper, and always have been. I have a bath most evenings and always take magnesium to help me wind down. I try to be in bed by 10:30pm.
Setting boundaries is important. If I've had a particularly stressful or busy week, I try to cut back on social engagements and have learnt how to say 'no'. Going to bed an hour earlier, eating well and cutting back on Netflix gives me the space I need. I try to have a massage every couple of weeks and love the Russian Bath House in Belgravia too.
Visit NadiaAndKatia.com 
DISCLAIMER: We endeavour to always credit the correct original source of every image we use. If you think a credit may be incorrect, please contact us at info@sheerluxe.com.