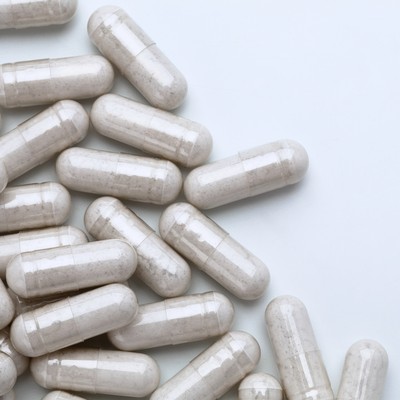 The Secret For A Happy Gut & Clear Skin

Did you know you're ten times more likely to have gut issues if you suffer from problem skin? In fact, it's estimated that 34% of people with IBS also suffer with their complexion. Enter Advanced Nutrition Programme™ Skin Clear Biome™, the game-changing supplement guaranteed to give your skin the kind of glow you have always dreamed of. Here's what you need to know…

CREATED IN PARTNERSHIP WITH ADVANCED NUTRITION PROGRAMME
What's the latest?
It's not often a supplement creates this much hype, but Skin Clear Biome™ from Advanced Nutrition Programme™ is the next-gen formula to keep on your radar. It's well known the gut is home to a complex colony of trillions of bacteria and microbes, known as the gut microbiome. Your gut microbiome can affect other organs, especially your skin, if it becomes unbalanced, with common culprits including antibiotics, a poor diet, alcohol and stress. Increasing studies show that if you experience tummy problems, such as 'leaky' gut or digestion issues, your complexion is usually the first place you notice problems. Working to support your gut bacteria, and in turn support your skin from within, Skin Clear Biome™ has been specially formulated to target problematic and compromised skin.
Remind me about the brand?
Advanced Nutrition Programme™ supplements are highly rated by beauty editors across the globe, namely for their science-led, results-driven, top-quality formulas. Using premium ingredients with full traceability back to their origins, the sophisticated, science-backed supplements are easily absorbed by the body to support clear skin, strong nails and hair and overall health. An eco-conscious brand, Advanced Nutrition Programme™ uses no synthetic colours or genetically modified ingredients in their supplements and sources ingredients based on strict sustainability and quality standards. For example, the fish oils used in their omega supplements are rigorously screened for pollutants to ensure only the purest ingredients make it into the final product. Plus, vegetable capsules are made from plant fibre, and all packaging pots are plastic free and made with recyclable paper. Their new Skin Clear Biome™ supplement is pristinely packaged in nitrogen-flushed (to preserve the live bacteria) aluminium pods which is infinitely recyclable. 
So, what makes the new formula different?
In a nutshell, Skin Clear Biome™ helps support your skin from within. One of the first ever supplements developed to target problematic skin via the gut, it contains patent-pending biome technology. In each micro capsule, you'll find four skin-specific strains of beneficial bacteria as well as zinc, renowned for its ability to support compromised skin, as well as skin suffering from stress. Moreover, the capsules have been formulated to reach the small intestine intact, allowing them to get to work where they're needed. Plus, the product has undergone rigorous testing to ensure that every one of the five billion active cultures in each capsule will stay alive right up to the end of the product's two-year shelf life when stored correctly.
Over the last eight weeks, I've made more progress on my skin than I have over seven years.
Advanced Nutrition Programme™ Product Testing Panellist
Over the last eight weeks, I've made more progress on my skin than I have over seven years.
Advanced Nutrition Programme™ Product Testing Panellist
Who's it for?
Whether you're suffering from stress-related skin issues, struggle to get rid of uncomfortable under-the-skin bumps, or have problem areas such as your chest and back, or feel like your skin could do with a helping hand, the one-a-day Skin Clear Biome™ has you covered. Plus, by supporting optimal gut health, it's a one-stop-shop for those also concerned with keeping their tummy in good health.
How quickly can you see results?
Expect to see results within a month. In a 60-day trial carried out by the iiaa Skin Health Research Centre, 74% of participants said their skin looked clearer and more even; 74% said their digestive health improved; and 64% said the supplement had reduced the number of imperfections on their skin. The results also showed a significant reduction in the oiliness of the skin, with a 42% reduction in forehead sebum. 
The bottom line?
It's easy to forget the skin is your largest functioning organ, and it says a lot about your health. Problem skin is actually a symptom of something else that's going on in the body. A fuss-free way to support your gut health and your skin, we predict big things for this new-gen supplement.
Where can you buy it?
For a two month supply, Skin Clear Biome™ is a £55 investment for your skin and gut, which works out at just 92p per day. Visit AdvancedNutritionProgramme.com to purchase now. 
DISCLAIMER: We endeavour to always credit the correct original source of every image we use. If you think a credit may be incorrect, please contact us at info@sheerluxe.com.