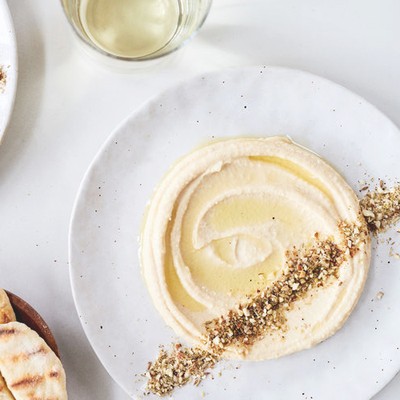 Za'atar: The Herb You Need To Know

Middle Eastern cuisine is going through a renaissance right now, and if you want to try creating some authentic dishes at home, then you need to get yourself a pot of za'atar (pronounced 'z-tar'). A staple herb in many dishes – and believed to have medicinal properties – you may be eating a lot of it in 2019.

What Is Za'atar?
 
While this aromatic spice has been around for years, a recent surge in popularity for Middle Eastern and Mediterranean food has seen demand rise for this interesting blend. In fact, Za'atar has been a Middle Eastern staple for centuries, with some estimating its origin goes right back to Ancient Egypt. The name comes from an ancient wild oregano and is even referred to in biblical scriptures as 'hyssop'.
 
Za'atar is made up of salt, dried thyme and oregano, toasted sesame seeds and sumac – a tangy, ground berry. Most za'atar recipes are secret from family to family and can change across regions and spice blenders - many will add other spice to the mix, such as cumin, coriander, caraway seeds or fennel. Serious Eats says in Jordan, za'atar is red because they use a lot of sumac, while some Lebanese za'atar has dried orange zest and Israeli iterations may contain dried dill.
 

Is It Good For You?
 
Each ingredient within the spice blend offers different health benefits. Both thyme and oregano have antiseptic properties that can help improve symptoms of bronchitis, upper respiratory conditions and common colds – in fact, according to Za'atar makers Z&Z, any have used za'atar as medicine to treat colds. Research also shows the antioxidants in thyme were powerful enough to fight off acne-causing bacteria.
 
Sesame seeds have been around for around 5,000 years and were eaten for medicinal purposes by the Romans and ancient Egyptians. Sesame is a good source of calcium, with one tablespoon accounting for around 9% of our recommended daily amount. Calcium can also help with migraines and the symptoms of PMS.
 
You may not have heard of sumac, but it also has myriad health benefits. It's rich in gallic acid, which research suggests has anti-viral and anti-fungal properties. A 2009 study suggested sumac can help with cell reproduction.

How To Use Za'atar?
 
This handy herb can be used to add flavour to several dishes: rubbed on top of roast chicken, added to the crust of aubergine fries, sprinkled in sweet potato soup with-feta-and-za-atar-oil or spread on top of soft flatbread.
 
Sarit Packer, co-author of Honey & Co: At Home (and who happens to be doing a demo and talk at London Book & Screen Week in March), tells us she usually uses za'atar as a finishing spice rather than a cooking spice, "so that it keeps its freshness and pungent flavour. It's best sprinkled on a young creamy cheese or labaneh, on feta or ricotta, or add a good splash of olive oil and eat with pitta or vegetables sticks."
 
Using za'atar in baking is another great way to include the spice in your cooking, she says: "Use a sheet puff pastry, spread it with some cream cheese, sprinkle with plenty of za'atar, then roll, cut and bake to make the best pre-dinner nibble."
 
Israeli-British chef Yotam Ottolenghi has said that the herb is "the smell of my childhood", and uses it "paired with tahini, and then spooned over vegetables, crushed pulses, grilled meat and all manner of stews", with za'atar leaves best "eaten fresh in salads with tomatoes, spring onions and lemon juice, or mixed through bread dough pre-baking."
Which Ones Should You Choose?
 
Ottolenghi: If you want to try the real deal, go for Ottolenghi's version. This traditional spice blend includes dried thyme from the hills of Jenin in the north of the West Bank, mixed with ground sesame seeds, plus a touch of sumac, salt and vegetable oil. The chef says it's "perfect as a dip with Palestinian olive oil and freshly baked bread".
 
Zaytoun Za'atar Herb Mix: This zesty mix has a wholesome story behind it – Zaytoun supports many charity projects across Palestine, and this particular za'atar has been wild harvested by a women's co-operative in Jenin.
 
Arabica Za'atar: If you love the Middle Eastern treats this Borough Market restaurant serves up, then try and recreate it with their version of the spice blend. This one contains wild Jordanian thyme, wild sumac, sesame seeds, olive oil, salt.
 
Steenbergs Za'atar Spice Blend: Steenbergs' has a herby, sour, nutty taste and a twist of parsley. And it even has the Ottolenghi seal of approval. They recommend putting a pinch on top of cheese on toast or scrambled eggs.
 
Greenfields Za'atar: Once you've found your true love for za'atar, then move on to this bigger bag to fuel your obsession. They say to try this one mixed in with Labneh (a yoghurt drained to make a tangy, creamy cheese).
 
Za'atar Recipes
 
Want to try making a meal using this flavoursome spice? From Middle Eastern mezze platters to halloumi pilaf, here are some easy dishes that'll really pack a punch. 
DISCLAIMER: We endeavour to always credit the correct original source of every image we use. If you think a credit may be incorrect, please contact us at info@sheerluxe.com.