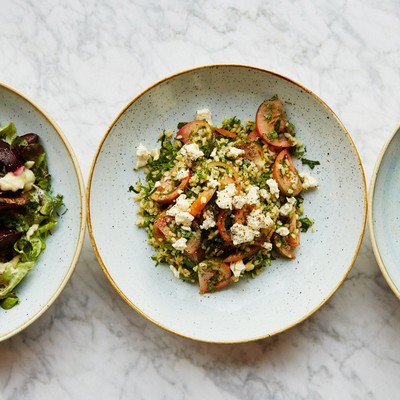 Home Cooking Tips From Muriel's Kitchen

Sam and Charlotte Miller opened Muriel's Kitchen as a South Kensington bistro back in 2010. Today, they've just launched a new menu and are preparing to open a second site within the National Gallery. Charlotte took some time out to tell us what inspires her in the kitchen – and reveal the everyday cooking tips she relies on.

All products on this page have been selected by our editorial team, however we may make commission on some products.
Have you always loved to cook, Charlotte?
Both of us come from families in the hospitality industry, so we've always been around food. Sam's father was a chef and mine owned a London-based restaurant group, so we knew we'd end up in a similar field. We both love cooking and enjoy family time when we can all be in the kitchen together. Muriel's Kitchen was actually inspired by my grandmother. She was one of those women people are drawn to, with charisma and charm in abundance, an ear for a bit of juicy gossip, and always something delicious on the stove. When I thought of her kitchen, I realised that was the feeling we wanted to recreate in the bistro. We never saw a bad meal served at her table.
How would you describe your cooking style now?
Healthy and delicious – we love to support other small companies where we can, so we only use Red Tractor assured meat and poultry, and sustainably sourced fish from a family-run business. Sam believes it's fundamental that every dish starts with the best ingredients, and he is regularly seen at different farmers markets across London sourcing the best he can find. Then, it comes down to what seasonal food we can get our hands on. We love fresh food, as do our three young kids, so we always make sure we can create something delicious.
What's your go-to, easy mid-week supper?
Confit chickpeas with harissa-marinated cauliflower steak, stir-fried wild mushrooms and wilted spinach is a favourite in our house. We make the chickpea confit on Sunday nights for the week ahead, cooking it in batch to have on toast or in a salad. To make the confit chickpeas, put them into a pan over a low heat with olive oil, lots of garlic cloves, a whole red chilli, salt, oregano and cherry tomatoes, before baking them in the oven for two hours at 140°C/Gas mark 1. Meanwhile, marinate two cauliflower steaks in harissa and olive oil for a couple of hours and cook them in a large skillet pan with the mushrooms, in the same way you'd cook a steak. Feed them with butter, add 150ml of vegetable stock to the pan and finish cooking for 15 minutes in the oven at 180°C/Gas Mark 4. Serve with wilted spinach and some of the pan juice from the cauliflower.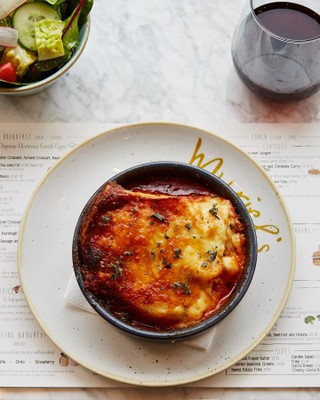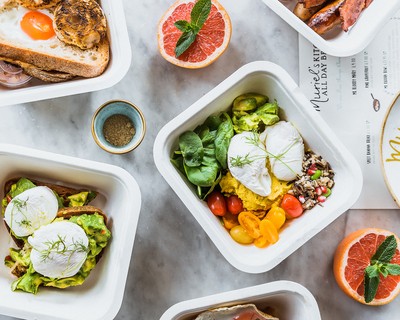 Do you have any store-cupboard buys you always return to? 
We always buy canned chickpeas, Heinz Baked Beans, Fine Cheese Company Olive Oil & Sea Salt Crackers, and a tub of Pip & Nut Extra Crunchy Peanut Butter. Marmite, Hula Hoops and Lindt Milk Chocolate always get added to our weekly food shop too.
And are there any essentials you think people won't know about? 
Kewpie Mayo. It's a Japanese mayonnaise that has such a unique taste – like traditional mayo but slightly sweeter. The packaging is really sweet and it tastes delicious with salmon.
How do you make a great breakfast at home? 
Our go-to is steel-cut porridge topped with mixed seeds, shelled hemp, warm homemade blueberry compote and maple syrup. Steel-cut porridge is made from oats that have been cut with a steel mill, so they're less processed. Also, we're known for our ricotta and banana pancakes, and 'Popeyes' at Muriel's, which the kids love. To make a Popeye, cut the middle out of a slice of bread and fry an egg in the middle. They're great served with baked beans and sausages and can be adapted with other toppings for lunch and dinner.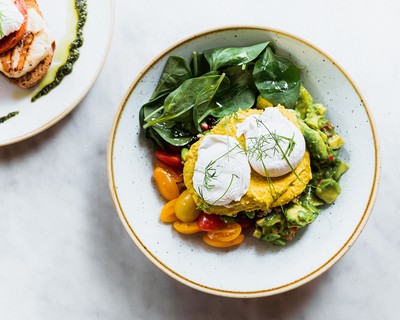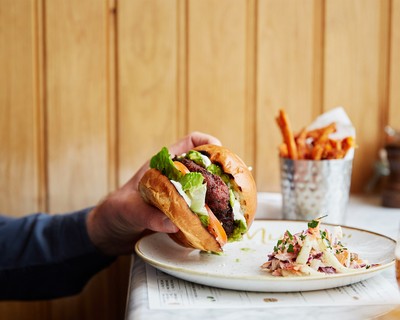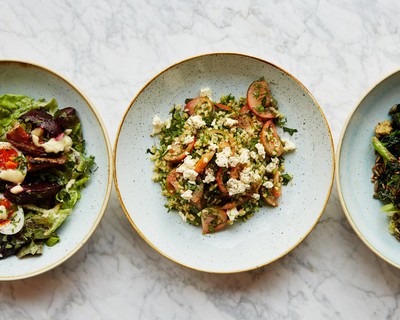 What's your ultimate comfort dish?
It's so simple but beans on toast is so comforting. It reminds us of our childhood. We bake a loaf of 48-hour sourdough, put the beans on top, and cover it with lots of Snowdonia Black Bomber cheese.
What's your go-to meal during the colder months?
Chicken stew with homemade dumplings, buttered greens and mashed potatoes. Dumplings are pretty easy to make. To make a small batch, mix 150g of self-raising flour with 75g of suet. Make a well in the middle and add a few tablespoons of water until you get a trim dough. They're so simple to form, you can't really go wrong, but if they get too sloppy, add more flour. Pop them into a stew 30 minutes before serving so they soak up all the flavours. My family love this dish and it keeps everyone – especially the kids – very happy. Who doesn't love a dumpling?
What about a warming soup? 
We love lentil soup made with mixed dried lentils, carrots, celery, onion, vegetable stock, spinach and tinned tomatoes, topped with parmigiano reggiano. We make this in our Instant Pot so it couldn't be easier – throw everything in and leave it to cook for about 17 minutes.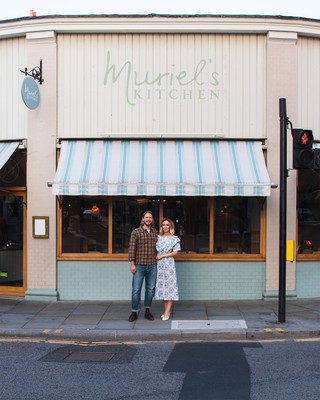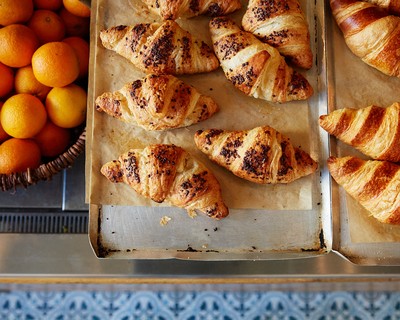 We're all trying to make our food healthier – any helpful advice here?
Eat with the seasons. Creating different confits such as garlic or tomato is a great way spruce up a dish. Eating seasonally is so important because it means less food mileage and cheaper produce. Food grown outside of its natural season and environment needs a lot more help with chemicals and preservatives. Right now, it's the perfect time for a Sunday roast as traditional root veg is in season – think chard, cabbage, swede, beetroot, cauliflower, carrots, turnips, potatoes and leaves like spinach and endive.
Let's talk dinner parties. What are some of the best starters to prepare in advance?
You can't go wrong with a seasonal vegetable pickle plate, served with warm sourdough bread. Pickling your own veg is simple. I like to use cauliflower florets, sliced kohlrabi fingers and sliced beetroot coins. Fill a jar with the veg, leaving one inch at the top, then add any extra flavours you'd like, for example garlic cloves, ginger, peppercorns, fennel seeds and dill springs. Then, bring 500ml of water and 500ml of vinegar (we like to use apple cider) to the boil. Add two tablespoons of salt and six tablespoons of sugar on top, leave to cool and add to the fridge with a tight lid. It will taste amazing in two days or even better after a week.
Wild mushroom soup is another crowd-pleaser that's easy to prepare the day before a party. Our recipe starts by sautéing chopped wild mushrooms with crushed garlic and shallots in a pan. Add some plain flour to make it into a roux, and once that's cooked off, add vegetable stock, milk, a bay leaf, dried thyme and a pinch of salt. After 20 minutes, let it cool slightly and top with crème fraiche.
What dish always impresses?
We love doing fun, unexpected nights when we can get our hands on a specific ingredient, like truffle. Our fruit and veg supplier in New Covent Garden calls us, then we get everyone over to our house for scrambled eggs followed by tagliolini, all topped with lots of truffle.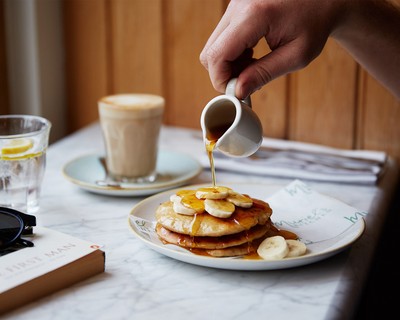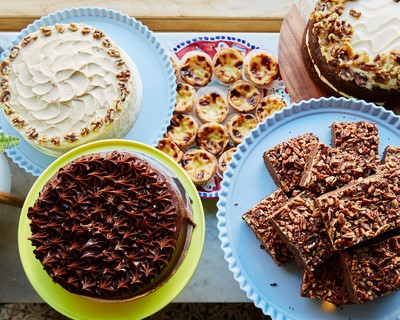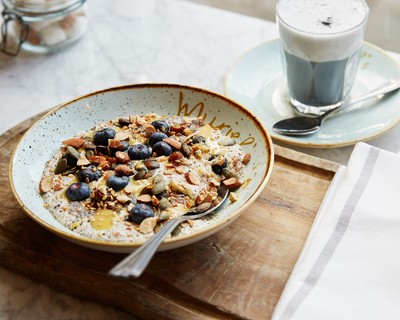 What's a simple, seasonal pudding that's easy to make?
Traditional apple crumble with mascarpone. It hits the spot every time and good-quality cooking apples are in abundance during this time of year. 
Cocktails then – what would you recommend for a party? 
If you want to impress but don't want to create an elaborate concoction, a simple champagne cocktail should do the trick. Mix champagne with cognac (to taste) and a dash of brown sugar. Both are such crowd-pleasers and always get the party started. Botivo does a great non-alcoholic alternative. 
What essential should every at-home bar have? 
Ice moulds are always a winner. Final Touch's Silicone Ice Ball Moulds are great – just snap the moulds together, fill with water and pop them into the freezer. They work so well with an old fashioned or traditional cocktail in a tumbler.
What are your favourite kitchen tools? 
An Instant Pot is a great investment, especially if you have children and want to plan ahead. You can make soups, stews and rice really fast; it never disappoints. Our salad spinner is another family favourite – it dries leaves quickly and effectively so you don't end up with a soggy salad. Also, Le Creuset's Wine Corkscrew is a life saver at opening bottles with quickly.
Do you have any new food discoveries to share? 
We're both loving natural low intervention wine. At Muriel's Kitchen, we've recently partnered up with Naturally Aspirated Wine – its range is fantastic. 
Which cookbooks should everyone own?
Hartwood by Eric Werner and Mya Henry literally sells you the dream. Every dish is almost addictive. Matty Matheson's Home Style Cookery is great fun, while French Odyssey by Rick Stein remains a classic.
Visit MurielsKitchen.co.uk and follow @MurielsKitchen
Feeling inspired? Shop Charlotte & Sam's top picks below…
DISCLAIMER: We endeavour to always credit the correct original source of every image we use. If you think a credit may be incorrect, please contact us at info@sheerluxe.com.