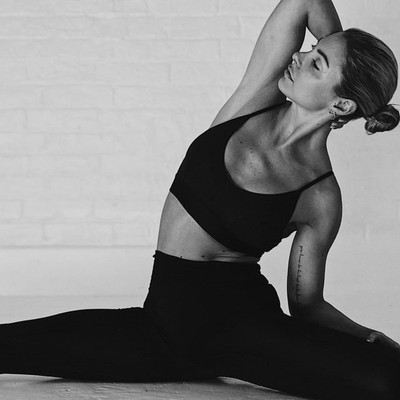 My Health Rules: Amy Brogan

It's always inspiring to find out how women in the wellness world keep themselves in peak condition. Here, former Equinox trainer Amy Brogan – who's just launched A Body Forever, a first-of-its-kind platform fusing all the benefits of personal training with Pilates – explains how she stays on track while juggling a new business and motherhood…

All products on this page have been selected by our editorial team, however we may make commission on some products.
My day starts at 6am. After a large glass of water, I'll either do a workout from the A Body Forever platform or train myself. I mix up my sessions throughout the week – non-negotiables include Pilates on a Tuesday, HIIT on a Thursday and stretch and mobility on a Friday. If I've missed a workout during the week, I go to reformer Pilates at Frame. One of my friends, Tom Pitiris, teaches at the Shoreditch studio and his classes are fantastic. If I want to stay at home, I often do yoga online with Udaya.
I can't be without my coffee machine. After working out, it's time for caffeine – I take my coffee very seriously and since investing in a Sage Digital Touch coffee machine, I haven't looked back. I also bulk buy Monmouth's Espresso Blend beans. Afterwards, I teach a couple of clients online and then I'll meditate with the Insight Timer app. 
Intermittent fasting has so many benefits. I don't tend to get hungry until around 11:30am, so I often wait until then to eat breakfast. My go-to breakfasts include Dorset Cereals Simply Nutty or Lizi's Low Sugar Granola with Rude Health almond milk, fresh berries, Naturya cocoa nibs, chia seeds and cashew nuts; porridge with banana, honey and Oatly oat milk; smashed avocado on Dusty Knuckle bread with extra virgin olive oil, salt, pepper and chilli flakes; or eggs. 
Snacking is a good way to keep your energy levels topped up. When I get hungry in between meals or I need a boost, I'll make a banana smoothie with ripe bananas, ice and Oatly. If the bananas aren't ripe, I'll add a little honey – I love Littleover Apiary's Pure Organic Wildflower honey. I also love Ryvita thins with hummus, Manilife crunchy peanut butter and Torinesi breadsticks. 
I cycle my supplements throughout the year – as with anything, your body can plateau, so it's good to mix it up.

Mindful Chef has been a game-changer for me. At the end of a busy day, I find it exhausting having to make food decisions, and Mindful Chef does the hard work for you – it makes everything so easy. We do two recipes, three nights a week. The menu is always varied, and the meals are delicious – it's also made me feel more confident in the kitchen, which I love. Aside from Mindful Chef, I always make some sort of baked fish and a French-style roast chicken every week, which I serve with lots of fresh salad and vegetables.
I don't believe in the idea of having 'cheat days'. For me, this type of thinking creates an unhealthy mindset for restriction, limitation and boundaries. If I want a treat, I'll eat it, and this means I don't overeat sugar or crave it unnecessarily. I eat some Lindt 70% dark chocolate every day – it's delicious and the health benefits are off the hook. I also think it keeps my cravings at bay. My ethos is fresh, wholesome and tasty food. Have those chips if they've been made with real potatoes and eat that cake if it's been made by your local baker.
You can't beat a good cocktail. I loathe sweet cocktails but have a soft spot for an espresso martini, a negroni or an extra dirty martini. There's also nothing better than a Bombay Sapphire and tonic (always Fever Tree light) with lots of fresh lemon and ice. I have zero tolerance for flat tonic water – it needs to be fizzy as hell. I try not to drink during the week but I'm flexible if I'm meeting a friend in the evening. My happiness and wellbeing comes first, and seeing friends and having a drink is part of that. 
The pandemic changed my approach to supplements. Prior to Covid, I wasn't huge on supplements but now I take them religiously. Your Zooki Vitamin C, Aurelia London Beauty and Immunity Support, SuperSelf D3 and K2, and Boron's Bone Support are staples. I also take breaks from these every so often and cycle my usage – as with anything, your body can plateau with supplements, so it's good to mix it up. 
Ashwagandha is a great mood booster. I don't take it every day, but when I do, I really feel the benefits. It lifts my mood, aids sleep and keeps my hormones balanced. I really rate SuperSelf Organic Ashwagandha. 
My ethos is fresh, wholesome food. Have those chips if they've been made with real potatoes and eat that cake if it's been made by your local baker.

I've always been a good sleeper. Annoyingly, I need quite a lot of it to feel good – ideally eight or nine hours – which is less than ideal when you have a small child (my daughter is five). During the week, I'm in bed by 9:30pm. I treat my bedroom like a sanctuary – I spray Mauli's Sleep Dharma Pillow Mist on my pillow and sheets, put my phone on airplane mode and set my Lumie Bodyclock for the morning. 
The body thrives on routine. Throughout the various lockdowns, having various rituals kept me sane, and one that has stuck is a weekly mini facial. Some of my favourite products include Dermalogica's Daily Microfoliant, Sarah Chapman's Steamer, Omorovicza's Deep Cleansing Mask, Sarah Chapman's Instant Miracle Mask and Doublebase Dry Skin Moisturiser. Using these products always gives me an extra glow. 
Stretching post-workout is so important. It really does make all the difference when it comes to recovery. Make sure you take the time to stretch each of the muscles you were working, holding each stretch for one minute and breathing deeply to take the stretch further. And don't feel like you have to take supplements to aid recovery – branched-chain amino acids (BCAAs) are popular with people who lift heavy weights as they are believed to decrease muscle fatigue and alleviate soreness. There's a time and a place for them if you're lifting, but if you aren't training like that, stretching is just as effective.
A Body Forever covers mind, body and soul. Our fitness offering is a unique fusion of PT and Pilates and our workouts are designed to guide you with clear instruction; it's almost like having a PT in the palm of your hand. I work alongside our trainers to ensure we're designing the best online workouts possible and that we're not churning out the same old moves you see time and again. Our mission is to transform online Pilates and make it cool. We also create bespoke programmes that offer you an easy access guide for a week of workouts.
 
For more, head to ABodyForever.com and follow Amy @Amy_Brogan_
 
 
Shop Amy's Toolkit Below...
DISCLAIMER: Features published by SheerLuxe are not intended to treat, diagnose, cure or prevent any disease. Always seek the advice of your GP or another qualified healthcare provider for any questions you have regarding a medical condition, and before undertaking any diet, exercise or other health-related programme.
DISCLAIMER: We endeavour to always credit the correct original source of every image we use. If you think a credit may be incorrect, please contact us at info@sheerluxe.com.