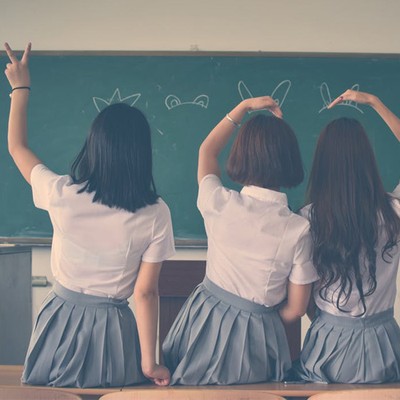 Should Schools Ban Girls From Wearing Skirts?

With news that 40 British secondary schools have banned skirts as part of a move towards gender-neutral uniforms, and many more currently consulting their uniform policies, could separate dress codes for boys and girls soon become a thing of the past? And would it be a positive thing for young people? SL investigates…

According to a recent report by the Sunday Times, skirts are falling out of favour in schools across the UK. Woodhey High School in Bury stopped requiring girls to wear them, stating skirts were considered "undignified and embarrassing" if girls sat on the floor; Priory School in Lewes banned them after pupils asked why its uniform was different for boys and girls; in Bradford, several schools with a high proportion of Muslim pupils prohibit skirts on modesty grounds; the majority of schools in Ipswich are "trouser-only"; and skirt bans are common in Leeds and Grimsby.
Earlier this month, the first ever challenge against a skirts-only school uniform policy was brought against the government, too. Roberta Borsotti, whose seven-year-old daughter scried every day because she was "forced" to wear a skirt to her Catholic primary school in south-west London, is taking legal action against the Department for Education – stating she doesn't want other children to "suffer the same" as her daughter.
But adaptations to dress codes aren't without criticism: at Philips High School in Bury, pupils have started a petition against a trousers-only policy for new pupils from September 2018, and all pupils from the following year. "We feel more confident wearing a skirt and school trousers are unflattering," the petition reads. "Self-esteem issues are on the rise among teenagers, so making us unable to wear clothes we feel our best in will damage our mental health, and in turn our school performance."
Many transgender campaigners have also rejected the trousers-for-all approach, arguing that all pupils should be able to choose. Elly Barnes, Chief Executive of Educate and Celebrate, which works to help schools to become LGBT+ friendly, said: "What we always advocate is that students have a choice. We want any child at any school to be free to wear what they feel most comfortable in."
And she's right – why enforce trousers on girls and ban boys from wearing skirts? Guardian writer Chitra Ramaswamy hit the nail on the head when she quoted Ian McEwan's novella The Cement Garden: "Girls can wear jeans and cut their hair short and wear shirts and boots because it's OK to be a boy; for girls it's like promotion. But for a boy to look like a girl is degrading, according to you, because secretly you believe that being a girl is degrading."
According to Ramaswamy, it's this mentality that leads schools to make boys' uniforms the default, noting how, in 2017, Highgate School in north London formally permitted boys to wear skirts and was met with a barrage of complaints, including one letter that described the idea as preposterous. "Why is allowing girls to wear trousers progressive, and boys to wear skirts preposterous?," she asked.
Why is allowing girls to wear trousers progressive, and boys to wear skirts preposterous?
While it's a positive step forward that schools are trying to move on from outdated gender stereotypes and create a safe environment for transgender and non-binary children, there's no denying the underlying sexism behind a full skirt ban. "It's a shame that it couldn't have happened through a braver conversation about which versions of gender identity are safe to express in public, which ones are not, and what power dynamics might lie behind those differences," Ramaswamy wrote.
In an article for Metro.co.uk, Leader of the Women's Equality Party, Sophie Walker, argued that, skirts vs trousers aside, most school dress code rules are a "patronising laying out of gender stereotypes". Walker revealed she was "enraged" when her teenage daughter was told on her sixth-form induction day – one of the hottest days of the year – that girls was banned from showing bra straps or midriffs. Boys, on the other hand, were given no such rules.
Calling the ban "discriminatory", Walker accused schools of preparing girls for an environment in which they are "simultaneously sexualised and held responsible for any harassment or violence they experience", adding: "In 2018, with the world on fire and the women's movement resurgent, it has never been more essential to call Time's Up on this nonsense."
DISCLAIMER: We endeavour to always credit the correct original source of every image we use. If you think a credit may be incorrect, please contact us at info@sheerluxe.com.