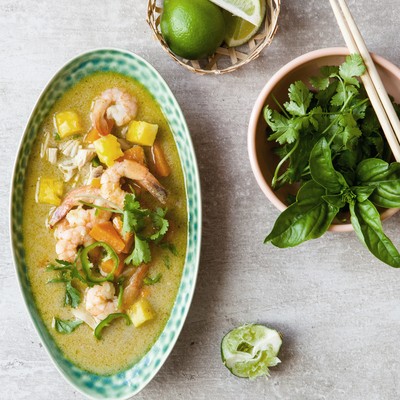 Thai Curry 101

Thai recipes often require a long list of ingredients, which can mean one isn't too bothered to make them at home. If you fancy cooking your own Thai curry, we've rounded up some top chefs to show you how to create those authentic spicy, sour and salty flavours with ease. From the ingredients and gadgets you'll need on hand to the health benefits of Thai cuisine, here's everything you need to know – including four delicious recipes to get you started.

THE HEALTH BENEFITS
The Thai diet is definitely varied. We eat sharing style so everyone can have a bit of everything and a Thai spread is usually made up of lots of veg, small amounts of meat and fish, salads and carbs – usually in the form of rice. Our meals are quite balanced overall.
The Thai diet is also packed full of fibre. That's because we eat a lot of fresh vegetables and usually have a salad with every meal. Some of my favourite salads are papaya, vegetable or yum yai salad, which uses lots of different vegetables: cabbage, celery, cucumber and tomatoes with boiled eggs, lime juice and pickled garlic for the salad dressing. 
Fish sauce is another key part of Thai cooking. Rich in calcium, it's made from distilled anchovy paste and is used as a natural food enhancer. Instead of refined sugar, we use palm sugar, which comes from the palm flower and is a natural source of sweetness. Tamarind, the main ingredient in pad thai, also contains lots of vitamins and fibre, and helps stimulate your metabolism. We pad out our curries with vegetables and use coconut milk, rather than dairy, so you're getting a healthy fat.
Finally, we use lots of herbs, roots and lemongrass, all of which have healing properties. Lemongrass and galangal, a root herb similar to ginger, are also used in Thai medicine for this reason.
THE INGREDIENTS
Sebby Holmes, Farang
If you want to regularly cook Thai food, there are a few essential condiments and ingredients that you will need for almost every recipe. You should have these in your cupboards or fridge at all times, as you would salt and pepper. They are: 
Fish sauce: A liquid condiment made from fermented fish and water, this is intensely salty and fishy, yet savoury and umami. Many people swap soy sauce for fish sauce and although very different in flavour, it is essentially a meat-free, liquid salt alternative, so it is a convenient replacement. 
Chillies: Chillies are used as a seasoning in Thai food, not just to add spice but to bring sweetness, bitterness, colour and vibrancy. To remove the chillies from a recipe is like taking out the salt, it will affect the overall balance and flavour of the dish.
Garlic: Garlic is fundamental to Thai cooking; it has been a common seasoning for thousands of years and appears frequently in my recipes, so it is another essential. 
Galangal: Galangal is a rhizome and, like ginger, it is woody in texture and spicy, intense and fragrant in flavour.
Palm sugar: Good-quality palm sugar is soft to the touch, almost toffee-like in consistency and is traditionally used in most Thai dishes that require sweetness. Its best characteristic is its subtle sweetness, so it does not overwhelm a dish but heightens the overall flavour. If you struggle to find palm sugar, light soft brown sugar is a good alternative.
Coconut cream: The best coconut cream you can buy tends to be anything packaged in cardboard, rather than in a can. The can taints the flavour, taking away from its naturally delicious sweetness. If you can only find cans, have a look at the ingredients and try to buy one that contains over 80% coconut – you will be amazed at how little coconut is in some cans.
Lemongrass: Lemongrass's sweet, citrus aroma and flavour is vital to many Thai dishes.
Kaffir lime leaves: These leaves can get expensive when buying them fresh as they are normally sold in small amounts in most supermarkets. Your best bet is to buy them frozen from an Asian supermarket, and use as and when you need them.
Limes: Sometimes the sourness of fresh lime is part of the dish itself, or used in a dressing or marinade and in others a cheek or wedge of lime is served with the finished dish to add sharp hit.
Tamarind: Tamarind is sour in flavour with a natural sweetness and a thick, brown consistency and colour. It is mostly used in soups, stir-fries and dressings.
Inspired? Here are all the ingredients you need…
THE KIT
Saiphin Moore, Rosa's Thai Café 
The kitchen gadgets you might need to have on hand include…
A deep pestle and mortar: An essential for Thai food. We use it to crush curry pastes, mince chilli and garlic for stir fries, and to toss salads. 
A wok: Make sure it's good quality and well-oiled, ready for quickly frying meat, noodles and vegetables.
The best Thai cookbooks are…
By Sangdad, which means 'sunshine' in Thai. The company is based in Bangkok and has a large range of books and themes, such as Cooking Thai Prawns, Thai Stir Fry Easy Cooking and Thai Curry Easy Cooking. They're all targeted at Thai people, so you know the recipes are authentic.
I also have to say Rosa's Thai Cafe: The Cookbook. It takes you through all the basics of Thai cooking, ingredients and all our bestselling dishes, along with some of my favourites. I've also published a vegetarian version, with lots of alternatives to fish sauce and oyster sauce. It's easier to find vegetarian Thai food than people think, and you can always add whatever veggies you have available.
THE TIPS
Jordan Moore, Senior Recipe Developer at Gousto
Thai food is all about balancing the flavours of spicy, sweet, sour and salty. You'll be surprised at how much each one tempers the other, so don't be afraid to add an extra splash of fish sauce, or keep those seeds in the chillies to make the flavours sing.
The key to a great Thai curry is in the flavour of the paste. Look to pack in fresh, fragrant additions such as lemongrass and galangal, along with plenty of ginger and garlic. You'll get the green colour from chillies, and an authentic Thai curry has plenty of them. We recommend using Thai green chillies, but if you're not a lover of spice, don't reduce the quantity of chillies, but opt for the same amount of a milder chilli. This way you'll still get that lovely green hue to your finished curry.
Take care when cooking your curry to make sure you don't cook off those aromas. You won't need to cook your curry for long to develop incredible flavour. Instead, fry off your paste, add in your coconut milk, cooked protein and vegetables and then simmer until the sauce reaches a single cream-like consistency, as you don't want your sauce to become too thick.
If you have the time or are feeling adventurous, you can make your own green curry paste – and it can last for a while if stored correctly. Best if all, the act of buying everything for the paste will take you to interesting markets and open you up to a whole world of cuisine and different flavours. However, store-bought curry pastes can be fragrant and a great option if you can't make your own. My favourite brand is Maesri.
If you want to make your curry plant based, my top tip is to use gnocchi instead of chicken. This may seem strange, but allow them to simmer in the curry for five minutes before serving for the ultimate satisfying bite. If you're vegan, instead of adding fish sauce to your recipe, try adding Yondu in the same proportions. This umami plant-based seasoning will give you the same depth and enhance the fresh flavours while keeping it vegan friendly.
Not a big fan of heat? If you feel as though your curry has come out just a bit too spicy, try an extra drop of coconut milk for some added creaminess.
Curry is a great option to cook a big batch and freeze. Simmer your coconut milk, paste and protein but before you add your fresh herbs, cool it down and freeze it. Next time you're short for time and toast isn't going to cut it, you can reheat the curry and add some fresh herbs. It will keep its fresh taste and taste as delicious as it would if you made it fresh.
Got everything you need? Here are four tasty Thai curry recipes to try at home…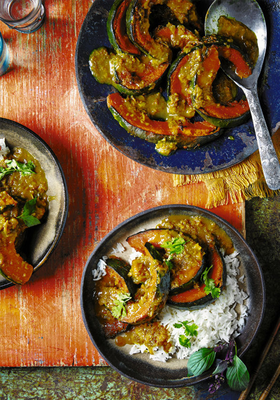 Curried Roast Pumpkin: Sebby Holmes, Farang
This dish uses a simplified version of a green curry paste. I have chosen pumpkin as the filler but, to be honest, any squash you like may be used and also sweet potato or a mix of both are great additions to the curry. It may seem daunting to make a paste from scratch, but there is nothing more satisfying than chowing down on a feast of your own efforts, ingredients combined by brute force.
Ingredients
2

lemongrass stalks. Tough outer layer removed and ends trimmed, thinly sliced
2

tbsp

of galangal, finely chopped
20g

of turmeric, roughly chopped
500g

of pumpkin, deseeded and sliced into segments
2

tbsp

of light soy sauce
Method
Step 1
Using a pestle and mortar, begin by pounding the toughest ingredients into a paste first, so the lemongrass and galangal, using a little coarse salt as an abrasive. Next, pound 4 long green chillies (halved and deseeded), the shallots, 6 peeled garlic cloves and the turmeric. Return all the pounded ingredients to the mortar and pound together until everything comes together as one vibrant green paste. This paste will keep in an airtight container in the fridge for up to 2 weeks; it will then begin to discolour, but will still be usable for another week at the very least.

Step 2
Preheat the oven to 180°C/Gas Mark 4. Heat 3 tbsp of vegetable oil in a large, non-stick pan over a medium heat until hot, then add the paste – it should sizzle as it enters the pan. Fry the paste for 10 minutes, stirring and scraping constantly to ensure that it does not stick, until it begins to darken slightly and the ingredients give off a lovely aroma. When the flavours begin to come together, add the pumpkin and fry for a further few minutes until it starts to brown a little on the surface.

Step 3
Deglaze the pan with the soy sauce and then let it out with 100ml of water and the coconut cream. Bring to a simmer and then taste. It should be sweet and salty with a gentle spice, so adjust as necessary. Pour this mix into a lipped, non-stick baking tray or shallow roasting tin and place on the middle shelf of the oven for 25-30 minutes until the pumpkin is soft and the curry has thickened.

Step 4
Serve the curry in bowls with steamed jasmine rice, scattered with coriander or Thai basil leaves, if you like.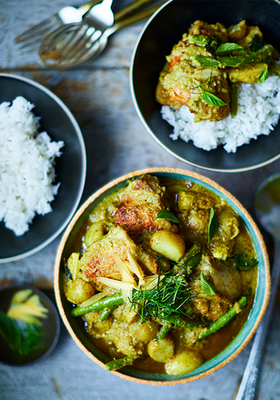 Thai Green Curry With Smoked Chicken
Admittedly, this dish requires a bit of preparation, but firing up the BBQ and marinating the chicken is worth it, trust us. Invite friends round and do most of the prep beforehand – after all, who doesn't love a Thai green curry? 
Ingredients
20g

of coconut (or vegetable) oil
200g

of green curry paste
3g

of kaffir lime leaves, torn
10

-15g

of palm sugar (or soft brown sugar)
300ml

of hot chicken stock
6

free-range chicken thighs on the bone
100g

of new potatoes, halved
80g

of baby sweetcorn, sliced at an angle
80g

of green beans, sliced in half lengthways
10g

of ginger, peeled and julienned
10g

of Thai sweet basil (or Italian basil), torn
Steamed jasmine rice, to serve
A piece of wood for smoking on the BBQ
Method
Step 1
Heat the coconut oil in a large saucepan over a high heat, then add the green curry paste and kaffir lime leaves and stir regularly until the paste begins to split like scrambled eggs – this will take 6-8 minutes. You will notice that the smell of the ingredients changes from raw to fragrant.

Step 2
At this point, add 10ml fish sauce and allow it to cook into the paste for 1 minute (don't add too much as it is strong and you can always add, but never take away). Next, add the sugar and cook for a minute or so until melted and beginning to caramelise – this is noticeable as the paste begins to darken.

Step 3
Now it's time to loosen the curry with liquids. Add half the chicken stock and 100ml of the coconut cream to the pan, then remove from the heat and allow to cool. When cool, use a little of the curry to marinate the chicken thighs; use enough to coat them, then refrigerate the chicken to allow the flavours to infuse for a minimum of 2 hours, but ideally overnight.

Step 4
Light the barbecue and wait for the coals to glow red. Place the piece of wood onto the coals and wait for it to catch fire and begin to smoke.

Step 5
At this point, add the chicken thighs skin-side up, lower the barbecue lid so that the meat is engulfed by the smoke and cook for 3-4 minutes on one side. Turn the chicken pieces over and repeat the process until the skin is crispy and golden brown and the chicken is piping hot.

Step 6
Next, return the remaining green curry to the pan and bring back to a simmer. Add any excess from the marinated chicken, then add the remaining stock. Add the potatoes and cook for about 8 minutes until they begin to soften. Add the sweetcorn and green beans and cook for a further 5 minutes until all the vegetables are softened but still retain a little bite.

Step 7
Add the hot chicken thighs, the remaining coconut cream and the wild ginger and basil. Check you are happy with the seasoning, add the rest of the fish sauce if needed, and serve immediately. This dish is best served with steamed jasmine rice.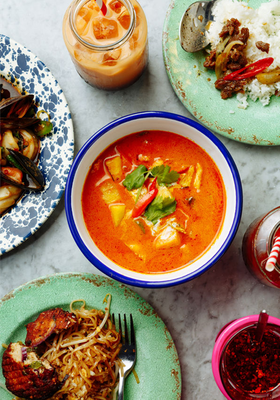 Butternut Red Curry: Saiphin Moore, Rosa's Thai Café
This is one of my favourite dishes to cook, and definitely a Rosa's crowd favourite too. You can choose to add chicken or leave it out to make it a vegetarian dish. This is a typical dish you find on many street stalls in Thailand. The recipe has two parts: red curry paste and butternut curry. Once you've made the curry paste, you can freeze it and use in other curries in the future. 
Ingredients
2

tbsp

of red curry paste (see recipe below)
500g

of butternut squash, peeled and chopped into small bite-size pieces
5

kaffir lime leaves, finely cut
2

green or red spur chillies, diagonally sliced
For the red curry paste:

5

dried red spur chillies, deseeded and soaked until tender
1

tsp

of galangal, finely sliced
2

tbsp

of lesser galangal
2

lemongrass stalks, sliced
1

tsp

of finely grated kaffir lime zest
2

tsp

of sliced coriander root
1

tbsp

of coriander seeds
1

tsp

of shrimp paste (leave out if making vegetarian paste)
Method
Step 1
First, make the curry paste. Finely grind the chillies and salt together using a pestle and mortar or a food processor. When you have a fine paste, add the galangals, lemongrass, lime zest and coriander root. Blend again or pound to a fine paste.
Step 2
Next, dry fry the coriander and cumin seeds for 2 minutes, until fragrant, stirring continuously. Pound or grind to a powder. Add the garlic, shallot, ground seeds and shrimp paste (if using). Continue to blend or pound until smooth. This curry paste will keep in the refrigerator for 4-8 weeks if stored in an airtight container, and for up to 6 months in the freezer.
Step 3
In a pan, bring 50ml of coconut milk to a boil over a medium heat. Add the curry paste and cook until the red oil splits and rises to the surface. Then add the chopped butternut squash and cook until tender. Add the remaining coconut milk. Season with fish sauce and palm sugar to create a slightly salty but well-balanced taste.
Step 4
When it boils again, add the kaffir lime leaves and spur chillies. Turn off the heat and add the sweet basil leaves. Ladle into a serving bowl and garnish with more fresh chillies, if preferred.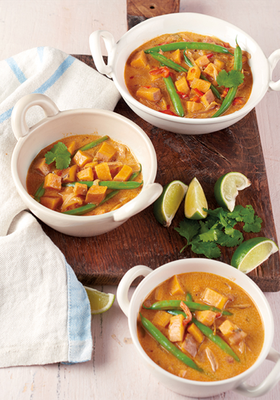 Sweet Potato, Coconut & Green Bean Curry: Lizzie Loves Healthy
A comforting curry that's great to grab from the freezer on a tired night. The coconut will boost health thanks to the lauric acid, providing antibacterial and antiviral protection.
Ingredients
1

lemongrass stem, tough outer layer removed, trimmed and smashed
½

red chilli, sliced, plus extra to serve (optional)
Small bunch of coriander, stalks removed and sliced, leaves for garnish
5cm

piece of ginger, peeled and minced
1

tbsp

of mild/medium curry powder
400g

tin of plum tomatoes
250ml

of chicken or vegetable stock
1

tbsp

of cornflour (optional)
Method
Step 1
Heat the olive oil in a large casserole dish or heavy-based pan.

Step 2
Add the onions, lemongrass, chilli (if using), coriander stalks and ginger and fry gently for 5 minutes, stirring occasionally.

Step 3
Stir in the curry powder and cook for a further 5-10 minutes, until the onions are very soft and aromatic (don't let them brown).

Step 4
Add the coconut milk, tomatoes, sweet potatoes and stock, then bring to the boil over a high heat.

Step 5
Reduce the heat, cover and simmer gently for 5 minutes. Add the green beans and cook for another 10 minutes, uncovered, until all the vegetables are tender but not falling apart. If the sauce is very thin, stir the cornflour with 1 tablespoon of water to form a paste, add this and cook until thickened.

Step 6
Serve with a squeeze of lime juice, some coriander leaves and more chilli to taste, if you like.

DISCLAIMER: We endeavour to always credit the correct original source of every image we use. If you think a credit may be incorrect, please contact us at info@sheerluxe.com.