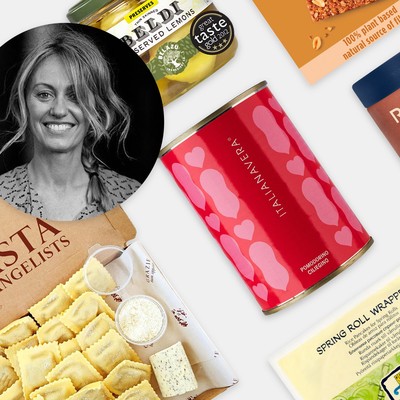 What's In My Online Shop: Clodagh McKenna

Stuck in a rut when it comes to your weekly food shop? What if you could have a peek at someone else's online shop for fresh inspiration? This month, we asked chef, author and This Morning cookery host Clodagh McKenna to share her regular online order. From fresh pasta kits to Spanish sherry, here are the snacks and supper staples she orders time and again.

FRUIT & VEG
Kale: I do most of my online food shopping at Waitrose, then I have a fishmonger that I use in Dorset. We keep chickens so I don't need to buy any eggs, and we have an orchard and grow most of our own veg (I use Natoora for any specialist vegetables I can't grow myself). At the moment there's a lot of kale, parsnips, carrots, celery, beetroot, sweet potato and spinach. Earlier this week, on my This Morning segment, I made a chicken, mushroom and kale pie, which was a great way to use up our abundance of kale.
Beetroot: A couple of weeks ago, I had a huge pickling session. I love pickled beetroot – it's my favourite way to eat it and it lasts for months, so we have it through the winter. I serve it with everything – especially with a bit of smoked salmon at lunchtime.
Mushrooms: In the winter, I love to make creamy forest pasta – it's in my new cookbook and only takes 10 minutes to make. It uses hazelnuts, rosemary, creme fraiche and wild mushrooms – or you can use chestnut mushrooms. It's delicious.
Figs: We have a really big fig tree in the garden. The last thing I made with them was a fig tarte tartin using frozen pastry. We also have our own bees, so I usually toss them in some honey, roast them and serve with ricotta cheese on sourdough.
Berries: There are still raspberries and loganberries coming off our bushes, which is incredible. When we have any surplus during the summer, we freeze them so we can eat them later in the year. I love making a pavlova – it's my favourite way to serve soft berries. When we get loads of redcurrants and blackcurrants, I like to dip them in egg white then caster sugar and let them dry. They become crunchy and are delicious after dinner.
Lemons: I honestly think the best pasta recipe I've ever come up with is my lemony fettucine alfredo. I cook the sauce with sliced lemons in it, so it gets really intensely lemony. It's got lots of parmesan in it, plus nutmeg, flat leaf parsley, double cream, fresh fettuccini and butter, which makes it really rich. It's amazing and only takes 10 minutes to cook.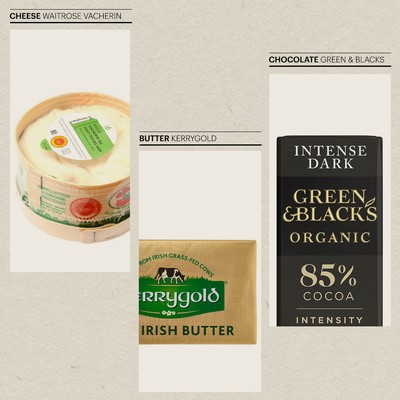 I usually use Green & Black's for cooking, particularly if I'm making a Mexican chilli or chocolate tart.

FRIDGE STAPLES
Cheese: I usually order my cheese from La Fromagerie, a fantastic cheesemonger in London. I tend to eat them as part of a cheese board although every now and again I'll get a vacherin and bake it – just make slits in it, add some white wine, garlic and thyme, and pop it in the oven for about 15 minutes. It makes a gorgeous gooey dipping starter.
Natural yoghurt: We take it in turns to make a big batch of green vegetable juice every day. We've been doing it for over a year now and use all the vegetables from our garden – usually celery, chard, cucumber and flat leaf parsley. Sometimes I'll add beetroot. The only thing we add that's not our own is natural yoghurt. I like Yeo Valley. It brings a creamy texture to the juice and is very good for your gut.
Butter: I love Kerrygold and I always have salted and unsalted in the fridge. It comes from grass-fed cows, which is really important. 
Dark chocolate: I usually use Green & Black's and tend to have it on hand for cooking – rather than snacking on it – particularly if I'm making a Mexican chilli or chocolate tart.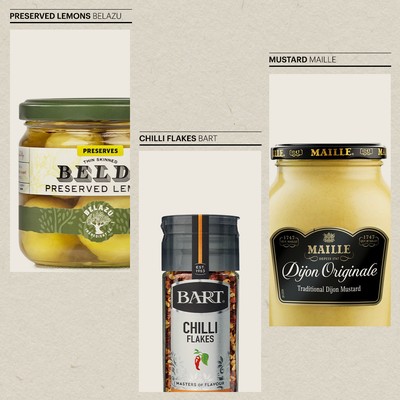 I always roast a chicken with Dijon mustard smeared all around it.

CUPBOARD ESSENTIALS
Pasta: We use Pasta Evangelists for fresh pasta kits. Otherwise, I love linguini, so I buy a lot of that. I like to serve it with a puttanesca sauce. It's spicy and salty, and packed with chilli, capers and anchovies – absolutely beautiful.
Pulses: Especially chickpeas, cannellini beans and kidney beans. I add a lot of these into vegetable soups to bulk them up.
Chopped tomatoes: Whenever I buy tinned tomatoes, I always get the Italian cherry ones. They are the sweetest and best type of tinned tomato you can get. Waitrose own-brand ones are great.
Harissa: Spices are so important. I always have a little jar of harissa in my kitchen, which is lovely and smoky. It's got smoked paprika, chilli and garlic in it, and is fantastic added to some fresh or frozen prawns. If you're wondering how to make something really fast, just fry the prawns off, then add a tablespoon of harissa with a little bit of olive oil. Serve them on some very thinly sliced toasted sourdough – gorgeous.
Preserved lemons: I tend to use these if I'm doing a chicken bake or a roast chicken. I'll chop them up and add olive oil, herbs and garlic to create an intense lemony flavour. They cook down so well, so you can actually eat them.
Sea salt: I'm a real stickler for sea salt. I love Cornish sea salt. Salt can be the devil if you're using highly processed table salt, but if you're using beautiful natural sea salt, it won't do you harm.
Flour: I make my own bread every week. It's called my 'Rosemary Clodagh Bread'. It's one of my most popular recipes and uses wholemeal flour, rosemary, yoghurt, salt, milk and bicarbonate of soda.
Chilli flakes: I couldn't live without them. I've got a Moroccan dish I make which uses prawns, rice, lots of dried chilli flakes, harissa paste, turmeric and chickpeas. It's so simple, as it mostly uses store cupboard ingredients.
Maille Dijon mustard: I always roast a chicken with Dijon mustard smeared all around it. I'll also add it to salad dressings and in anything that requires a creamy sauce.
Spring roll wrappers: I love to make Vietnamese vegetable rolls – they're a fantastic way of doing a fridge clear-out and using up all the vegetables I've got left. I just chop them all up into little batons and roll them into Vietnamese rolls. I serve them with a simple peanut dipping sauce made with smooth peanut butter, light soya sauce, a tiny bit of brown sugar and some lime and chilli.
Coconut milk: My 'Real Deal' dish is a beautiful Indian dahl I make. It's got gorgeous flavours of coconut and turmeric in it, and is a super simple one to make using shop-bought ingredients.
SNACKS
Deliciously Ella bars: I love them, especially the peanut ones.
Hummus: I buy the extra virgin olive oil flavour from the supermarket, but I'll always pimp it up a bit. I'll add smoked paprika, a squeeze of lemon and maybe some chopped nuts like almonds, hazelnuts or pine nuts. I usually eat it with chopped apple.
Olives: My favourite olives are by a Spanish brand called Perello – they come in a beautiful green and white tin, and taste amazing.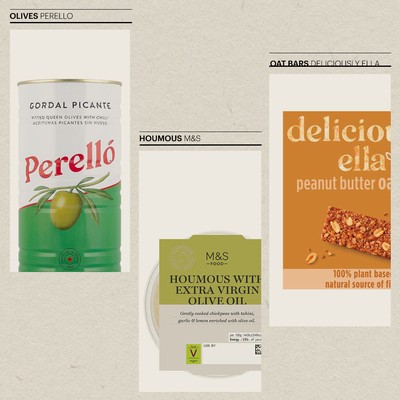 My favourite olives are Perello. They come in a beautiful green and white tin, and taste amazing.

FREEZER
Wholemeal pitta: I always have some of these in freezer that I can just toast and chop up into little wedges to dip into my hummus. 
Minced beef: Just so I can make chilies or bolognese quite easily.
Ice-cream: I love chocolate ice-cream. My favourite brand at the moment is Remeo.
DRINKS
Cawston Press: I always have some of these cans in stock – especially the elderflower or rhubarb flavours.
White wine: I love wine, especially from the north of Italy, such as a barbera or barbaresco.
Sherry: I also love manzanilla, which is that very dry white sherry you can get in supermarkets. Hidalgo La Gitana is the nicest one I've found – I like to drink it alongside some cured Iberico ham and some lovely cheese.
 
In Minutes by Clodagh McKenna is available to buy here.
 
Visit ClodaghMcKenna.com
DISCLAIMER: We endeavour to always credit the correct original source of every image we use. If you think a credit may be incorrect, please contact us at info@sheerluxe.com.