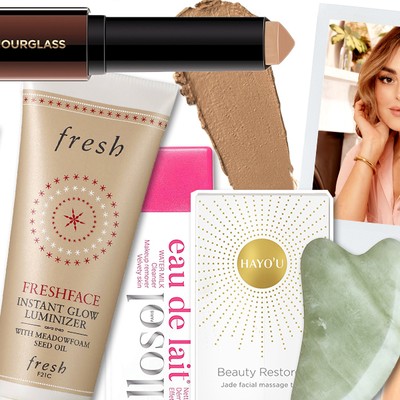 11 Things We Learned After Spending 15 Minutes With Alessandra Steinherr

Her no BS approach to beauty, plus the fact she's been in the industry for years, means Alessandra is the real deal. We sat down to hear her skincare philosophy, discover her desert island beauty product and find out, when it comes to make-up, why less is always more.

1. Her Alex Steinherr x Primark skincare range was designed to break the mould:
'Because of my background, people probably expected to see me move into the luxury sector. The general response has been 'oh, that's a surprise!' But I wanted that, I've always embraced the road less travelled throughout my career. I don't follow trends, I do my own thing and when it came to the range for Primark, I wanted to show we can move things along. We can prove affordability can still be quality, it can look good and be cutting-edge. It just offers another option to the market, it's not a dupe, I'm not saying it's better, it just stands alone as its own entity. I've also ensured it's completely cruelty-free, that's important to me. It's not good enough for brands to say they're against animal testing – that's like saying 'I don't like olives on pizza' – it's completely meaningless unless you have the cruelty-free certification.'
2. She has one cherished make-up tip:
'I mean this from the bottom of my heart: use less, always. I see it on myself, when I apply more in the moment, then realise it's time to pare back. You'll look better with less because of the way it wears on the face. Even if you're someone that loves make-up or has imperfections, just trust me, you will look better if people can see your skin, don't try and blanket it out. I like to mist a spray over my make-up post application, like Sarah Chapman's Liquid Facial D-Stress. It knocks the edge off the make-up and gives a beautiful, natural finish. Oh, and always brush your brows upwards. That's important.'
 
3.Affordable skincare doesn't = rubbish results and ingredients:
'High-quality skincare at thrifty prices can be hard to come by. Which is the reason I approached Primark. I needed a partner who would make it possible for me to deliver quality at an accessible price point. In order to do that, you need scale – which is what Primark has. Plus, all the cost goes into the products directly, there's no advertising or big supermodel fronting the AD, the cost is not on marketing, it's just on key, hard-working ingredients that I am truly happy to condone.' 
4. Make-up brushes don't have to cost the earth:
'I love brushes by Real Techniques. I always use them. Their latest pink ones are amazing and the Chapman sisters [who are behind the brand] really know their stuff. I can't recommend them enough, plus they're really affordable.'
5. There's one specific scent she wishes she could bottle forever: 
'I have so many scents I love, and I switch them depending on the season. In the winter I always love wearing Coromandel by Chanel but what I am currently eking out is Jo Malone's Green Almond and Red Currant – it was a Christmas special so they don't do it anymore, but I am obsessed with it –if they're reading, please can it be permanent? Otherwise, a smell that makes me nostalgic is the Jil Sander Sun, it's something I wore as a teenager in Austria, so it's the scent of my youth. Another go-to come summer is Cartier's Carat, it's beautifully fresh.'
6. Glowing skin is her ultimate beauty look:
'I chop and change my base products. Currently, I am using the Hourglass Vanish Stick, applying it with a brush for dewy, sheer coverage. I also love the latest Laura Mercier Flawless Lumiere Radiance Perfecting Foundation. Both formulas are buildable and buffable with a radiant, glowing finish I adore. When applying make-up, I'll slather on Kiehl's Ultra Facial Moisturiser, it works really well as a primer and keeps my skin dewy all day. I can't get enough of YSL's new Touche Eclat High Cover, it instantly brightens up the eyes and conceals dark circles like nothing else. To finish, I'll layer luminisers like Fresh Instant Glow and YSL's Touche Eclat Shimmer Stick in number three, tapped all over my lids and cheeks – I really do go for it with the glow.'
 
7. The one key skincare ingredient she would recommend to everyone:
'Niacinamide is one of my favourite ingredients. It's in nearly all my products, including my new Dual Texture Exfoliating Pads, because it's a wonderful anti-inflammatory. It can also improve appearance of enlarged pores and uneven skin tone.'
8. Her skincare philosophy is simple:
'My whole philosophy is about skin barrier protection. If you have a healthy skin barrier, you have a healthy complexion. Regardless of your skin type or problems, the better condition the barrier, the more it can defend itself.'
9. Niche beauty buys are worth seeking out:
'I love unknown staples, such as Collosol Eau De Lait Cleansing Milk. It's a toner I've been buying in Paris for years but it's finally available in the UK. I use it just wiped over my skin quickly to hit refresh. I also rate the Indie Lee Squalane Facial Oil. If my skin needs an extra boost, I'll layer a few drops of it on top of my moisturiser. I have to mention the new Medik8 Retinol too – expensive but it's a gentle way to start using retinol with impressive results.'
10. The one product she couldn't live without:
'My must-have is Laura Mercier's Secret Brightening Powder. It sets my under-eye concealer in place for hours so it doesn't budge. Unlike other powders that dry out make-up, this seals everything with a subtle sheen. Honestly, I can't recommend it enough.'
11. Everyone should use masks more often:
'I love masks, I stockpile them for both face and eyes. People ask, 'do they really work?', but the real question is what's your expectation? If you're asking me will they rid you of wrinkles? Absolutely not, but no topical cream will either. What good masks and skincare do is work on condition, texture and glow. Masks make an instant difference. I challenge anyone not to notice the radiant results after laying down with a mask on. Will the effects last forever? No, but it's like drinking water. You need to drink it every day, you can't drink it today and not for another five – it's the same principle with masks and skincare. I love to use either my Pollution Solution City Mask or Maximum Moisture Supreme Sheet Mask. The Lancome Advanced Génifique Yeux Light-Pearl Eye Serum Masks have a firm place in my kit too – they feel soothing when you have tired computer eyes that need an instant pick-me-up.'
The SL Beauty Community Asks Alessandra…
Q: Which sun protector would you recommend for the face? Dry skin in particular.
A: I'd highly recommend the AlumierMD Sheer Hydration, it comes in a tinted and non-tinted version and is super nourishing so perfect for dry skin. I also love the Heliocare Gel Cream SPF50 which is oil-free so packs in less moisture.
Q: Are jade/amethyst rollers worth the money and time in your opinion?
A: I am actually more of a Gua sha girl, so I use a brand called Hayo'u. Because it's flat, I find it allows you to sculpt and get in deeper than a roller. I use it every night post skincare as you need a little slip from a cream or oil to reap the full benefits.
Q: Can you recommend moisturisers for super dry skin? I'm using a retinol serum at night and the Vichy 89 serum during the day, plus moisturisers, but it doesn't seem enough.
A: That's actually a really good regime. The thing with retinol is it is an irritant – but for a reason. It does create inflammation and sometimes dryness, so you want a moisturiser that doesn't react with it. I am going to recommend my Moisture Locking Everyday Moisturiser, £5, it has no fragrance and no essential oils, so there is no interference. It also supports the skin barrier and I recommend using it after your retinol to dilute the potency of the vitamin A. You can use it before too.
Q. Are you going to make Primark stock your skincare range permanently? I don't think I can handle not having the Plump & Glow now I've got it.
A. Thank you for that question! There was some confusion over this, but I can assure you, it's all completely permanent. We sold out fast, which was amazing, people were told it was gone – but it was just temporary, stock isn't limited.
Q. How often should you get facials?
A. It depends. If you're on a course or trying to get a skin condition under control, then your therapist may suggest every two weeks. But for general maintenance? I recommend every 3-4 weeks. If it's LED, then I'd suggest once a week for proper results.
Q. Do sun spots ever go?
A. Pigmentation is a very complexion condition. If it's genetic, then I am sorry, there's little you can do. I won't pretend any product – be it mine or another – will get rid of deep pigmentation, but if it's sun-induced, you can opt for peels or lasers. Use a good AHA exfoliant, but above all, I'd suggest seeing a dermatologist for professional peels or lasers, remember over the counter products have a limit. Just being honest. SPF is non-negotiable too – it won't make dark spots disappear, but it'll certainly help to stop any more forming. 
DISCLAIMER: We endeavour to always credit the correct original source of every image we use. If you think a credit may be incorrect, please contact us at info@sheerluxe.com.