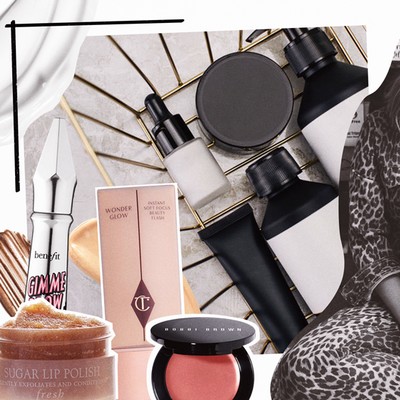 The Beauty Insider: How To Reboot Your Skin

Makeup artist and SL's resident beauty columnist Lisa Potter-Dixon is back in action and showing us how to fake a healthy glow this January.

Right, I'm not going to lie, I'm writing this because I need my own advice. It's mid-January and I'm still recovering from the 487 nights out I attended in December. I mean, only during the festive season can a theatre trip to the Lion King, turn into a 2am 'dancing on the tables pretending my handbag was Simba,' kind of night. Yep, that happened. I am now half way through a VERY boring dry January. Very proud that I have beaten my 2018 record of 3 days, hero, I know. But still my face is suffering, and I still look tired and pale. I need a re-boot as I'm sure a lot of you do. So, here's all my tips on how to make yourself look and feel like 2019 is already your best year yet.

Skincare
Changing up your skincare products could be your biggest win. No, it doesn't have to be your whole regime. I tend to replace one item every 3 months as I find this gives me better results. Think about it, is your beloved moisturiser really working as hard for you now as it did a few years back? Another thing I swear by is the 'double cleanse'. This isn't a myth people, it really works. Cleansing once takes off all the makeup and the daily grime. Cleansing for a second time gives your skin a deep clean. Do this twice a day and use a flannel to remove the cleanser as this acts as a soft exfoliation.
I'm not sure you're ready for my next tip, but if you want great skin, (wo)man up. Run the cold tap until the water is as cold as it can get, and then splash it over your face 10 times. This may seem like a form of torture, but I promise you it works. It tightens your pores and brightens your skin.
Skin
Dehydration is your skins nemesis. I always try the old 'drink a glass of water in-between cocktails' technique. But somehow, the glasses seem to get smaller through the night, and the water tends to magically change into Tequila, no idea how!? So, every January, I rebuy my yearly plastic free water bottle, and make sure I fill it up 6 times a day. Water isn't only good for your skin, it's good for your body and your mind so DO IT!
My solution for done in looking skin is a tad simpler. Highlighter. After moisturising, literally chuck a liquid highlighter over your face. Then apply your foundation over the top. This little trick will make your skin glow. As well as making you look super healthy and fresh.
 
Blush
A touch of blusher on the apples of your cheeks brightens your complexion in seconds. Cream blushers are pretty fool proof. Use your fingers to pat the blush onto your cheeks and blend. Stick with pinks and peaches as they work best on dull looking skin.
Eyes
Tired, red, watery eyes are your biggest giveaway. First things first, get yourself some eyedrops. These help to take down any redness. Make sure you use them before you start your make up. There's nothing worse than feeling rubbish, having to apply make-up and then dripping eyedrops straight down your face and ruining your efforts.
Brows: Filling in your brows is like an instant eyelift. Just brushing a fibre gel through them will make you look groomed and awake. Brush away from the hair and then back with the hair to coat them from root to tip.
Blue mascara: Yep, I mean it. This 80's fave is bloody brilliant for brightening your eyes. Blue makes white look whiter-fact! Wear alone or over the top of your black mascara.
Nude pencil; Running a nude liner into the waterline of the eye will cover any redness and make you look like you stayed in for the whole of December.
Lips
Dry lips are a big sign of dehydration. The best way to resolve this is with a lip scrub. Just rub a bit on your lips whilst in the shower, and then rinse it off. This will remove the dry skin and make your lips super soft. Keep a lip balm on hand and keep reapplying throughout the day.
So, there you have it, my tips on how to reboot your skin and look in January. Even if the dry January doesn't last, and the pizza sneaks back into your routine, you can be sure that the above will keep everyone fooled.
Happy New Year,
Love & lipstick,
Lisa xx
Make sure you tag us in your pics: @Lisapotterdixon and @Sheerluxe on Instagram #LearnwithLisa
 
DISCLAIMER: We endeavour to always credit the correct original source of every image we use. If you think a credit may be incorrect, please contact us at info@sheerluxe.com.