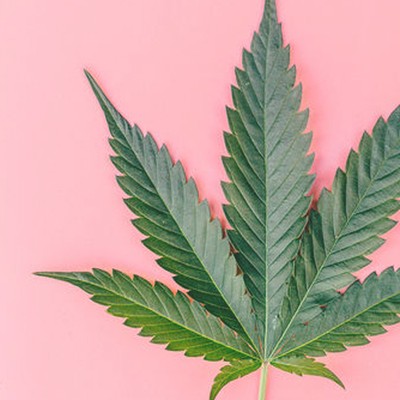 The Best CBD Supplements & Cannabis Beauty Products

With medicinal cannabis products now able to be legally prescribed across the UK and an increased interest in the effects of CBD, it's no surprise weed-infused products and supplements are taking over the wellness and beauty shelves right now. Here's what you need to know about the benefits of cannabinoids, and the formulas SL really rates – from skincare to CBD oils to fragrance…

Dubbed "the next big thing in beauty" by Cult Beauty, cannabis extracts – namely, the non-psychoactive extracts from the plant (so, not to worry, this trend won't get you high or into trouble), have potent age-defying and health-boosting medicinal properties. In fact, our skin has native receptors for cannabis extracts, also known as cannabinoids (cannabidiol or 'CBD' and hemp are the best-known examples) making them incredibly bioavailable – which means they're quickly recognised by the body and utilised accordingly.
Ideal for sensitised or irritated skin, some cannabinoids are great for healing chronic skin conditions such as eczema, as well as minimising signs of ageing thanks to potent antioxidants and addressing acne by regulating oil production. "Hemp oil is renowned for its moisturising properties," explains Dr Alexis Granite, Consultant Dermatologist at Mallucci London. "The cannabis seeds are pressed to remove the fatty oil," she adds, explaining that it's a non-comedogenic oil, meaning it can be used on the skin without causing breakouts.
Another option, which is much talked about at the moment, is CBD oil – a non-psychoactive ingredient in marijuana, sourced from the flowers of the cannabis plants, which Dr Granite says has "anti-inflammatory properties". CBD oil is also being studied for its potential role in treating many common health issues, including anxiety, depression, acne and heart disease – and many swear by taking supplements to help with everything from easing insomnia to providing pain relief.
Want in? Here's SL's edit of the best cannabis, hemp and CBD oil products…
 
Bodycare
As hemp oil is high in omegas three, six and nine – and is a humectant, meaning it helps the skin preserve moisture – it's an ideal ingredient to be used in bodycare products. The Body Shop's classic Hemp Oil Body Butter is a must for dry winter skin: a super nourishing formula that leaves limbs super soft and supple. Or for those who struggle with their sleep, we highly recommend Bamford's b silent body oil – a blend of CBD oil and roman chamomile, lavender flower and vetiver root essential oils that instantly relaxes the nervous system, and had us drifting off to sleep in no time at all.
Fragrance
Beauty-boosting effects aside, the spicy, herbaceous scent of cannabis has captivated several beauty brands – take, for example Fresh's Cannabis Rose Eau de Parfum, a woody, musky take on the feminine rose note, and A.N. Other's OR/18, a dreamy blend of cannabis, mystical incense, sweet citrus, and bakery-like notes of coffee and chocolate. Plus, trust perfumery's enfant terrible Geza Schoen to stay ahead of the game, adding cannabis into his avant-garde perfumes before everyone else, including Molecule 04.
 
Haircare
Cannabinoids can help you step up your hair game too. Making an appearance in hair care, hemp seed oil is added into Josh Rosebrook's Balance Conditioner, working in harmony with other balancing natural extracts to soften strands and enhance volume. And if you're aiming to grow your locks, we love Purepotion's Skin Salvation Scalp Oil, which utilises the moisturising power of hemp oil, alongside natural anti-microbial plant extracts – which also make it ideal for anyone with dandruff or seborrheic dermatitis.
 
Skincare
When you hear the word 'cannabis', hardworking skin care might not immediately spring to mind, but as Cult Beauty explains, weed is major news on the beauty circuit, with the scientific community (together with the big corporations funding their research) taking a major interest in the many properties of this fascinating plant. As a result, cannabis skincare has taken off this year – and the star of the show? Pioneering all-natural range MGC Derma, which utilise pure CBD compounds to provide powerful anti-ageing results.
 
Supplements
CBD oils are jam-packed with a cocktail of nutrients and antioxidants, and proven to help re-establish the equilibrium of bodily systems. We felt far calmer and less stressed after using Kiki Health's CBD oil for a few days – simply place one or more drops under your tongue and keep in your mouth for a few minutes before swallowing. Hepceutix – a supplement made from emulsified hemp oil – is also well worth a try: a full-spectrum formula filled with different phytocannabinoids alongside herbal extracts to boost absorption.
 
DISCLAIMER: We endeavour to always credit the correct original source of every image we use. If you think a credit may be incorrect, please contact us at info@sheerluxe.com.