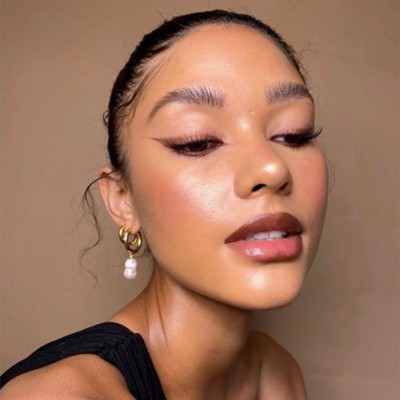 How To Master The Coloured Eyeliner Trend

Ditch traditional brown and black – this year, colourful, unconventional eyeliners are the beauty trend to know. Think jewel-tones, pastel blues and rich purples, which are impactful and eye-enhancing, without being OTT. To get it right, we asked two professional make-up artists to share their tips.

Take An Experimental Approach
"Coloured is so big for 2021 because we're all becoming more creative," says make-up artist Chynara Kojoeva. "It's about playing and having fun with different looks. Don't get me wrong, classic black liner will never go out of style, but just like reliable denim, it can be boring, so it's important to experiment. Plus, coloured liner is an easy way to spice things up with minimal effort." Make-up artist, Levi-Jade Taylor agrees: "Facial coverings have also contributed to the coloured liner trend this year – 2021 is truly all about the eyes, and it'll continue that way for a while." 
Start With Coloured Pencils
"Rather than going straight in with vibrant neons, look to colourful, creamy pencils," advises Levi. "These will give you a natural finish but also more time to play and get the effect you want gradually, whereas liquid liners set fast and can be hard to adjust without full removal. Use a small smudging brush to smoke out your liner for a more sultry, soft look that's eye-catching, without being too theatrical. If you do want to go bright and opaque, stick to a traditional feline flick to keep the look refined and fashion-forward." 
Stick To Two Colours Maximum
"The best bit about coloured liner is you don't have to be an expert – anyone can do it," adds Chynara. "In fact, taking a smudgy, almost haphazard approach is the best way to get a diffused, subtle colour. Just try and stick to a maximum of one or two different colours. Any more than that and it will look a bit paint by numbers – you want to keep it as sophisticated as possible."
Classic black liner will never go out of style, but just like reliable denim, it can be boring, so it's important to experiment.

Know Which Shades Suit You Best
"While it's key to experiment and play, there are certain colours that suit some people more than others," continues Chynara. "Colours like navy, green, silver and gold are my go-tos and will suit most people, but certain tones will enhance your eyes further. If you have blue eyes, look to browns or chromatic bronze tones. Those with hazel eyes should try lilac or purple to showcase the eye's lighter flecks, while brown eyes should try orange or a smudge of blue. Finally, if you have green eyes, opt for aubergine or purple. These colours really compliment green, or reddish, rusty hues." 
Map Out Your Look First
"Before you go in with any colour, map out your outer flick first," says Levi. "Look directly into a mirror and draw a line from the outer edge of your eye upwards. Imagine your lower lash line continues, as this will give you the perfect angle for your eye shape every time. Keep the liner on the lid as close to your lash line as possible. This creates more emphasis on the flick for an elongated eye shape. If you want to keep the look quite muted, go for jewel tones, like coppers, ambers and emerald blue." Chynara adds: "If feline flicks aren't your thing, you can play with colour by just dabbing a small amount at the inner and outer corners of the eyes – adapt the look to your preference, there are no set rules." 
Keep Certain Tools Handy
"The final thing worth noting is you should try and have the right brush and Q-tip to hand," explains Chynara. "Muji's little buds are so skinny and pointy so you can perfect every eye look with ease, creating really thin lines, depending on your preference. Just soak one in make-up remover and drag it over any areas you want to sheer or thin out. If you're a total liner beginner, use a brush that's already angled, as it's much easier to use than pointed brushes. You can pick these up from any art shop and they'll work a treat." 
Shop Chynara & Levi's Top Make-Up Picks…
INSPIRATION CREDITS: Instagram.com/ChykaPuka
DISCLAIMER: We endeavour to always credit the correct original source of every image we use. If you think a credit may be incorrect, please contact us at info@sheerluxe.com.