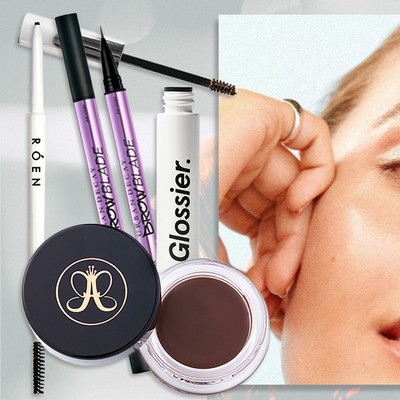 5 Ways To Fill In Your Brows For Extra Definition

It's no secret well-groomed brows bring structure and definition to the face. And while there are numerous ways to enhance your own, there's more to filling, shaping and enhancing brows than you might think. Here, make-up artist, Camilla Hewitt, shares her application tips and the products she swears by…

BROW GELS
Brow gels are easy-to-use and always deliver good results. They work for everyone, and smooth unruly brows with ease. Take any extra product off the spoolie brush first, then use small, light-handed strokes to softly backcomb your brows – brush backwards against the hair-growth direction so it wraps around each hair for a fuller, fluffier look. Then take the brush back the other way to smooth everything out. Clear gels are just as effective. Benefit's 24 Hour Brow setter is a personal favourite, and unlike others on the market it never feels hard or crispy. Apply clear formulas after your colour product, and again don't apply too much – remove some from your wand before you begin and gently trace the shape of your brow with it. Alternatively, if you have thick, dark brows, you can use one solo for the same arch defining benefits, but again, keep it to a small amount.
BROW PENS
Pens are relatively new to the beauty scene, but they're great for achieving realistic hair-like strokes and fuller brows. Use them to extend the shape of your brows – whether it's a longer tail or a bushy inner brow. Find a starting point where your brows are sparser, then use short dash-like strokes to mimic your natural hairs. Glossier's Brow Flick is great for novices because the wet formula is very forgiving if you make a mistake – but it also means you need to allow time to let it dry. You can use brow powder on top for extra definition, but you may find the pen alone provides you with enough bulk and density.
BROW POWDERS
Powders are great for those wanting to achieve a softer look. There are so many great ones available, but Anastasia Beverly Hills Brow Pro Palette is an insider favourite. Featuring all 11 shades of the brand's Brow Powder Duo, it caters to every hair colour and skin tone. Not only that, the dual-colour pans can be combined to produce a custom-made tone. For powders, you should always use a small angled brush to help evenly distribute it through the brows. Stiffer bristles make precision application easier. Once you've coated your brush, dab it on the back of your hand to shake off any excess, then sweep it through your brows in the direction of your hair growth – but use a light-handed approach. Start with your arches before filling in the rest, then comb through with a spoolie to soften edges.
BROW SOAPS & WAX
Brow soaps and wax are ideal for those that have wayward hairs that need taming. Both formulas keep arches sculpted for hours. The key to get application right is to never oversaturate the soap or wax. Otherwise it will never set fully and you'll be left combing your brows for hours. You'll also need a good setting mist to activate the soap and a spoolie brush to comb the formula through evenly. There's no set application rule here, just make sure you apply both to a clean brow and treat it as a base product for a cleaner, more defined finish.
BROW PENCILS
Pencils remain one of the easiest tools for filling in sparse brows. MAC's Eye Brow Styler is a great one to start with because it has a fine nib that emulates hair-like strokes, adding discreet shape and density. You want a pencil that doubles up with a spoolie on the other end. Start by using this end to brush your brow hairs into your natural shape. Doing this first allows you to see where any areas are uneven and need a little more filling. Once you've got your shape, use deft, upward strokes with your pencil to start creating your shape. Focus on the sparsest areas first to prevent brows from looking overdrawn. Use feather-like strokes in the direction of your hair growth, towards the tail of your brows. Once you're happy, start filling in the inner corners with upward and outward pencil strokes. If you do end up using too much product, reduce the density with your spoolie.
INSPIRATION CREDITS: Instagram.com/Glossier
DISCLAIMER: We endeavour to always credit the correct original source of every image we use. If you think a credit may be incorrect, please contact us at info@sheerluxe.com.