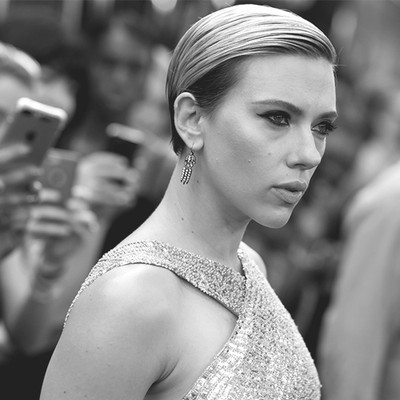 Should Scarlett Johansson Really Be Playing A Trans Man In Her New Film?

When it was announced that Scarlett Johansson had signed on to star as real-life transgender massage parlour owner Dante 'Tex' Grill in new film Rub & Tug, the casting was met with intense backlash – that backlash continues to grow as Johansson released a tone-deaf statement. Now several transgender actors have spoken out against the casting, asking a simple question: just why aren't we giving trans actors the chance to tell their story?

The transgender community hasn't taken well to Johansson's casting as a trans man, mobster and illegal brother owner Dante Grill. Transparent actors Trace Lysette and Ian Harvie were among the first to call her out, with Lysette tweeting, "Not only do you play us and steal our narrative and our opportunity but you pat yourselves on the back with trophies and accolades for mimicking what we have lived".
Trans actor Indya Moore, who currently stars in new FX show Pose, added: "When cis women play trans men you are reducing the existential experience of a trans man as playing dress up. Cis people cannot tell trans stories – don't have the range. If they did, they would empathise with the reality of how problematic, dismissive and fetishising this is."
Johansson, however, did not help to placate the situation, instead deciding to kick the proverbial hornet's nest with just one sentence. Via Bustle, she released a statement that responded to the criticism by simply saying: "Tell them that they can be directed to Jeffrey Tambor, Jared Leto, and Felicity Huffman's reps for comment."
All three actors mentioned have garnered praise for their portrayal of trans people: Tambor won an Emmy for his portrayal of Maura Pfefferman in Transparent; Huffman was nominated for an Oscar for her role in Transamerica; and Leto won an Oscar for playing a trans woman in the Dallas Buyers Club – and also faced criticism for his casting.
Johansson's response carries very little gravitas. As Them writer Meredith Talusan pointed out, "Cisgender actors have played trans characters in major Hollywood films before, but that doesn't mean it's ever been right. Now that trans people are in a better position to speak for ourselves in society, let's make one thing clear: it has never been ethically or politically justifiable for cisgender people to play trans roles. And as long as we live in a society where trans people see a fraction of the opportunities afforded to cis people, it will continue to be deeply unjust when cis actors steal parts from trans talent."
For trans actors, it's a no-win situation: cisgender actors like Johansson are cast as transgender people, but transgender people aren't ever cast in cisgender roles, which leaves little room for visibility.
And it's far from the only problematic attitude Hollywood has towards the LGBTQ+ community. There's a long history of film's, now frankly outdated 'gay best friend' trope: they're fun, funny and universally loved by movie-goers everywhere – but they're also a harsh reminder to LGBTQ+ people that gay characters are limited to the role of the leading star's sidekick; as New Statesman's Film Critic Ryan Gilby puts it, "The general assumption should be that they have no external life, no existence when not providing succour for the main character. Or, if they do, then their sexuality must in some way be an issue, or a narrative motor."
But some argue that some representation is better than none – even if the gay best friend is played by a straight man. "In a representational desert, these characters were at least something, and we accepted them to varying degrees, flaws and all," says Decider writer Joe Reid. "Should straight actors be playing 'our' parts? Can they possibly bring enough lived experience to those roles?" he asks. "Personally, though not universally, I tend to believe that acting is acting, and I'm as willing to see a straight actor dive into a good role as I am with a gay actor. There are exceptions and caveats to this, but generally: it's called acting for a reason. Performers step into lives that aren't their own and inhabit them. That's part of the magic."
For trans actors, it's a no-win situation: cisgender actors like Johansson are cast as transgender people, but transgender people aren't ever cast in cisgender roles, which leaves little room for visibility.
But if gay people have a lack of representation, then trans people are practically non-existent in Hollywood. As previously stated, Tambor, Leto and Huffman have all played trans characters on TV or in film, but are cisgender actors. And while Reid's argument makes sense to a degree – it's an actor's job to inhabit the role of someone who is different from them – most cisgendered actors are already at an advantage. Without transgender actors in transgender roles, it's like they're deemed 'not good enough' to portray their own stories.
Representation is also an extremely important part of acceptance. The more cisgender people are exposed to trans people and transgender issues, the more they're able to become a regular part of how people see the world – not to mention, it lets trans people see themselves on screen. Transparent actor Ian Harvie previously said that the reason he didn't transition from female to male until his late twenties is because the lack of exposure meant he didn't have a name for what he was or felt. "I only had emotions and feelings, and I couldn't express or describe them to my parents," he told Metro.co.uk. "I'd never met a trans man. I'd met drag queens and even trans women, but it hadn't even occurred to me that men could be trans."
For Johansson, this isn't the first time she's been called out for taking the role of a minority character. Her decision to star in a live-action version of Ghost in the Shell was the centre of a whitewashing scandal, after she took on the role of Motoku Kusanagi, a Japanese character that first appeared in a manga of the same name. Perhaps she should have learned her lesson the first time – minorities have it hard enough to get a break on camera and behind it. Because if there's one thing a trans actor can bring that Johansson can't, it's the pain of real life experience. 
DISCLAIMER: We endeavour to always credit the correct original source of every image we use. If you think a credit may be incorrect, please contact us at info@sheerluxe.com.